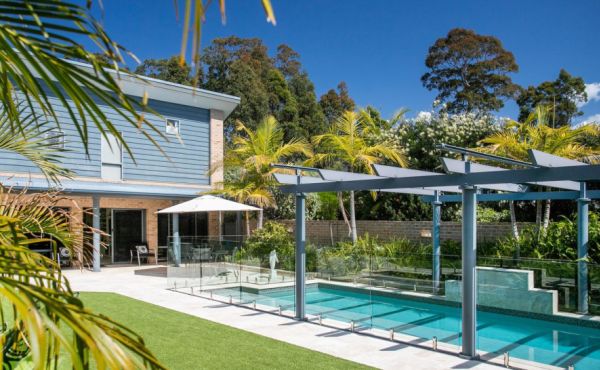 The best pools for a summer plunge in Canberra and the surrounding NSW region
It's that time of year again when having a swimming pool moves up a couple of spots on house hunters' checklists.
Having spent more time at home in the last two years than at any other time, what better way to enjoy the warm weather than taking a dip in your very own pool, with a wine in hand and basking in the summer sun.
Much more than a practical inclusion, the swimming pool adds an element of prestige to a property. It's not only a place to cool down but an attractive feature that becomes the centre of an urban oasis and the envy of friends in the summer.
To celebrate the holidays and the warmer weather, we've collated 10 of our favourite homes on the market in Canberra and the surrounding NSW region with the best pools on offer.
Private sale
Agent: McGrath Real Estate Agents Ulladulla, Lyn Chambers 0418 661 980
Price guide: $3.85 million
Private sale
Agent: Belle Property Canberra, Dan McAlpine 0401 005 282
Private sale
Agent: Elders Real Estate Berry, Tim McGoldrick 0414 157 794
Price guide: $2.695 million +
Private sale
Agent: Blackshaw Manuka, Mario Sanfrancesco 0412 488 027
Auction: 11am, January 22
Agent: Raine & Horne Batemans Bay, Adam Porteous 0414 726 014
Price guide: $4.35 million-$4.55 million
Private sale
Agent: McGrath Canberra, Greg Ward 0413 503 312
Private sale
Agent: Belle Property Berry, Kiralee Whitehead 0450 007 576
Price guide: $3.1 million
Private sale
Agent: Cooper Coastal Properties, Craig Cooper 0434 311 113
Price guide: $3 million +
Private sale
Agent: Luton Properties Manuka, Sophie Luton 0410 750 413
Price guide: $2.5 million-$2.75 million
Private sale
Agent: Blackshaw Coastal, Pat Jameson 0405 442 905