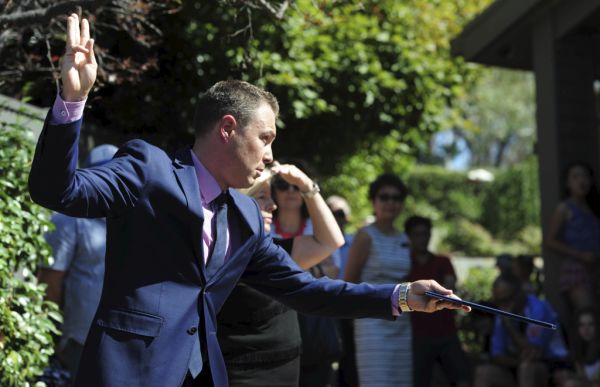 This is the type of Canberra house most likely to sell at auction
If you own a three-bedroom, one-bathroom house in Canberra's Inner North and are thinking of selling at auction on a Saturday, luck is on your side.
New Domain analysis looked at clearance rates across each capital city and narrowed down the types of properties that are ideal to bring to auction and on which day of the week.
According to auction results over the past year, Saturday is the day where auction clearance rates are the highest in the ACT and Mondays recorded the lowest clearance rates.
Domain senior research analyst Nicola Powell said that Canberra joins Sydney and Melbourne as the "auction-centric capitals".
"The auction method is an ingrained method of sale in these three capital cities, and the best days are Saturdays, that is the busiest day," Dr Powell said.
"What's interesting is, the worst day for those auction-centric markets in Sydney and Melbourne is a Friday, while for Canberra, it's a Monday.
"Those shoulder days of the weekend are producing the lowest clearance rates."
In 2018, data showed that three-bedroom houses in the Belconnen region had the greatest success under the hammer on a Wednesday. But, according to the latest figures, the Inner North has surpassed Belconnen. 
"The Inner North region is a premium area and comes at a higher price point, but I think what is driving those high clearance rates are families looking to upsize," Dr Powell said.
"If they have built up equity in their home, it's great conditions to upsize. Mortgages are cheap, serviceability requirements have been reduced and interest rates cuts have made it easier for people to do so."
Emma Baker, of InStyle Estate Agents, echoed Dr Powell's comments, noting the incentives that came into effect in the second half of 2019 have put buyers "in a position to make a purchase, and have given vendors more confidence to list their homes".
For houses, the median price at auction is $771,000. In comparison, the median price of houses sold through private treaty is $660,000.
"In the Inner North, a lot of people are looking to renovate and extend, and what we find is that properties sitting close to the suburb median will tend to sell at auction," Ms Baker said.
The data also showed Canberra had the second-highest proportion of houses sold by auction in the country, behind only Melbourne, with 24 per cent selling under the hammer in December 2019.
But between April 2016 and August 2019, Canberra led the country with the largest number of houses selling at auction.
Dr Powell said during this period, Canberra saw some "pretty robust conditions".
"We saw price growth, huge competition for properties in Canberra and that really did push it past Melbourne," she said.
"But from October 2019, Melbourne saw proportionally more houses sell by auction, led by the upper-end market of buyers that have helped push that proportion of houses sold by auctions higher than in Canberra."
In the unit market, only 3.2 per cent of units sold at auction.
The data showed the median price for units sold at auction was $520,000, and the median price of units sold through private treaty was $451,000.
"I see a lot of value in auctions, and it certainly helps vendors to understand the value of their property," Ms Baker said.
"I had a recent vendor who was selling his residence via private treaty for over 90 days. We then decided to take it to auction and eventually it sold because it put a bit of urgency on interested buyers that had been floating around."
According to Baker, "sometimes a simple refresh in a campaign makes a huge difference for buyers".