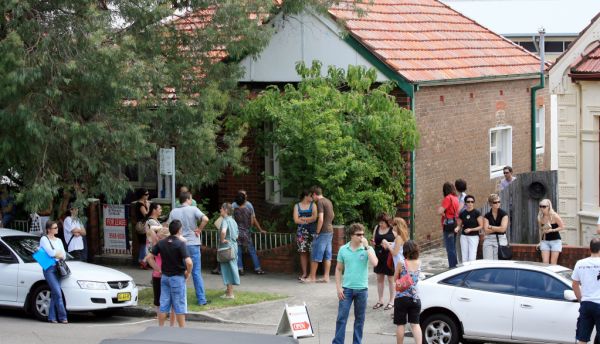 Where students should look for the cheapest rents in Canberra
As orientation weeks roll in at the Australian National University and the University of Canberra in February, students are racing to get a roof over their heads in time for semester one. 
With on-campus accommodation guaranteed for first-year undergraduates, some returning students and those beginning postgraduate degrees are left to compete in Canberra's rental market.
But with university residences reaching full capacity and a long waiting list for a bed, many are searching to rent in neighbouring suburbs within their budget with some left over for $2 noodles dinners – a student staple.
ANU student Matthew McCann is one of many students in search of a rental property. His budget is $350 to $470 per week, and he's looking for a two-bedroom house/unit in Canberra's inner north.
But as a first-time renter with no previous rental history and after two months of property hunting, McCann found it was easier to renew his lease at the Lena Karmel Lodge at ANU than continue receiving rejection letters.
"I wanted to move out of the university accommodation to have a bigger place to work in … and a bigger kitchen because the studios are quite small," he said.
"But finding a place has been extremely difficult, especially in places near the city like Braddon and Dickson.
"It's really expensive, and for a university student, you feel like there's absolutely no reason to go to an open house in those suburbs because there are about 50 other people who are public servants with families and secure jobs."
McCann said he'd inspected and applied for about 20 places and "got a rejection letter from pretty much all of them".
However, if he opted to leave on-campus accommodation, a replacement tenant would be assigned to his room immediately.
"There's just a huge influx of first-year students coming … the demand for accommodation on campus is extremely high," he said.
The ANU enrolled 2686 students in the first half of 2019, of which 591 were international students. The University of Canberra had 2071 students enrolled in the first half of 2019 – 389 of those were international students.
UC president Belinda Robinson told Allhomes that UC Lodge, Cooper Lodge and Weeden Lodge had reached 96 per cent capacity with Campus West at 48 per cent capacity.
"On-campus living is very popular, especially among our first-year interstate students who make up nearly half of those living on campus," she said.
Both universities noted on its websites that they would provide support for students unable to secure a place and have also listed alternative options for accommodation such as sharehouses, homestay and private rentals.
For first-home renters, Domain advice editor Daniel Butkovich said tenants should provide property managers and landlords with their bank statements, recent tax returns, and a letter from their employers verifying their income and character.
It can also be helpful if first-time renters nominate a relative or parent who can agree to cover rent repayments if they are unable to do so.
For students searching for a rental close to the ANU, the Domain Rental Report for the December quarter 2019 found that the suburbs of Watson, Lyneham and Downer were the most affordable to rent a house at a median price of $560, $573 and $580 per week, respectively.
For units, Hacket had the lowest rental price of $325 per week, followed by Downer at $370 and Red Hill at $390.
In the Belconnen region, where UC is located, the most affordable median rental prices for a house were in Belconnen, Holt and Charnwood at $440, $460 and $480, respectively.
For units, Hawker and Scullin had the most affordable median rental prices at $365, followed by Holt at $405 and Macquarie at $410 per week.
Havelock House CEO Andrew Rowe said that Canberra's high rental prices had made it difficult for students and people with low incomes to find a home.
"For students, there's very little affordable accommodation here. There's more demand than supply for student accommodations," he said.
Havelock House provides affordable accommodation for people on low incomes, including hospitality workers, women over 55 years old, pensioners and people on Newstart.
Rowe said that it has 400 tenants housed across 200 properties, not including the Havelock building itself which houses 105 beds and several other properties in its portfolio.
"We have some of the best universities in the world and pride ourselves on our education. Yet, we have people who want to come here to work or study and there's literally nowhere to live that is affordable," he said.