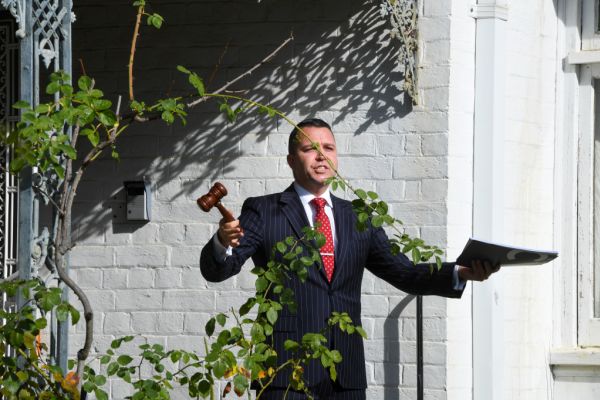 Distressed sales remain almost unchanged: Domain data
Urgent property sales have remained virtually unchanged around Australia as the government's COVID-19 support packages and the banks' mortgage holidays have put a floor on the real estate market, new figures show.
New Domain data shows that most capital cities around the country have seen only very marginal increases in distressed listings, while in Canberra and Brisbane the number of distressed listings has actually fallen.
Hobart recorded the largest increase of distressed listings of 0.3 percentage points, rising to just 1 per cent of listings classified as distressed.
It was followed by Melbourne and Darwin, which remained steady with 0.5 per cent and 2.8 per cent respectively of listings described as urgent sales, Domain figures showed.
Adelaide and Sydney, which saw a 0.2 percentage point increase in distressed listings, reached 1.1 per cent and 1.6 per cent, respectively.
Meanwhile, Canberra and Brisbane saw a drop of 0.1 percentage points in distressed listings.
The data filtered listings for descriptions that included but were not limited to: reduced price, mortgage in possession, urgent sale, motivated vendor or reduced price, between February and mid-May.
Domain's senior research analyst Dr Nicola Powell said despite the huge economic upheaval caused by the COVID-19 pandemic, many home owners had been able to weather the storm for now.
"The two policies that are stopping distressed sales increasing are JobKeeper and JobSeeker and the mortgage pause," Dr Powell said.
She said the real test of the property market would be when this assistance expired.
"As long as the economy bounces back, we shouldn't see a high level of distressed sales," she said. 
Urgent sales
Capital
Feb
Mid-May
Sydney
1.4%
1.6%
Melbourne
0.5%
0.5%
Brisbane
3.0%
2.9%
Perth
2.3%
2.4%
Adelaide
0.9%
1.1%
Canberra
0.7%
0.6%
Darwin
2.8%
2.8%
Hobart
0.7%
1.0%
Source: Domain
While distressed sales levels remained very low overall, it was tourist regions in Queensland and resource-driven state economies such as Western Australia that were showing to be the hardest hit so far.
"It's all those holiday regions that have gone into distressed selling," she said.
Distressed listings on the Sunshine Coast and the Gold Coast rose 0.6 percentage points to 3.4 per cent and 5.5 per cent, respectively.
Savills Gold Coast Residential selling agent Aydan Mullin said some property owners were cutting their losses early.
"I am selling multiple properties for interstate investors and they just want to get their money out," he said. "One is a restaurateur in Sydney. They have been greatly affected by it. They will lose money on their property."
Mr Mullin said he was selling another property that once was used as short-term letting investment.
"With all the Airbnb [bookings] cancelled, there was no return whatsoever," he said.
"A lot of people are saying, let's chuck it on the market now before we have seen price drops."
A similar trend was emerging in WA, where many regions had also seen a marginal increase in distressed listings.
Perth Hills saw a 1.6 percentage point rise in urgent sales, reaching 2.4 per cent. 
Meanwhile, Swan Valley saw a 1.3 percentage point rise in distressed listing, reaching 5.1 per cent by mid-May.
Harcourts Ross Realty selling agent Paul Ross said buyer and seller activity had increased since the restrictions were eased.
"We've had a huge spike [in appraisals]. I'm doing four in one day. I've listed six properties for sale in the past four weeks," he said, adding that listing levels were still very low in WA.
"There is going to be a spike in listings for those who are wary about the situation in a year's time." 
AMP Capital chief economist Dr Shane Oliver said the support mechanisms in place had alleviated financial pressure on households.
"The government has kept the lights on," Dr Oliver said. "Even if you've lost your job and income, why would you default now given that you've got the bank payment holiday?
"That's basically what's happened. We're in a bit of a twilight zone.
"The real test will come at the end of September or October when the six-month period all comes to an end."
But according to Dr Oliver, distressed listings might never rise significantly if the economic downturn was less severe than predicted.
"If the economy has recovered substantially by then, the rise in urgent sales might be minor," he said.
He added that the economic impact of the coronavirus on young Australians could also keep distressed listings low.
"The people who have been most hit are younger Australians … many of them wouldn't have had a financial commitment or if they did, they were part of a two-family income.
"If this were a normal recession and we would have seen 600,000 jobs lost, we would have seen more of a pick-up in urgent sales.
"It was a disruption and the government knew it was coming and they were prepared for it."