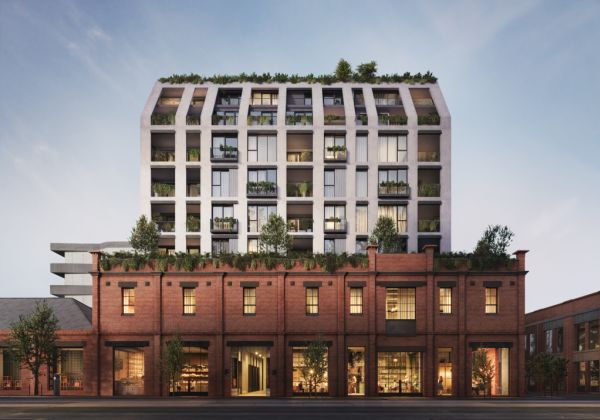 Fitzroy Fitzroy: The new luxury development where hip meets heritage
Apartment buyers looking for a luxury pad in a hip, bohemian inner-city location could do no better than Fitzroy.
Its working-class roots and steady gentrification over the past 30 years, make it the perfect Melbourne base.
Fitzroy Fitzroy, a new nine-storey building by developer Chapter Group, will soon take up residence on Smith Street, one of the suburb's most vibrant strips.
It will comprise six townhouses and 56 apartments, including three penthouses.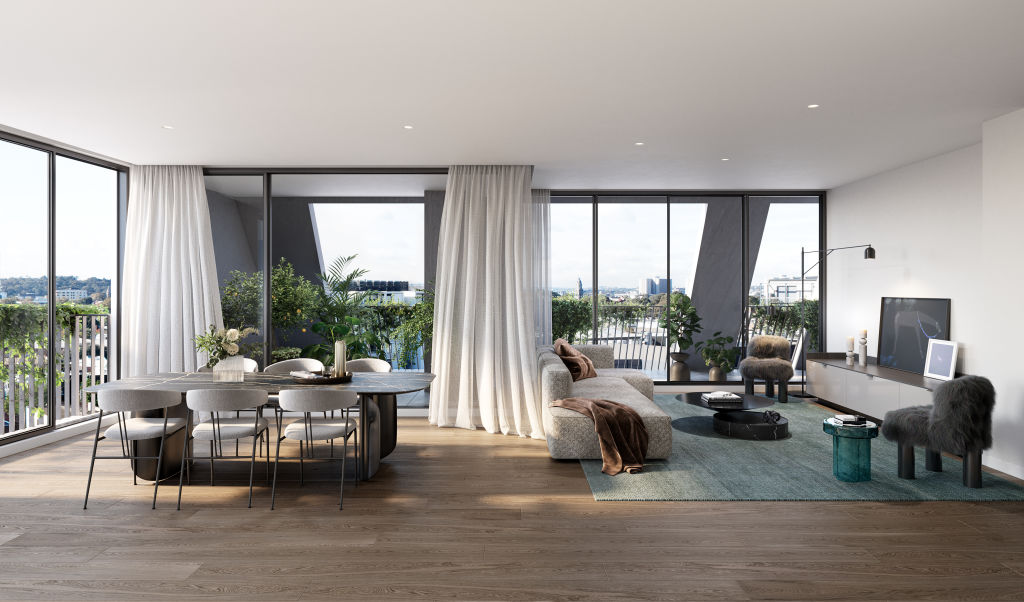 Priced between $2.5 million and $3.7 million, no expense has been spared on the design embellishments within the penthouses.
The penultimate penthouse will occupy a half-floor and enjoy aspects to the north, south and west with unobstructed views to the city.
The large terraces and balconies to the living areas and the main bedroom are tailored to take advantage of Melbourne's CBD by night and day, as well as drink in maximum natural light and ventilation.
The chamfered roofs are bound to impress buyers and are a unique design feature.
These sloped, cut-aways on the contemporary addition sit on top of the heritage red-brick building below, which was once home to the MacRobertson Steam Confectionery Works from the late 1800s until 1967.
This new-meets-old integration gives the building a true distinction, says DKO architect Brad Preston.
"While the Smith Street facade is in keeping with the scale and repetition of its neighbouring building, from the rear, the sculptural form of Fitzroy Fitzroy folds playfully in the skyline," he explains.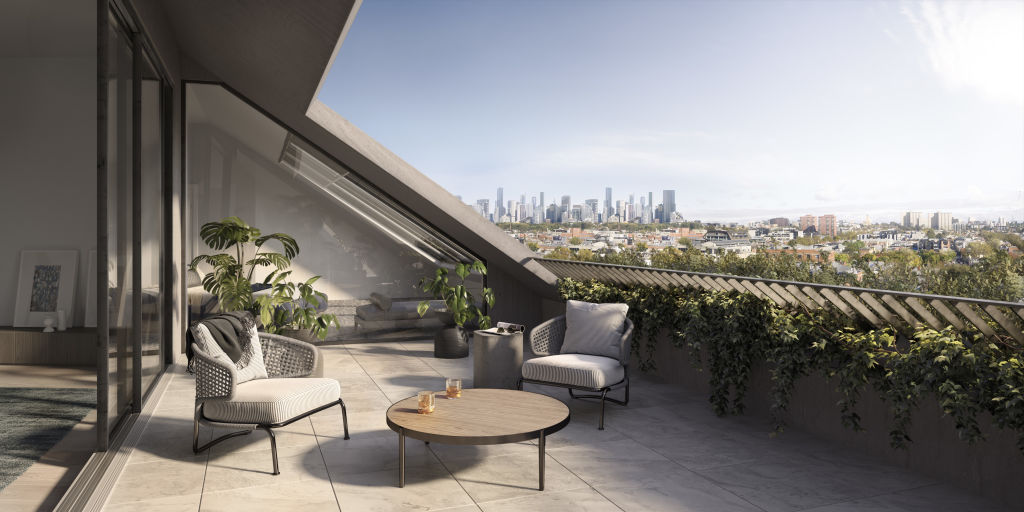 "For west-facing apartments, the building's chamfered roof creates a dramatic and unique space that invites daylight deep into the home and offers a strong connection between the interior and exterior.
"With an emphasis on dramatic internal spaces and the honest use of heritage red brick on the exterior, it's a true reflection of its celebrated suburb, a place that's designed for living, and a building that is unquestionably Fitzroy in Fitzroy."
The opulent interiors, also designed by DKO, take in natural stone island kitchen benches and stone vanities and fluted glass cabinets in the en suites.
Optional upgrades for two and three-bedroom apartments include built-in upholstered banquette seating, study nooks with a felt pinboard and timber shelving, and built-in timber bars with glass shelves and LED lighting.
Buyers have the choice of the two interior colour schemes.
There's the gastronome palette featuring chocolate tones, dark timbers and bold stone, or the avant palette with its natural finishes and muted, but fresh, colours.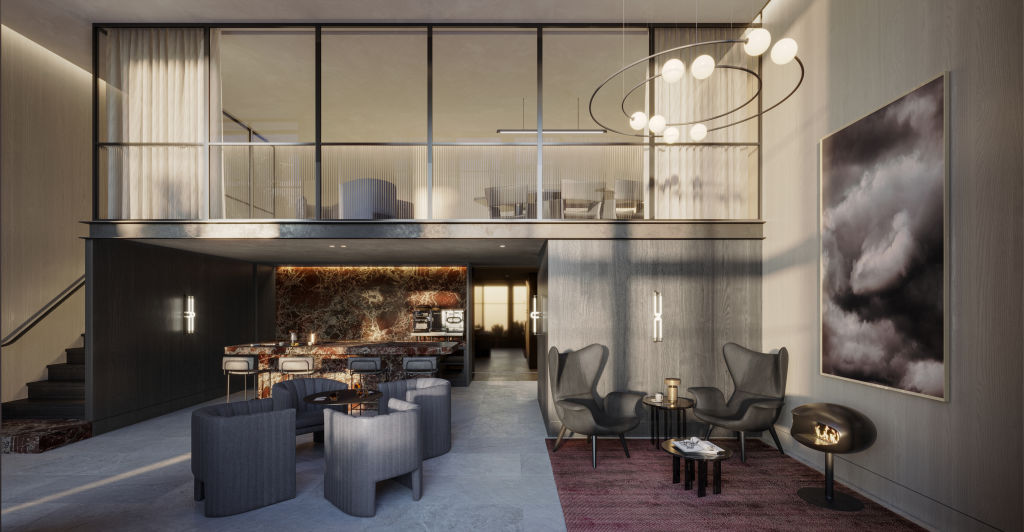 Both schemes achieve a sophisticated style that doesn't overstep the mark, allowing future residents to move in and easily personalise the apartments to their own tastes.
Fitzroy's bustling cafe, pub and restaurant scene inspired the aesthetics across the building's shared spaces.
These include the Smith Club, a residents' lounge with communal bar seating and a rooftop garden by landscape architecture firm TCL.
"Directed by the feelings of warmth and intimacy that one might experience in these famed restaurants and bars, but without having to leave the building, a variety of zones have been provided for residents to experience the space as they please," Preston says.
"[There is] communal bar seating with an espresso machine and wine cabinets, and a central intimate lounge and dining area for those seeking solitude with a book and a glass of wine. Upstairs sits a quiet lounging space for private meetings or work.
"Atop the building is an immersive rooftop garden – an expanse of vegetation, seating and shade structures. Residents can enjoy a moment of solitude and connect with nature without having to leave their buildings."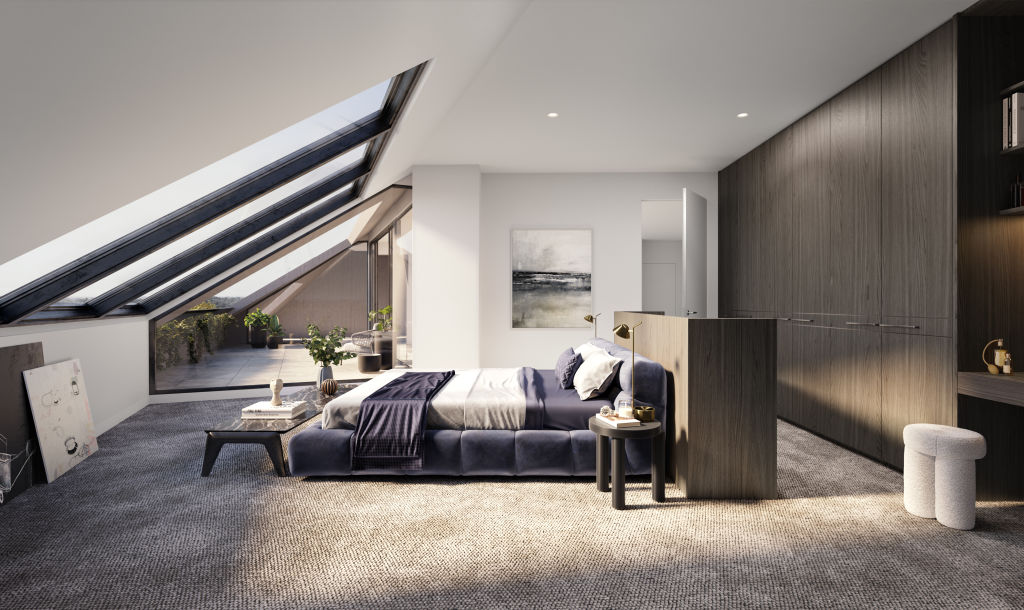 Market demand for the residences has been led by buyers with an appetite for space.
Multiple buyers have already merged apartments and customised floor plans to suit their lifestyles, says Dean Lefkos, director at Chapter Group.
"For our core market, which is downsizers, the key benefit of buying off-the-plan is you can configure exactly what you want as if you were building your own home," he says.
"We've had two two-bedroom units amalgamated into an oversize two-bedroom plus study with an oversize kitchen and living, and another one who has reconfigured a large two-bedroom into a one-bedroom plus theatre room or study."
With a name that boasts its location so proudly, it's only fitting that Fitzroy Fitzroy is conveniently close to all that makes the suburb such a beloved Melbourne social scene.
The cafes, shops and bars on Smith Street are at the doorstep, while the tram to Brunswick Street is seven minutes on foot and the Nicholson Street tram stop is a 14-minute walk.
Also within walking distance are the buses on nearby Johnson Street and trains from Victoria Parade station.