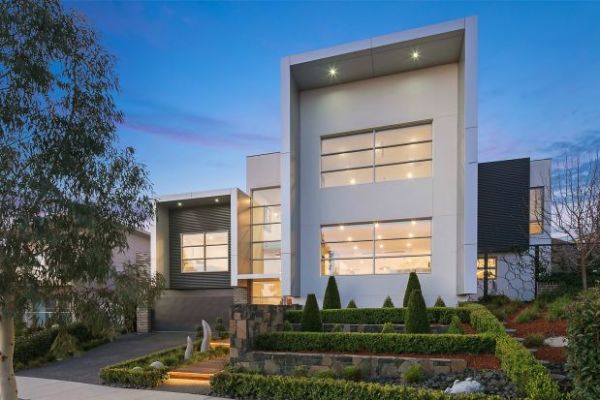 Forde property marketed with Cirque du Soleil-themed open home
It's official. Selling real estate has become a circus.
Going the extra mile on an open home was once biscuits fresh from the oven or maybe a coffee van.
The bar has now been raised with a Cirque du Soleil-themed extravaganza in Forde, complete with light displays, contortionists, jugglers and acrobats.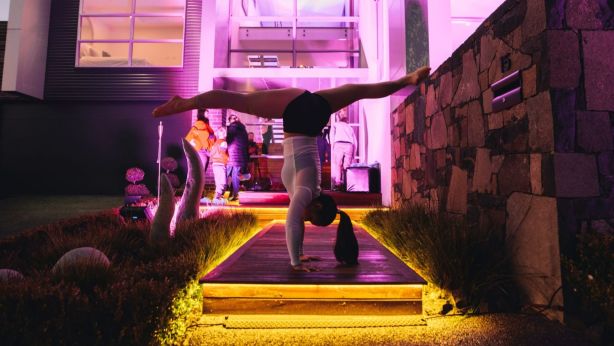 It was an event that would feel at home on the US real estate series Million Dollar Listing, but it is not what you'd expect to find in the outer suburbs of Canberra.
McGrath Gungahlin agent Nick Slater said the concept was "a little bit over the top" but 15 Quinane Avenue, which has the potential to be one of Gungahlin's top sales, called for something special.
"It's the kind of house you might expect to find in the inner north or inner south," Mr Slater said.
Performer Sarah Duncan Photo: Rohan Thomson
"We thought it deserved a bit more attention, to beat the drum and show that we've got some really great homes out here too."
Thinking outside the box has been a recurring theme in Canberra's property industry this year.
A mirror man in one of the bedrooms. Photo: Rohan Thomson
A Gatsby-themed campaign was used to market a Griffith property in March.
Home.byholly agent Holly Komorowski drew inspiration from the property's art deco design and complemented traditional advertising with digital marketing.
Geocon enlisted local music duo The Aston Shuffle as its "music and nightlife collaborators", launched an iPad app for its new Belconnen development, Republic, and has used virtual reality goggles to market a number of its off-the-plan projects.
Juggler Kon Kudo. Photo: Rohan Thomson
Mr Slater said the Cirque du Soleil theme was designed to showcase the Forde property as the ultimate entertainer.
"The idea was to do something new, to lift the game," Mr Slater said.
"There is an element that it's a little bit over the top, but I'm not shying away from it. If you're going to go big, you've got to go for it."
15 Quinane Avenue, Forde. Photo: Supplied
It sounds extravagant, but the VIP event may have been less of a circus than the property's first open home.
Despite the absence of acrobats, Mr Slater saw at least 300 groups through the doors on Saturday and the line to get in rivalled a bustling nightclub.
"It got the the point where it became pandemonium," Mr Slater said.
"You'd have to think that a good percentage of people there were just wanting to have a look at something special, but I was tapped on the shoulder by half a dozen people at the open home who were interested."
The property will be open again for inspections on Saturday, July 8 from 12.30-1.15pm. It will be auctioned on Saturday, July 22.