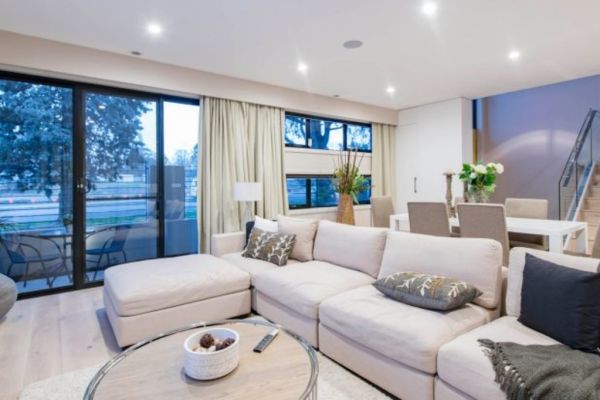 Get set for a bumper season
Don't let this weekend's sub-zero temperatures and frost fool you. It's the last weekend of winter and spring is just days away.
Low interest rates and a fresh batch of properties hitting the market are a match made in heaven for the upcoming season.
The market is typically emerging from hibernation at this time of year, but we're coming out of a surprisingly active winter, according to Allhomes data analyst Nicola Powell.
"The market continued to make positive gains and there were a lot of active buyers and sellers in the market despite the election period," Powell says.
The federal election's minimal impact on the property market is a good sign that the ACT election is unlikely to disturb the busy selling season.
We've had a shortage of houses on the market and there's a fair amount of pent-up demand on the market place at present.Agent Mario Sanfrancesco
According to Domain Group data, activity was on the rise in July. Auction clearance rates lifted and the number of homes going under the hammer was comparable with 2015 figures.
While fewer homes are expected to go under the hammer on election day – just 20 homes were auctioned on July 2 – it should not affect the number of homes hitting the market during the season or dampen buyer activity.
"Overall, it didn't make a great effect," Powell says.
"Astute sellers were planning their sales accordingly and timing their auction to not fall on the election weekend."
Some agencies strategically opted for mid-week auctions over their traditional Saturday sales.
The federal election did provide some certainty to ACT home owners, according to Harcourts Kingston/Manuka director Rhys Summergreene; they now know what to expect from the government over the next three years.
After a drawn-out election campaign, buyers and sellers are in a better position to make an informed decision now that they know the results.
Local government won't have the same level of impact on the housing market, Powell says.
In addition to political certainty, buyers and sellers can now make the move, while taking advantage of the record-low interest rates.
While such rates are set to benefit buyers and sellers across all sectors of the market, Powell says the middle market is where we're likely to see the strongest impact.
Families seeking to upsize may take advantage of the lower interest rates.
"Those with equity could be looking for the next opportunity," Powell says.
"Perhaps even downsizers will be taking advantage of the low interest rates and sell in an active market with those looking for a bigger home."
Peter Blackshaw Manuka agent Mario Sanfrancesco is also expecting to see strong activity coming from the downsizer market this spring, with townhouses, penthouse apartments and dual occupancies set in be in high demand.
Sanfrancesco says he is already receiving a high level of inquiry for properties in the inner north, inner south and Woden.
"We're shaping up for a very active selling season for spring," Sanfrancesco says.
"We've had a shortage of houses on the market and there's a fair amount of pent-up demand on the market place at present."
Summergreene says in addition to those actively looking to make the move, there will be many more "passive buyers" hitting the open homes as the weather warms up.
"Canberra is often synonymous with cold and unruly weather, but spring is our break and makes properties look their best," Summergreene says.
"Our open home numbers increase significantly, as more passive buyers are tempted to enter the market as open homes are conducted in more pleasant weather."
So if you are selling in spring, make sure your home is well presented and the garden is tidy – a buyer could simply wander past or flick through Allhomes and fall in love with your property.
Tips for sellers
Clean, declutter and consider having your home professionally styled. "Presentation is the key," Peter Blackshaw's Mario Sanfrancesco says.
"Keep a closer eye on your garden as the weather will make it grow," Harcourts' Rhys Summergreene says. "No buyer likes a messy garden at an open home."
Sanfrancesco advises looking at the different methods of sale, discussing them with your agent and choosing a sales method that suits your property.
Tips for buyers
"Don't be afraid of packed open homes," Summergreene says. "We see a huge increase of neighbours come through homes during spring – the warmer weather seems to make everyone a bit more active."
Sanfrancesco says you should be prepared to act quickly. "Do your research, have your finances in place and be clear on the budget," he says. "If you tick off a number of items on the shopping list I wouldn't hesitate in this market – you may end up paying more for the next one."
Waramanga beauty full of character
When you walk through the McLaughlins' family home in Waramanga, you'll find beautiful character features throughout every corner.
Garry McLaughlin is the owner operator at the Traditional Furniture Restorer and from the beautifully restored front door to the stone-covered fireplace, the 22 years of hard work that has gone into the home is evident.
Leanne McLaughlin also has an eye for detail and the home is beautifully decorated.
The home has been extended with living areas flowing out to a north-facing deck. The kitchen is a highlight with a flexible design and an island bench that can be moved to allow for large gatherings.
It also features bench tops made from a 200-year-old yellow box gumtree that had to be removed from the family's backyard.
Garry, Leanne and their children, Tara and Harris, will be moving to an acreage at the Ridgeway in Queanbeyan.
"Where else but Canberra can you live on an acreage in the bush but be so close to the city?" Garry says.
While the family will be putting their own special touches on the new home – Tara is now Garry's apprentice – the new owners of 52 Yiman Street, Waramanga will have nothing to do but move in and enjoy.
"Spring in Canberra is a beautiful time – crisp mornings and midday sunshine," Leanne says.
"It signals new life and that's exactly what we are doing."
No. 52 Yiman Street, Waramanga, will be auctioned on Saturday, September 10 at 10am, onsite. Phone Harcourts Kingston/Manuka agents Rhys Summergreene and Sandy Funston on 0419 650 993 or 0414 629 996. EER: 2. Inspect: Saturday, 12.15-1pm.
Carefully crafted delight
45 Cunningham Street, Kingston
$1.35 million-plus
Classic meets contemporary at this stunning four-bedroom townhouse in Kingston.
Every detail of the home has been carefully considered from the quality craftsmanship and the sophisticated design, through to the advanced automation technology.
The home sprawls two levels with living areas and the master suite positioned on the ground floor.
Double-height windows, a Louis Poulsen pendant feature light and polished concrete floors greet you upon arrival and lead the way to a timber staircase with glass balustrades.
The home features a wonderful layout for indoor/outdoor entertaining with expansive open-plan living areas framing an enclosed courtyard.
The northern orientation combined with high ceilings and full-height glazing allows light to fill the home.
Central to the all entertaining zones is the kitchen, which is well-equipped for catering. It is fitted with top-of-the-range integrated Miele appliances, a walk-in pantry and ample bench space.
It features a sleek design with soft-coloured oak timber and marble accents that are mirrored throughout the home.
The master suite looks out across the courtyard and features an adjoining dressing room and opulent en suite. It has in-slab heating, floor-to-ceiling marble tiles, a frameless shower screen and a separate tub.
The upstairs bathroom is also finished in marble and includes a freestanding bath. Three additional bedrooms are also positioned on the upper floor and include built-in wardrobes.
Home automation is controlled via a wall-recessed iPad and can also be wirelessly connected to your smartphone.
The system allows the resident to do everything remotely, from unlocking the front door to controlling the temperature.
No. 45 Cunningham Street, Kingston, will be auctioned on Saturday, September 10, at 11am, on site. Phone Peter Blackshaw Manuka agent Mario Sanfrancesco on 0412 488 027. EER: 6. Inspect: Saturday, 1-1.45pm and Wednesday, 5-5.30pm.