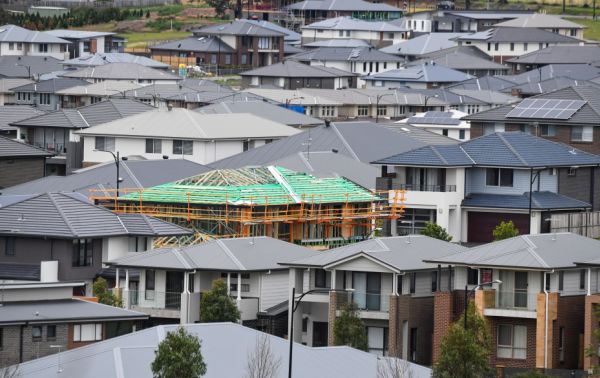 HomeBuilder grant applications soar above expectations as buyers rush to build new homes
Take up of the federal government's HomeBuilder scheme has smashed expectations, with more than 75,000 households applying for the grants.
Sales of new houses nearly doubled in December compared to the previous month as buyers rushed to take advantage of the $25,000 grants before they ran out.
Up to $18 billion of residential construction projects will be supported by the scheme, on Treasury modelling, after it was announced in June to stimulate the construction industry.
It initially aimed to build 30,000 homes by Christmas.
As of December 31, some 59,763 applications had been made to build new homes, and 15,380 applications were for substantial renovations.
With the scheme designed as a temporary boost, then extended to March at a lower rate of $15,000, economists expect the recent surge in demand to ease.
The grants to build new or renovate are means tested and open to singles who earn up to $125,000 and couples who earn up to $200,000.
The biggest take-up of the construction grants was in Victoria, with 21,595 applications, followed by Queensland (16,613), New South Wales (13,687), Western Australia (11,924), South Australia (7,428), ACT (1,891), Tasmania (1,812) and the Northern Territory (193).
Housing Minister and Assistant Treasurer Michael Sukkar said supporting construction jobs and helping Australians buy a home were key priorities.
"HomeBuilder was designed immediately to inject confidence and encourage buyers back into the market to offset the devastating effects of the pandemic on the residential construction industry," Mr Sukkar said.
"On all counts HomeBuilder has more than achieved this objective."
Separate figures show sales of new houses skyrocketed by 91.8 per cent in December 2020 compared with November, as buyers jumped into the market before the $25,000 grants ended.
Sales jumped by 32.5 per cent across the 12 months of 2020 compared with 2019, shows the Housing Industry Association's monthly New Home Sales report, which surveys the largest home building companies in Australia.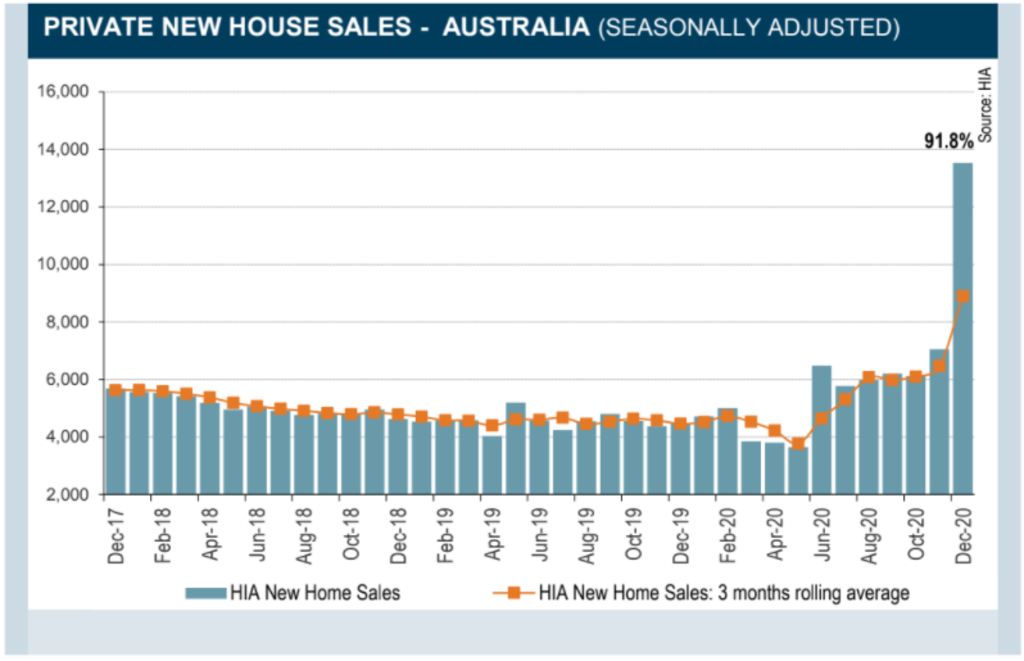 "It's the second strongest month since the survey began," HIA economist Angela Lillicrap told Domain. "A lot of the surge in sales was due to people finalising contracts so they could get the $25,000 grant as opposed to the $15,000."
The rush has seen some states record more than double or even triple the amount sales in December compared with November, the report showed.
South Australia saw the biggest jump in sales, where home sales leapt by an astonishing 201.1 per cent between November and December last year. NSW, up 131 .7 per cent were next best, while Victoria's sales figures jumped by 108 per cent.
Queensland new build sales also more than doubled rising 101.7 per cent for the month of December.
The only exception to the incredible rise in sales was recorded in Western Australia, where sales fell by 9.5 per cent over the month, but were still up across the 12 months of 2020 by 87.5 per cent, compared with 2019.
While the larger grants had seen more buyers wanting to build new, an extension of time builders had been given to start a project after contracts had been signed — from three months to six months — meant builders could take on more projects also helping to boost numbers, Ms Lillicrap said.
"Builders will be very busy this year," she said.
Official lending finance data last week showed a 7.2 per cent rise in the number of loans for new builds in November, from the previous month.
Under the scheme, introduced during the worst of the coronavirus pandemic to help boost the construction industry, eligible home builders or renovators can apply for a cash grant to complete works on their homes.
While the $25,000 grants have been a boon for the industry, but it is yet to be seen whether the $15,000 grants announced at the end of last year by the federal government, will have the same impact.
The HIA has predicted sales will drop across January as it believes the lesser grant will not equate to continued leaps in new home sales.
"The extension of HomeBuilder to allow contracts to be signed before March 2021 with a grant of $15,000 will support the sales of new homes into 2021, but not at this elevated level," the report said.
HomeBuilder was announced in June last year and saw a boom in sales nationally, with researchers revealing around 5426 land sales each month over the September quarter — a record for the industry.
By the end of September, home builders and industry bodies called on government to extend the scheme, to avoid a worst case scenario where demand for new home construction would collapse due to the lack of new migration as Australia's borders remained closed due to the pandemic.
The federal government's National Housing Finance and Investment Corporation forecasted demand would drop over the next three years as Australia's population growth plunged to levels not seen since World War I.
Some experts called for taxpayer cash to be spent on building new social housing or repairing existing stock instead of on renovations valued at between $150,000 to $750,000.
Burbank Homes national housing manager Louis Sultan was more positive about the future for the industry, and was hopeful Australia's borders would open sooner rather than later.
"There is a lot of positivity around at the moment with rates set to remain low, the economy picking up, the vaccine on the way and the grants are certainly adding to those strong conditions," Mr Sultan said.
"Many people were worried about what the drop off in immigration might do to the homebuilding industry, but only a small percentage of people purchase a new home in their first year in Australia so hopefully the borders open towards the end of the year and the HomeBuilder grants — both the $25,000 and the $15,000 — will help bridge that gap and encourage strong demand in the meantime which is great news for jobs," he said.