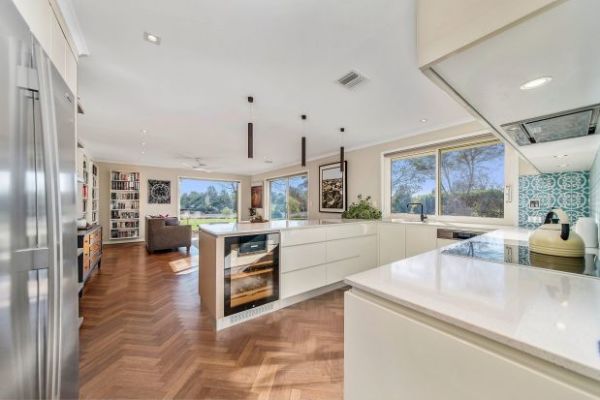 Lease variation charge could spell 'death of townhouses' in Canberra amid demand
Townhouses have often been called the "missing middle" by Canberra developers who have sought to offer them as an alternative to apartments or houses.
Government zoning practices have reduced the scope of opportunity for this building type – a restriction in certain areas that's been constantly criticised by the building industry.
It's also affected many Canberrans who, in many cases, feel they have been denied the right to downsize into the community they have long lived in.
Demand for townhouses remains strong however, industry commentators are now concerned that dramatic increases in the Lease Variation Charge announced in the recent ACT budget could spell the end of the option altogether.
The charge, applied to development sites where more than one dwelling is to be built, has been increased from $7500 for each home to $30,000 – an increase of 400 per cent.
Dave Shearer, head of project planning at Independent Property Group, says the LVC increase could spell "the death of the townhouse" – at least in many inner-city areas.
"The worst thing is it (the increase) arrived with no warning – a lot of projects will now no longer be economically feasible."
The word in the industry suggests many builders have lost their appetite for townhouse developments, he says.
"Some have said that they're just going to put sites they've bought back onto the market and move onto other projects.
"It's ironic; the increased charges may not reap the government any extra income because they have effectively killed demand for townhouse sites.
"And the LVC increase is totally contradictory to the government's policies of densification and urban infill."
Greg Weller, executive director of the Housing Industry Association, is equally alarmed about the LVC change.
"At the time of the budget it was announced that development applications approved before June 30 would not attract this increased charge," he says.
"It was subsequently announced that any development applications submitted for completeness check before June 30 would also be exempt."
Weller says this is an improvement, but it doesn't go far enough.
"It doesn't solve the underlying problem of the change impacting on project feasibility and the affordability of building these homes," he says.
While the future of townhouse developments appears to be under a cloud, there's no doubt there's a market with an appetite for them.
Agent Boris Teodorowych is actively selling townhouses like the boutique Aquila project, a complex of six, four-bedroom terraces in Moncrieff.
"I sold the first one recently for $580,000 to an Amaroo couple who were looking to downsize," he says.
"They were relatively young, but with the kids leaving home, they wanted a smaller place with less garden and maintenance."
Teodorowych says the Moncrieff townhouse/terrace market has grown by 8 to 10 per cent in the last 12 months.
"That's been a huge win for many of our purchasers who bought off the plan. The market has moved so much over the construction timeline that they've significantly boosted their equity," he says.
And Teodorowych says the townhouse appetite is just as strong in the inner north where he has been involved in selling three executive townhouses in the O'Connor Tria development.
"We decided to create luxury townhouses, not just for downsizers but for executives demanding an inner north location and lifestyle," he says.
The townhouses sold to a mix of professionals and downsizers for $1.4 million-$1.575 million.
Ticking all the boxes
Graham Pearce, above, bought a Narrabundah townhouse off the plan back in 1999 with the full intention of living in it, but life had another path mapped out.
"It was more an economic and location decision at the time for my wife and I," he says.
"We couldn't afford a detached home, but really wanted to live inner south because of my work."
Graham says the development on Leahy Street ticked all the boxes.
"It was the right price, the townhouse had three bedrooms, two bathrooms and a double garage," he says.
"Another selling point was the views from our elevated position – it gets stunning vistas of the distant hills over the other buildings."
Shortly after moving in, Graham was offered a new role overseas and the townhouse was rented out.
"While it was never the original intention, it's been a great investment and has been very low maintenance," he says.
"We had one tenant who stayed for around 10 years. It's on the market now and all we had to do was freshen the paint and the carpets."
Narrabundah, 20/34 Leahy Close. $650,000-plus. EER: 3.5. Agent: Andrew Lonsdale, Ray White Belconnen 0428 486 692. Auction: Saturday, July 8, 10am. Inspect: Saturday, July 1, 12.15pm-1pm.
Cover property
This free-standing, single level residence sits in the tightly held Willowbrook complex of just 10 townhouses in Giralang.
It's perfectly suited to downsizers, families or professional couples looking for a low maintenance lifestyle in an extremely convenient location, only moments to nature and parkland.
Single level living makes this residence feel more like a house than a townhouse with a north facing aspect that bathes this spacious home in light and warmth from the winter sun.
The home boasts two separate living areas. Dining and living form one space while the kitchen, casual meals and family create the other.
A stylish custom-built kitchen is fitted with quality appliances and highlighted by reclaimed Tallowwood flooring.
There are three bedrooms, the master with ensuite that's been updated as has the main bathroom.
A bonus is the expansive water views over the Giralang Wetlands that can be enjoyed from the kitchen and large family room or the outdoor entertaining areas.
There's a double garage with internal access.
Auction: Saturday, July 8, noon. Inspect: Saturday, July 1, 11am-11.45am. Agent: Andrew Lonsdale, Ray White Belconnen 0428 486 692.