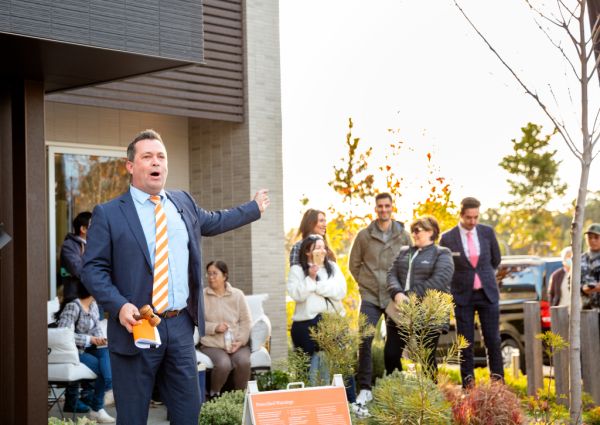 Sydney's median auction price for houses passes $2m, reaches record highs in other cities
Sydney's median auction house price has soared to $2 million, with strong buyer demand pushing prices up by more than 30 per cent in the space of a year.
Sydney house-hunters spent a median of $2,000,500 at auctions in September as the city recorded a clearance rate of 78.1 per cent – the highest rate for the month since 2013 – according to the latest Domain Auction Report Card.
Prices jumped almost 5 per cent over the month, and are now up 30.8 per cent year on year, as strong competition for homes continued despite an uplift in auction numbers.
It comes as potential homebuyers face the prospect of being able to borrow less, with the Australian Prudential Regulation Authority (APRA) announcing this week that banks would need to check if borrowers could afford their repayments if their interest rate was 3 percentage points higher, up from a previous buffer of 2.5. 
While auctions have traditionally been skewed to higher-priced homes, the new median milestone highlighted the astounding conditions that had remained in Sydney's housing market through lockdown, said Domain's chief of research and economics, Nicola Powell.
Prices rose last month despite a bounce back in auction numbers, following three months of declines, with volumes up 36 per cent in September – and 5.2 per cent higher than the five-year average for the month.
"Clearance rates have risen on higher volumes," Dr Powell said. "What it shows is that buyer competition is still there, still intense, but I think as we see restrictions ease further we're likely to see listings continue to rise. Once we start to see a real jump … that's when it will be a real test on clearance rates."
The median price for units also reached an all-time high, surging 4.2 per cent over the month to $1.16 million.
The number of homes selling before auction remained high over the month, at 41.5 per cent, however Dr Powell expected the rate to lower when onsite auctions returned.
Meanwhile, 13.2 per cent of homes were withdrawn from auctions – slightly lower than the decade average – and about 9 per cent of auctions were postponed.
The northern beaches recorded the strongest clearance rate, at 86.1 per cent, with more than 80 per cent of properties also sold in the city's outer south-west, north shore, eastern suburbs and Sutherland regions.
Ray White NSW chief auctioneer Alex Pattaro said about 45 per cent of the group's scheduled Sydney auctions were going under the hammer, with the bulk of the remaining properties sold prior, and some converted to private-treaty sales or postponed.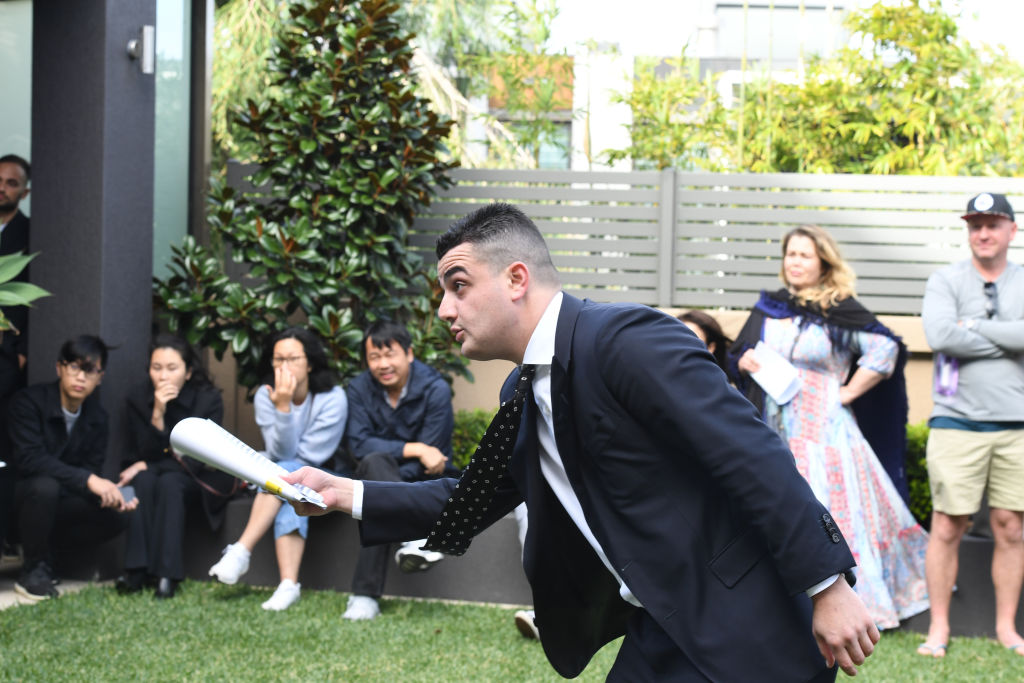 The homes that did go to auction were drawing 10 registered bidders on average, with five actively making offers, and the bulk of properties were exceeding reserve prices, Mr Pattaro said, adding that cashed-up sellers were fuelling competitive bidding and price growth. Properties passed in amid the strong market were typically owned by vendors with inflated price expectations.
"Buyers are there to do a deal, but they're not going to go crazy and really stretch themselves if they don't think the property is worth it," Mr Pattaro said. "There are buyers now that are fearful of overpaying … they've already stretched themselves so much."
He expected an "avalanche of stock" to hit the market post-lockdown, but felt there was the buyer demand to match.
Capital city auction performance for September 2021
Geographies are based on

ABS

GCCSA geography. Auction reporting rates are 98.7 per cent in Sydney, 89.5 per cent in Brisbane, 88.2 per cent in Adelaide, 80.7 per cent in Canberra and 77.5 per cent in Melbourne. Melbourne's collection rate is impacted by a higher than normal number of postponed auctions.
City

Clearance rate

Auctions scheduled

Auction sold

Passed in
Sold prior
Withdrawn
Sydney
78.1%
3069
2365
266
41.5%
13.2%
Melbourne
71.2%
1603
885
94
30.3%
21.2%
Brisbane
62.0%
645
358
134
20.3%
14.7%
Adelaide
75.6%
670
447
101
17.1%
7.3%
Canberra
89.1%
238
171
14
39.6%
3.6%
House auction prices also hit a record high in Brisbane, Adelaide and in Canberra, where the clearance rate was 89.1 per cent, the highest monthly result on Domain records.
Houses auction performance for August 2021
| | | | | |
| --- | --- | --- | --- | --- |
| City | Clearance Rate | Sold Prior | Withdrawn | Median Price |
| Sydney | 79.00% | 37.60% | 11.40% | $2,000,500 |
| Melbourne | 72.30% | 30.60% | 20.50% | $1,100,000 |
| Brisbane | 64.70% | 20.70% | 14.10% | $1,110,000 |
| Adelaide | 77.00% | 17.40% | 7.20% | $764,167 |
| Canberra | 89.50% | 40.70% | 3.70% | $1,068,500 |
Domain
In Melbourne, apartment prices reached a record high of $760,000, while the median for houses fell from the August high to $1.1 million but was still up almost 18 per cent year on year.
Houses continued to outperform units, recording a higher clearance rate across all five cities, though the gap narrowed in both Sydney and Melbourne.
Clearance rates also bounced back in Melbourne over the month, lifting from 52.3 per cent in August to 71.2 per cent in September. However, volumes were still down significantly – more than 40 per cent below the 10-year average for the month – with almost 60 per cent of auctions postponed.
Sellers in the Victorian capital pushed back auction dates to take advantage of the news that in-person inspections would return in late September, Dr Powell said. At the same time, the proportion of homes withdrawn from auctions fell, more than halving over the month, which helped to drive the clearance rate higher. Postponed auctions are not counted when calculating the clearance rate.
"The sheer ability to provide one-on-one inspections has had a positive impact on sentiment and the clearance rate," Dr Powell said.
Marshall White Stonnington director and auctioneer John Bongiorno said buyers had been out in force since the return of inspections, and more vendors were coming onto the market.
 "We might see a little bit of surge in listings in October and November," he said, as new stock comes to the market, and auctions and sales campaigns which had been postponed multiple times due to lockdowns finally went ahead.
The depth of buyers looking for homes would still outstrip the supply, Mr Bongiorno said, but he noted some buyers were already a little concerned about APRA's recent move and further potential tightening of lending standards.