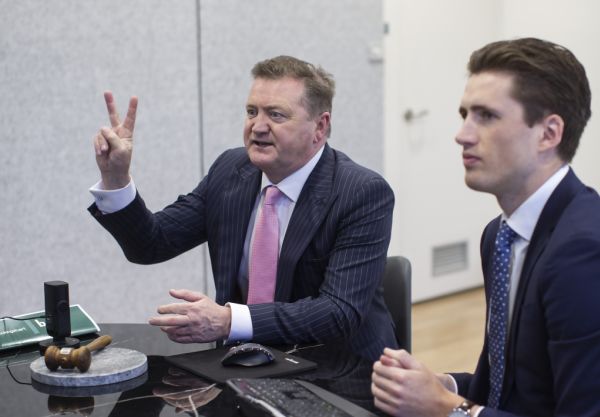 Buyers proved hesitant to bid past $1 million at some online auctions on Saturday, with mixed results across Melbourne.
Plenty of buyers are looking, agents report, but many are price conscious while others are facing delays in loan approvals.
Belle's David Wood waited for some time between bids for a recently renovated two-bedroom Balaclava terrace.
The online auction for 20 Camden Street was conducted in the agency's Albert Park office.
It was one of 510 auctions scheduled in Melbourne on Saturday.
By evening, Domain Group recorded a preliminary clearance rate of 45.4 per cent from 229 reported results.
203 auctions were withdrawn, an unusually high number due to the public auction ban. As withdrawn auctions are counted as unsold, this pulls down the clearance rate.
Of the online auctions that did go ahead, the preliminary clearance rate was 70 per cent.
"You'd describe it like a typical outdoor auction and everyone wanted to keep it low and wanted to be the only one there," Mr Wood said. "They took the gloves off and really got into it once it was on the market, though."
The nearly completely rebuilt home was listed for sale with a quoted price range of $1.25 million to $1.35 million.
Mr Wood rejected a bid of $1.21 million and instead opened the auction with a vendor bid of $1.28 million.
He kept the reluctant buyers to increments of $5000 despite their efforts to cut the rises down early in the proceedings.
The home eventually sold to a young professional couple for $1,378,000, Mr Wood said.
"There's just precious little on the market and there are loads of people looking," he said. "It's an affordable option when compared to Albert Park and St Kilda proper.
"I don't see buyers slowing down, but I think they're very price conscious."
Mr Wood said despite the lockdown, Melbourne prices were holding up well.
"The market is steady," he said. "Some houses have fallen by zero and others are back 20 per cent or something like that.
"You can't throw the rug over the whole market."
Earlier, a four-bedroom home in Warranwood passed in despite plenty of interest and bidding.
Ray White listing agent and auctioneer Chris Watson said four buyers had taken part in the attempted sale of 8 Avonsleigh Close, though more of those watching were sidelined by pending finances.
"We had a lot of people in it but we had some people who couldn't bid," he said. "People leave it until the last minute. We get a lot of, 'Oh we only just saw this place.' "
Bidding opened at $780,000, well below the quoted range of $1 million to $1.1 million, and the participating buyers used large increments for most of the auction.
But bidding stalled at $1 million and, after a lengthy pause, the home passed in.
Mr Watson said the home had a flexible floorplan and looked out on a 741-square-metre block.
"The floor plan flows out to living, which goes out to the deck which looks over the reserve," he said. "But it also has the downstairs rumpus.
"There's a bedroom and toilet; it sort of makes it a makeshift granny flat."
Mr Watson was still in negotiations with buyers at the time of writing.
New figures this week showed Melbourne's median house price fell 3.5 per cent to $881,369 in the June quarter, compared with three months earlier.
Prices remain 6.9 per cent higher than a year ago, the latest Domain House Price Report found.
A more affordable property in the northern suburbs fared better, drawing hot competition and selling under the hammer.
In Fairfield, three buyers competed for the two-bedroom, ground-floor apartment in an online auction.
The unit at 3/4 Rathmines Street had interest from first-home buyers and a downsizer, in what was proving to be a competitive price bracket.
It was listed for sale with a quoted price range of $600,000 to $660,000.
"It's pretty unique," listing agent Grant Leonard said. "It's more like an art deco 1940s apartment and it's spacious compared to what's being built these days."
Bidding began at $590,000 and quickly made it to the reserve of $650,000. It sold to a first-home buyer for $680,000.
Mr Leonard said the first-home buyer market was strong.
"There seems to be plenty of buyers in our market. Looking for that entry point, whether it's a house or an apartment," he said. "There's not a lot of stock coming up which is normal for winter but I think with COVID people are waiting a little.
"With the first wave we found the same."
Near North Fitzroy's Edinburgh Gardens, a two-bedroom terrace sold for $1 million.
Wakelin Property advisory's Jarrod McCabe said the bidding for 22 Coleman Street had been steady from the auction's opening to the sale.
"It wasn't fast and furious or slow, it was nondescript."
Mr McCabe said there'd been a lot of interest in the home for its price point and its location.
"They'd had a huge amount of inspections through, huge numbers," he said. "So to be able to buy something around there at $1 million is why it attracted a bit of interest."
Three buyers took part and it sold to an older gentleman, Mr McCabe said.
He said the home's renovation and floor plan gave it wide appeal, to both home buyers and investors.
"It's ideal for a lot of the market at the moment," he said. "From an investor's point of view it's low maintenance for tenants."
An earlier version of this story stated the online auctions success rate was 83 per cent. This was incorrect and has been amended.