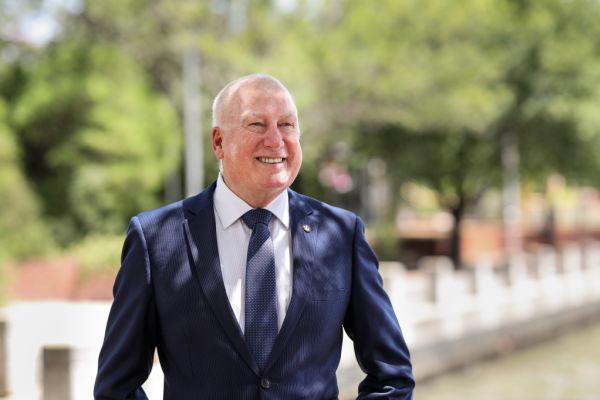 Minister Mick Gentleman on the government's vision for the future of Canberra
Canberra architect Tony Trobe talks to Mick Gentleman, Minister for Planning and Land Management, about the balancing act of planning for a growing city.
A lot of Canberrans are curious about what the government's vision for the future of the city really is. Where is the policy heading and where will new development mainly occur?
As Canberra continues to grow by around 8000 people per year, we are carefully planning for the 100,000 new homes that will need to be built in the next 25 years.
We don't want to see endless urban sprawl in the ACT with congested roads, long travel times and high emissions. Canberra is an extremely liveable city because we are close to nature and it's easy to get around. Building in our existing footprint is more efficient and protects our surrounding landscape.
Our planning strategy will continue to guide quality development along major public transport routes and in town centres to preserve the Canberra we know and love.
Is this a new policy or do we have examples of how it's been done successfully to date?
We've already seen great outcomes in Kingston Foreshore, NewActon and Braddon, and growth in our town centres. This is creating more places for Canberrans to live close to services, entertainment and shopping with a minimal impact on the environment.
Won't this alter the fundamental character of Canberra suburbs?
The current ACT Planning Review is working with local communities to define the character of their suburbs so we can have a better idea of what needs to be protected and maintained. Any zoning changes in your suburb would require a variation to the Territory Plan and involve in-depth community consultation.
What sort of change to the housing types could we expect to see in the future?
We want to continue to ensure there's a variety of housing choices on offer, including free-standing houses for families, units for people who don't want a backyard and townhouses for people who want to downsize.
Given that Canberra is one of the least dense cities in the world, why is land so limited?
A lot of areas around the ACT that look like they may be open for new housing are in fact protected reserves. I believe preserving environmental values and outdoor recreation areas are crucial to a planning approach that supports Canberra's community values. We are also committed to providing environmental offsets for new development – the recently announced Franklin Grasslands Reserve is a great example of this.
To the east of the city, we have the airport and environmentally significant areas, which rules out residential development. To the south, there's bushland and mountains that limit expansion opportunities. To the north, we come up against the ACT/NSW border and nationally significant environmental areas.
It feels like we've been talking about these issues for years, when can we expect to see some major changes to the territory plan to make these ideas happen?
Our current ACT Planning Strategy reflects these ideals. More work is currently being done through the ACT Planning Review to update the Territory Plan, so it delivers better planning outcomes for our city.
Tony Trobe is the director of TT Architecture specialising in the design of sustainable residential architecture. If there a design issue you would like to discuss, email tonytrobe@ttarchitecture.com.au