Sustainable home tour
The passive solar home built at Avalon Beach, Sydney, by Rod and Kazz Powell 16 years ago is even more relevant today.
Is your home energy efficient? It could be worth an extra $125,000 when you sell
When Rod and Kazz Powell built their family home on Sydney's northern beaches 16 years ago, making a heap of money in the process was not top of mind.
Instead, they focused on building a home that would improve their overall health, after suffering through 10 years of living in a cold, damp and thinly-walled asbestos cottage.
"We were getting so sick in our little old house, it was awful. You could actually see the drafts coming in through the floorboards. We could see the outside of the house from the inside," Kazz says. "Not surprisingly, we were all sick for years – lots of respiratory issues."
The Powell's built a home that was everything their fibro cottage was not: a beautiful, luxurious yet pared-back solar-passive home that was well ventilated, naturally warmed by the sun in winter and cooled by breezes in the summer. Immediately, they were more comfortable and – crucially – no longer sick.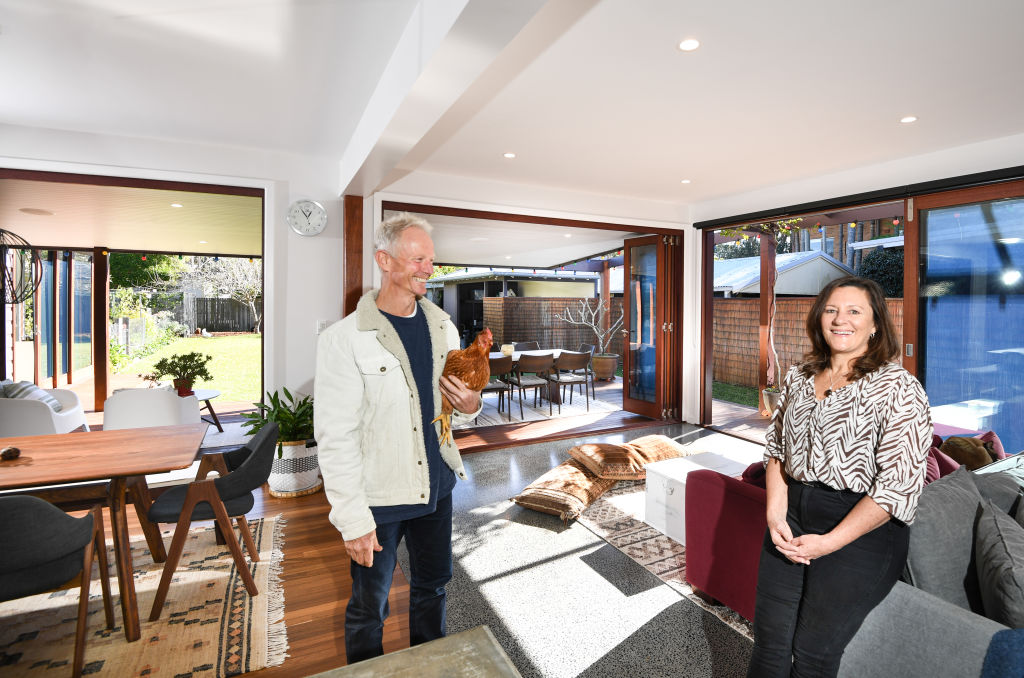 At the time they were local pioneers in eco-friendly design, creating a year-round temperature-controlled home using a central mud-brick wall, louvred windows and eaves angled to direct winter sunlight onto the concrete floors (warming them up) and summer sunlight away (keeping the concrete cool).
Now, 16 years later, not only is their timeless design even more relevant in today's climate of extreme weather and spiralling energy costs, they are reaping financial rewards for their foresight and commitment to sustainable design.
New research from the Domain Sustainability in Property Report, released on June 30, has found properties with energy-efficient features not only sell faster, they sell for a massive premium.
A house with energy-efficient features fetches $125,000 more than a house without, according to the report, and energy-efficient units fetch $72,750 more than a unit that isn't.
And the premium buyers are prepared to pay for energy-efficient features is increasing: just three years ago the difference was $78,625.
The price premium of EE homes compared to non-EE homes, Australia.
Houses
Units
Year
Dollar difference
Percentage difference
Dollar difference
Percentage difference
2022
$125,000
17.10%
$72,750
12.70%
2021
$115,000
18.00%
$81,000
15.60%
2020
$85,000
15.60%
$81,000
16.80%
2019
$78,625
15.30%
$60,000
13.30%
Source: Domain Sustainability in Property Report, June 2022.
So, while the Powell's sustainable build in 2006 may not have been about making money, it's likely to be an unexpected bonus now the family are selling their beloved home to downsize.
"I don't think people realise how accessible a build like this is. We are your average Joes. We haven't had heaps of money and we had to be mindful of that when we built," Kazz says.
"We could've gone to a project builder and it would've cost us a bit less but we kept coming back to it's our responsibility to build something that's going reduce our living costs. And yes, we pretty much have no bills."
Amy Young of Laing and Simmons Young Property is selling the Powell's home and says what's interesting is how inextricably sustainability and liveability are linked.
"Some of the people who are coming through this house, they are commenting on how wonderful it 'feels' and the quality of the build, without always realising that what they actually love about the house is its sustainable features," she says.
"Often those energy-efficient features are what makes a home more comfortable or liveable: the natural light, the cross-ventilation, the double-glazing."
The difference in days on market and listing views between EE and non-EE homes, Australia.
Houses
Units
Year
Days on market
Listing views
Days on market
Listing views
2022
-3.80%
8.70%
-3.80%
5.50%
2021
-9.40%
9.70%
-16.70%
5.80%
2020
-4.40%
6.70%
-12.50%
6.70%
2019
-3.40%
6.70%
-12.50%
2.60%
Source: Domain Sustainability in Property Report, June 2022.
In Brisbane, Christine Rudolph of Ray White New Farm says she's noticed a massive trend towards sustainable homes over the past 12 months, particularly in the prestige space.
"There are so many buyers who will turn up and have their electric Mercedes, electric Teslas, Porsches. One of the first questions they will ask is 'does this home have provisions to charge my car?'" she says.
Rudolph cited the recent sale of an inner-city Paddington home for $2.9 million, where a traditional timber workers' cottage had been transformed into a contemporary masterpiece featuring energy-efficient design and sustainable building materials.
"Our answer was 'yes, here it is in the garage'. It's definitely a big thing with educated prestige buyers. They're very successful people, they're conscious of the environment and they'll not only choose a sustainable home over another property based on the features, they'll pay a premium."
The Paddington home's owner, Dr Ian Denholm, had renovated a Queenslander cottage once before and says the first time round had been a lesson in what not to do.
"It was always a bit of bugbear … we could've done better in terms of the materials that we used, the airflow and focusing on sunlight," he says.
"I was always frustrated at the amount of air-conditioning we had to use, so I tried with this new project to bypass some of that. We wanted to break the mould with lots of louvres and natural light. Automatically your house becomes so much more liveable and that was ultimately the feedback that we got from people when we sold (the Paddington house)."
Sue Connor of Gaea Architects has been specialising in passive solar design for 30 years and says people's motivations for sustainable design tend to vary.
"A lot of people come to us for health and wellbeing reasons – they might have sensitivities to dust, asthma, mould in the house. They need their house to be more liveable," she says.
"Then there are the clients who come to us because they want to help the planet.
"Finally, there are clients who come to me for money reasons … a passive house can save you 80 per cent on your costs."
Connor says anyone can build a passive house if they really want to.
"It goes back to being realistic about your needs," she says. "Australia is going through a lot of climatic change and people need to think about more than just solar panels and water tanks. Do you really need two living areas?
"It's just getting your priorities right. We're doing smaller houses for $450,000 and big houses on the headlands for a few million."
Connor says while sustainable homes have become more common in the prestige space, Australia's future lay in energy-efficient homes becoming the norm.
"It's getting cheaper to do it and that makes it more accessible," she says. "It has to be more mainstream. There's no question."
Ben Roberts sells property in and around Victoria's Bellarine Peninsula and is a passionate advocate of sustainable homes. He says the conversation is changing.
"People are more astute about the cost of living, so even if you're not necessarily environmentally-focused, buyers are wanting to free up cash or disposable income," he says.
"While the first cliched question used to be 'why are they selling and how long has it been on the market?', now, if a home is new or near new, it's 'how does the house perform?'"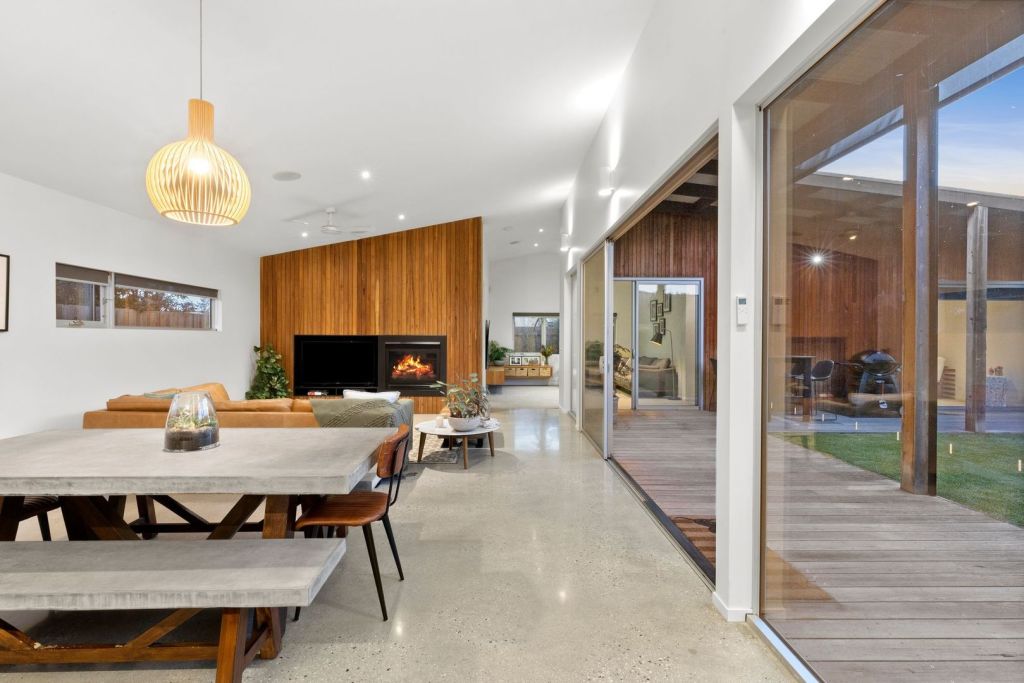 Roberts says the move to electric vehicles had home owners thinking about a greener future overall.
"It's an awareness thing and it's gaining momentum. Look at what happened in the federal election. We sell a lot of projects for developers and they're all solar and chargers for electric vehicles. Buyers are making decisions based not just on the now but on the future."
Roberts says buyers are naturally gravitating towards homes with sustainable features, simply because they're more liveable.
"Say you've got a house facing directly south versus one facing north  – the latter is more desirable and expensive than the other. People are more attuned to that now," he says.
"These are the features every buyer needs to be looking for – where does the sun influence the house. If people are clever and cluey, no matter what their budget is, they can get solar passive benefits."