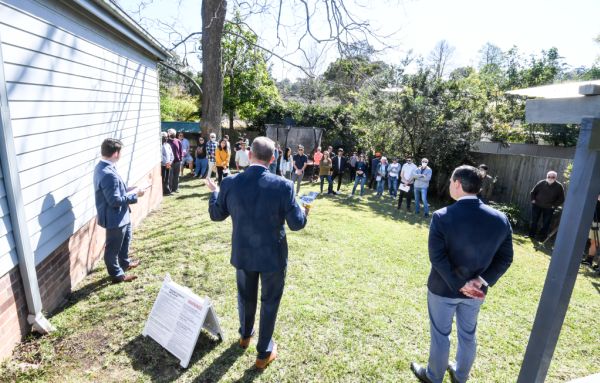 Sydney auctions: First-home buyer drops $681,000 on one-bedroom Glebe apartment
A first-home buyer paid $681,000 on Saturday for a one-bedroom Glebe apartment that attracted registration from a whopping 21 bidders.
The 76.5-square-metre apartment at 15/2 Forsyth Street drew an even bigger crowd of about 50, socially distanced outside by the apartment block's veggie patch.
It was one of 522 homes scheduled to go under the hammer in Sydney on Saturday.
By evening, Domain Group recorded a preliminary clearance rate of 64.7 per cent from 430 reported results, while 74 auctions were withdrawn. Withdrawals are counted as unsold properties when calculating the clearance rate.
Bidding for the inner-west property opened at $540,000 with competitive bidding from the 10 parties who threw their hats in the ring.
The active buyers – mostly first-home buyers and some investors – raised the price in varying increments of $10,000, $5000 and even $1000 at the pointy end of the sell-off.
The apartment sold for $681,000 – $116,000 above reserve – to a first-home buyer from the Sutherland Shire.
Belle Property Balmain selling agent Lynsey Kemp said they knew from the moment they opened the doors to the entry-level home that they had a lot of interest.
"We've had 336 groups through [the campaign]," Ms Kemp said. "It was really competitive and I think that proves there is a lack of stock at that price point.
"Interest rates are so low. It is a good time for first-home buyers to get into the market."
Ms Kemp said the property had a price guide of between $515,000 and $565,000.
"It did sell well beyond everyone's expectations and the vendor's reserve was $565,000."
It last sold for $125,000 in 1989, the agent said. The suburb's median unit price is $910,000, Domain data shows.
In Coogee, a three-bedroom apartment in original condition at 5/130 Brook Street attracted a crowd of 50, including nine registered bidders.
Bidding opened at $1.35 million as four buyers, including an online bidder, threw their hats in the ring.
After more than a dozen bids, the hammer fell at
The Agency Eastern Suburbs selling agent Bernadette Summers said it was a strong result.
"It is a standout result. It needs a lot of work. It's been in the same family for 50 years … it's ready for a transformation."
She said while there are plenty of buyers in the market, they are savvy.
"Buyers are here and people want to purchase … buyers are very savvy and they have done their research. They're very price sensitive at the moment because of the conditions we're living under.
"Having said that, when they see value they will compete for it."
The property last traded for $29,000 in the 1970s, according to Ms Summers.
In Wahroonga, a three-bedroom cottage at 54 Edwards Road also drew a crowd of 50, including five registered buyers.
Bidding for the property opened at $1.1 million, rising in small increments at the start, as four of the buyers vied for the keys to the house.
A retiree from the south coast placed a $100,000 bid towards the end, taking the price to $1.3 million.
In the end, it sold for $1.4 million – $150,000 above its reserve and price guide – to a local family upsizing from an apartment.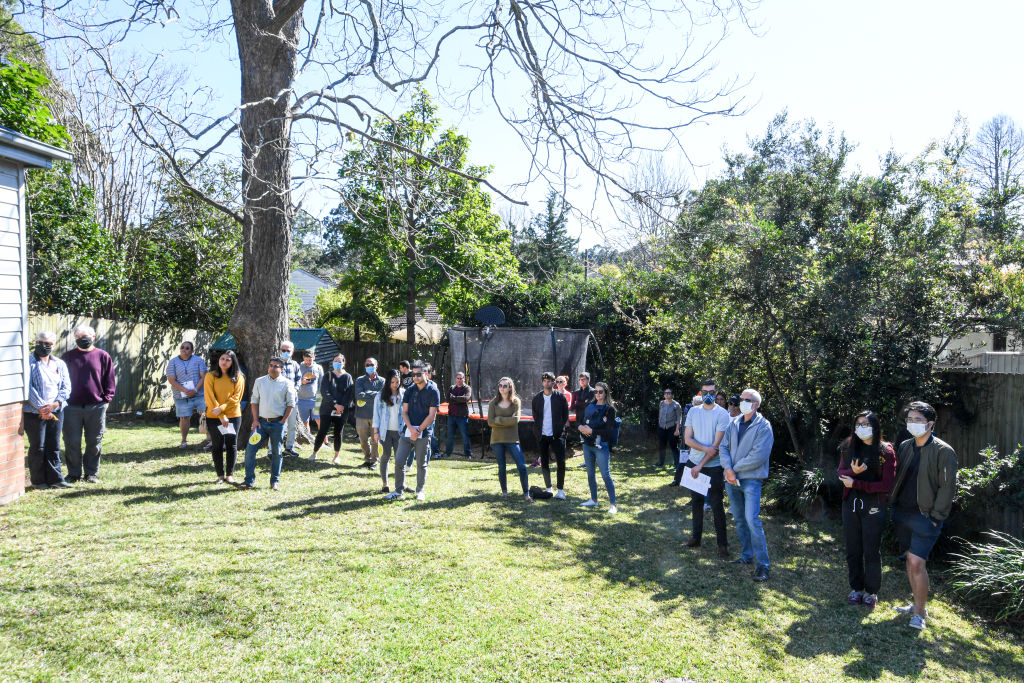 Ray White Upper North Shore selling agent Rowan Lazar said the limited number of homes on the market was holding up prices.
"The main reason prices are where they are is because there is extremely low supply," Mr Lazar said. "In the more conservative markets like the upper north shore market, if they're not motivated, then they are not listing.
"We've only got 10 to 12 selling weeks left until Christmas and I can't see a significant amount of properties hitting the market."
The 712-square-metre block last sold for $825,000 in 2013, records show.
The suburb's median house price is $1,950,000, on Domain data.
In Oatlands, a socially distanced crowd of about 60, including seven registered buyers, turned up to watch 7 Strathalbyn Drive go under the hammer.
Bidding opened for the five-bedroom house at $2 million, below the price guide of $2.4 million.
The price rose in $100,000 and $50,000 increments as three bidders competed.
The hammer fell at $2.62 million, selling $220,000 above reserve to a young family upsizing from a nearby suburb.
Laing+Simmons Oatlands and Carlingford selling agent Daniel Mourad said it was a standout result.
"Within Oatlands, there's not so much supply. There is a lot of demand for homes there."
The property last sold for $919,000 in 2010, records show, the price more than doubling in a decade.
The suburb's median house price is $1,450,000, according to Domain data.