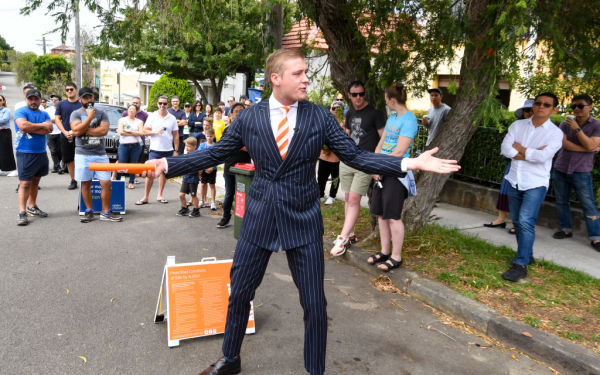 These are the cheapest suburbs to buy within 10km of Australia's capital cities
Rising house prices in almost every corner of Australia has seen buyers scramble to find properties offering the best value for money.
While the pandemic has shifted the need to be close to the city, many are seizing on opportunities to buy property within a stone's throw of central business districts.
Analysis of recent house price data from Domain has found the top suburbs to buy houses within a 10-kilometre radius of the capital cities around Australia.
Sydney
The cheapest suburb that falls within 10 kilometres of the harbour city's centre is Arncliffe, where the median is $1.196 million.
It comes in below the city's new record median house price of $1,211,488, as revealed in Domain's latest House Price Report.
McGrath San Souci's Bill Tsounias said the south Sydney suburb was "extremely good value" for Sydney buyers interested in the area.
"Most of the buyers we're getting through the open homes are coming from the inner west or the eastern suburbs," Mr Tsounias said. "It's close to where they're from, and it's still achievable. They're getting a lot more for their money … it has got lots of nice period homes and is close to the [train] station," he said.
It was followed by inner west's Tempe where the median house price was $1.25 million and just eight kilometres from the city centre.
Cheapest suburbs for houses within 10km of Sydney CBD
| | | | |
| --- | --- | --- | --- |
| Property Type | MedianPrice | YOY growth | Distance to CBD (in Km's) |
| Arncliffe | $1,196,000 | 8.5% | 10 |
| Tempe | $1,250,000 | 11.9% | 8 |
| Botany | $1,355,000 | 4.2% | 9 |
The western suburb of Maidstone topped the list in Melbourne for the cheapest suburb within 10 kilometres of the city centre.
The median house price was $750,000 – well below the city wide median of $936,073.
Compton Green's Lachlan Bishop said the postcode was an up-and-coming area.
"You're a suburb away from a million-dollar suburb and minutes away from Flemington racecourse and Highpoint shopping centre," Mr Bishop said, adding that buyers from across the city were interested in the area.
He said buyers were drawn to proximity to amenities and the value for money of land sizes in Maidstone.
Its neighbouring suburbs followed closely, with West Footscray and Footscray being the next two cheapest suburbs to buy a house within 10-kilometre distance of the CBD, at $820,000 and $849,500..
Cheapest suburbs for houses within 10km of Melbourne CBD
| | | | |
| --- | --- | --- | --- |
| Suburb | MedianPrice | YOY growth | Distance to CBD (in Km's) |
| Maidstone | $750,000 | 4.6% | 10 |
| West Footscray | $820,000 | 6.5% | 9 |
| Footscray | $849,500 | 7.7% | 7 |
The northern suburb of Keperra topped the list of the cheapest suburbs with 10 kilometres of Brisbane's CBD, with a median house price of $565,650. It was followed closely by eastern suburbs hotspot Tingalpa, where the median price is $570,000 – but the secret's out – house prices there have risen by a massive 14 per cent over the past year.
The once blue collar suburb of Salisbury came in as one of the cheapest suburbs in which buyers can purchase a home within 10-kilometres of Brisbane.
The median house price came in at $625,000, according to Domain data, well below Brisbane LGA's median house price of $738,000.
Place Annerley's Nick Bekker said the suburb was attracting a lot of young professionals.
"Because of the relative affordability of the suburb and and because of the proximity to the city, young professionals are buying in," he said.
The suburb is also close to a brewery, schools, a shopping centre and Toohey Forest.