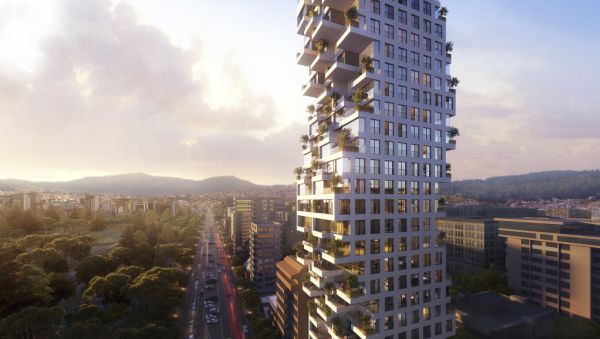 Qorner, the Jenga-like skyscraper in Ecuador that will champion a cool environmental trend
Built in a city famed for its volcanoes, this unorthodox South American highrise defies conventions of symmetry and lineal design, and lets nature play a starring role with lush greenery spilling over its terraces.
Qorner, by respected Israeli-Canadian architect Moshe Safdie, will be unlike any other tower in Ecuador's capital, Quito. Two of its four sides appear jagged from top to bottom, as if levels have been haphazardly stacked on each other.
The Jenga-esque tower was set to be one of Quito's tallest at 24 storeys. But, in recent weeks, notable Danish architects Bjarke Ingels Group (BIG) have announced a tower that has 33 levels. BIG's skyscraper, IQON, has striking similarities with planted terraces and staggered walls.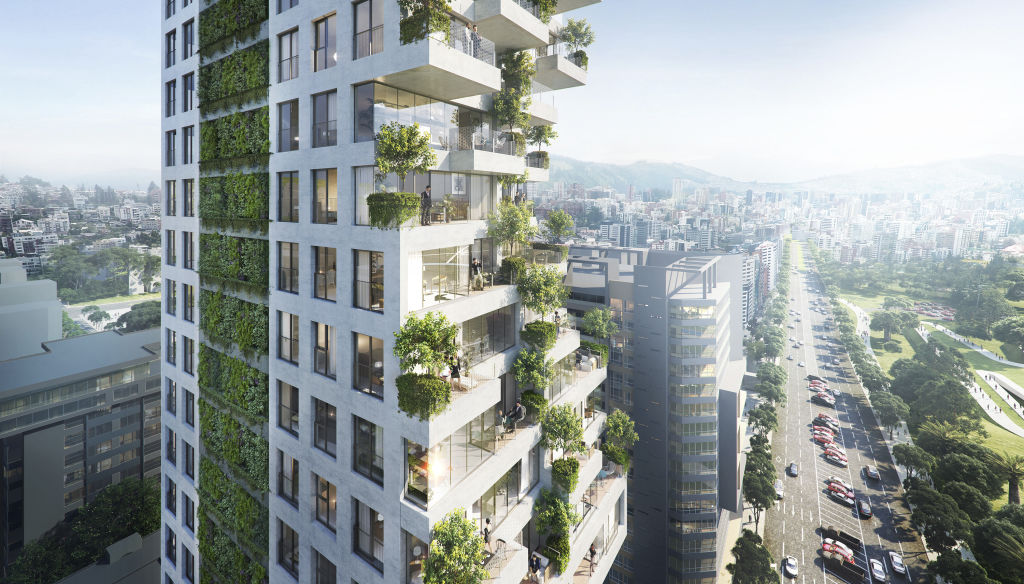 Yet IQON cannot claim to have the same degree of teetering balance nor such a dramatic building profile. Such are the extreme angles of his tower, Safdie describes it as a vertical "hillside of terraces" on one side and a "cliff face" on the other.
Qorner's jagged terraces on the east and west sides are spacious and perfectly positioned to capture maximum light to keep plants thriving. The north and south sides remain structurally vertical, yet the north facade will support a green living wall up the entire height of the tower. Hanging native plants will appear like a textured ribbon of green when seen from ground level.
While they are nothing new – Italian architect Stefano Boeri designed the Bosco Verticale in Milan in 2014 – "plantscrapers" or "vertical forests" are becoming increasingly popular. As more of these green towers rise on the skylines of major cities, developers and urban authorities alike acknowledge they are not just for decorative purposes.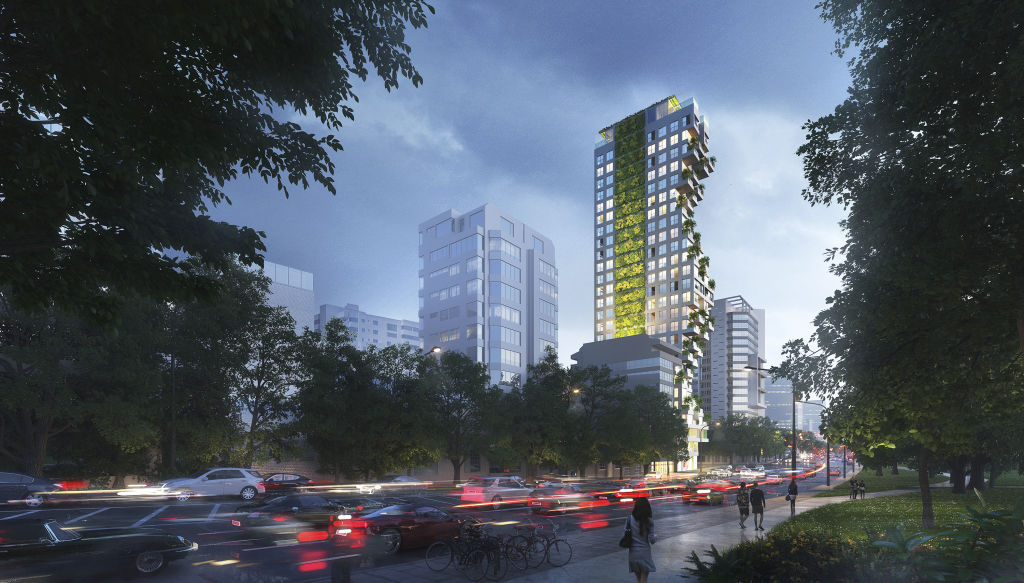 These innovative buildings are contemporary architecture's call to arms in the fight against climate change. Nanjing Towers in China, due to be completed this year, is capable of absorbing 25 tonnes of carbon dioxide a year and producing some 60 kilograms of oxygen daily.
Take skyscraper sustainability one step further and you have buildings designed to feed thousands. Swedish tech firm Plantagon is building the World Food Building in Linkoping, Sweden, that will grow enough hydroponic fruit and vegetables to feed 5000 people for a year.
Sydney's One Central Park has set a high bar for "living" towers in Australia. Designed by French botanist Patrick Blanc, the two Broadway towers are covered with 38,000 indigenous and exotic plants.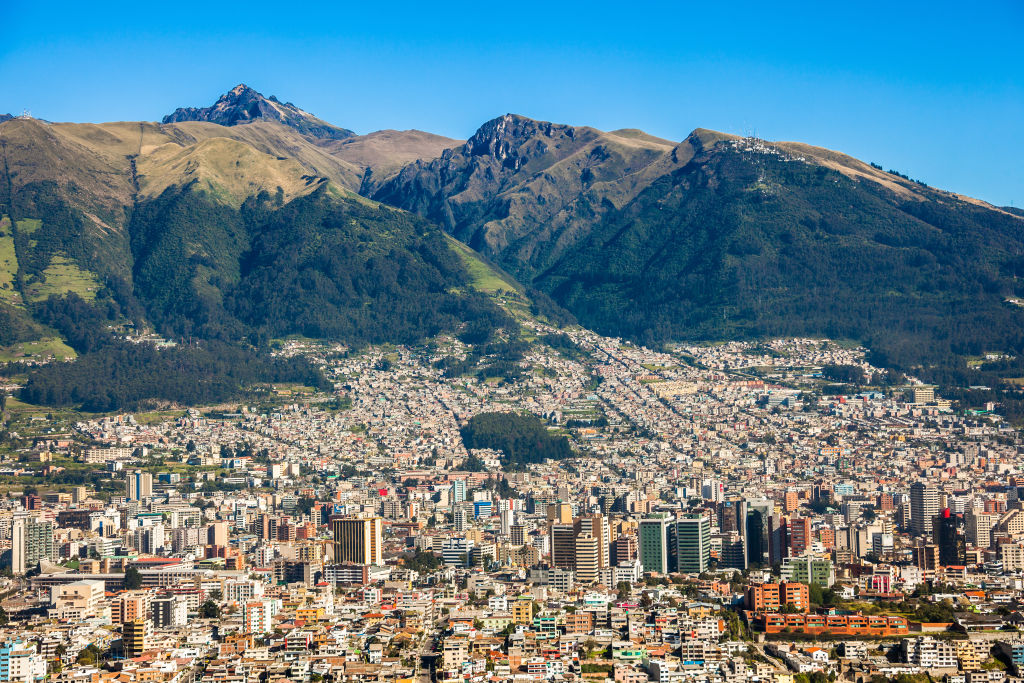 Like Qorner, it is smack-bang in the middle of a concrete jungle. This only maximises its green appeal and functionality, says Mark Giles, senior associate at PTW Architects, the firm that created One Central Park in collaboration with French practice Ateliers Jean Nouvel.
"What I find repeatedly reaffirms to me that we made some really good decisions. When you arrive at Central Park, there are buses, trucks and cars and it's a very noisy place," Giles says. "But once you enter the building, and you come into the garden area, that city noise has dissipated out very quickly [and] you're surrounded by trees and grass and people.
"We really made some strong decisions to respect people and try to create an environment that's more wholesome for them as opposed to trying to herd people around on the edge of a road."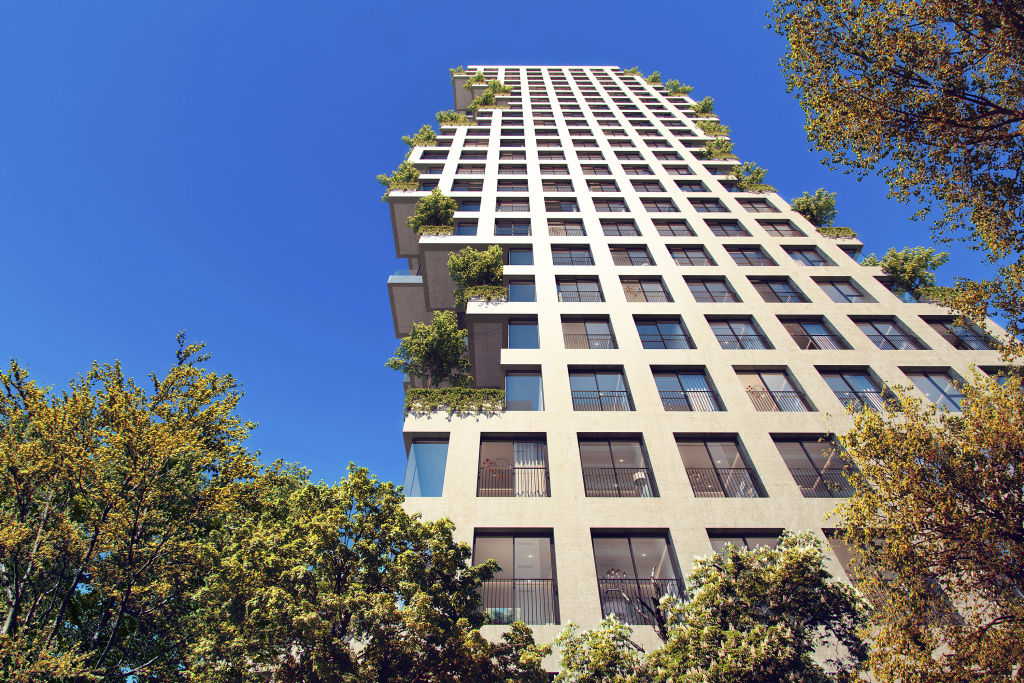 As plantscrapers like Qorner age, the integrated greenery matures. Sustainability benefits are delivered years after construction is complete.
This is the case at One Central Park, which is almost five years old. Dust particles have decreased, making life easier for people with respiratory problems, and the heat load has been cut by 35 per cent, putting the building years ahead in energy efficiency.
Plants have also provided a welcome sound buffer from the city noise, says Giles. "The green walls soak up a lot of noise and they create an environment that's probably far more personable," he says.
The success of buildings with living elements is likely to see more plantscrapers emerge as urban communities work towards resolving the challenges of climate change.
"It's a good test to show that these kinds of buildings can survive and that we can design them so that they do have a future."