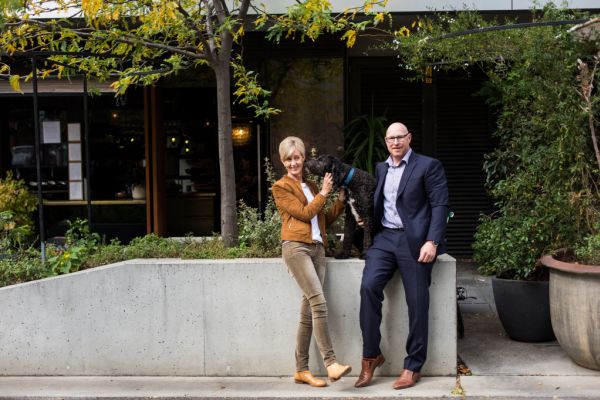 Kidney Health Week: Two Canberra agents share a special bond beyond real estate
Luton Properties Dickson agent Jenny McReynolds and Capital Residential director Cory McPherson share a bond that extends far beyond real estate.
More than 11 years ago McPherson gave the ultimate gift of life to McReynolds – a new kidney.
McReynolds was suffering from polycystic kidney disease. She was diagnosed with the hereditary disease in her early 20s, and by her early 40s she was undergoing dialysis three times a week.
Her mother and uncle have both passed away from the disease and one of her three children has been diagnosed.
It was the 2006 office Christmas party where the journey began.
Both McPherson and McReynolds were real estate agents at the then-Richard Luton Properties but they worked in separate offices and hardly knew each other.
After handing McReynolds and her husband Michael an award, director Richard Luton remarked jokingly, "if anyone has got a kidney and is O-positive reach out".
After the speech, McPherson walked up to McReynolds, whom he "had not spoken too much before that", and said he would donate his kidney to her.  
"I couldn't believe it, I thought, 'Is this really happening?' because it was so out of the blue," she says.
"He said, 'I've had a few drinks but I really mean it, ring me tomorrow', and that's what happened."
The transplant took place almost 12 months to the date after McPherson first approached her. It took a rigorous preparation and involved personal trainers and psychologists.
"We went through a massive work-up. Cory actually got a personal trainer involved and lost 11 kilos to go through the process," McReynolds says.
"He never wavered despite psychologists trying to say what a massive thing he was doing … I remember the conversation Cory had with a psychologist, because if you're not family they try to deter you."
"The [psychologist] really wanted to make sure. We had to go to two psychologists because one tried to talk me out of it," he adds.  
The two former colleagues, who barely knew each other prior to the donation are now "like brother and sister", and McPherson believes some of his traits have even rubbed off on McReynolds.
"Now I feel like we are family, and we catch up for a lot of family anniversaries like birthdays and things like that," he says.
"We are connected for life, and Jenny has more of a taste for beer than ever before."
"He's a legend in our family," McReynolds adds.
McPherson is humble about his donation and remarked he thought it was the opposite of a selfless act.
"I was in a position where I was able to do it and I did it," he says.
"It's no different than somebody needing $5, to me."
This week, Kidney Health Australia is marking Kidney Health Week to raise awareness of the insidious nature of kidney related diseases.
One in three Australians are at risk of developing chronic kidney disease and people can lose up to 90 per cent of their kidney function before experiencing any symptoms.
One Australian dies every 27 minutes from chronic kidney disease, but only less than 10 per cent of people who are affected are aware that they have it.
Around 1400 Australians are on the waitlist for a kidney transplant, with a further 11,000 on dialysis.
McPherson and McReynolds are both passionate advocates of organ donation.
"It's not just putting yourself on the organ donor list, it's making sure your family are aware," McPherson says.
"If you are thinking of registering on the organ donor list, please consider it because I am living proof of what it can do," McReynolds adds.