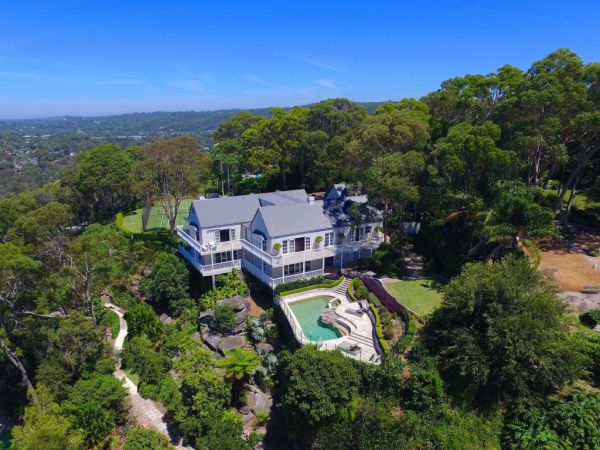 Superyacht builders Louise and Matthew Baxter in $20m Bayview home buying spree
We can't always pick our neighbours, but for some of us there is the option of buying them out. Take yachties Louise and Matthew Baxter, owners of the Dutch superyacht builder Moonen, who have bought the acreage estates on either side of their Bayview home to amass almost 1.4 hectares of prized hilltop real estate at a cost of more than $20.6 million.
The couple first bought their home on Kara Crescent overlooking Pittwater in late 2016, paying $6.5 million for the residence of Yowie chocolate company chairman Louis Carroll, complete with a tennis court and swimming pool. Fast forward to last year when the couple took up the opportunity to buy next door at a cost of $10 million, lodging a DA in March to demolish the house and pool.
More recently the Baxters have bought their other neighbour, Highland Lodge (once owned by Opera House architect Jorn Utzon), for $4,175,000 – with yet another tennis court and pool.  The speculation is they plan to subdivide a large portion of the garden that abuts their tennis court and lodge a DA for a house on the remaining land that won't impinge on their privacy.
Records show Belle Property's Brendan Pomponio sold the Baxters their latest acquisition, and also had a hand in another recent neighbourly acquisition on the northern beaches. Former Macquarie Bank chief Nicholas Moore has safeguarded the view from his long-held Whale Beach weekender by buying the 1940s cottage Islay next door for $7.3 million. As some of us do.
Luxury pad of a luxury car dealer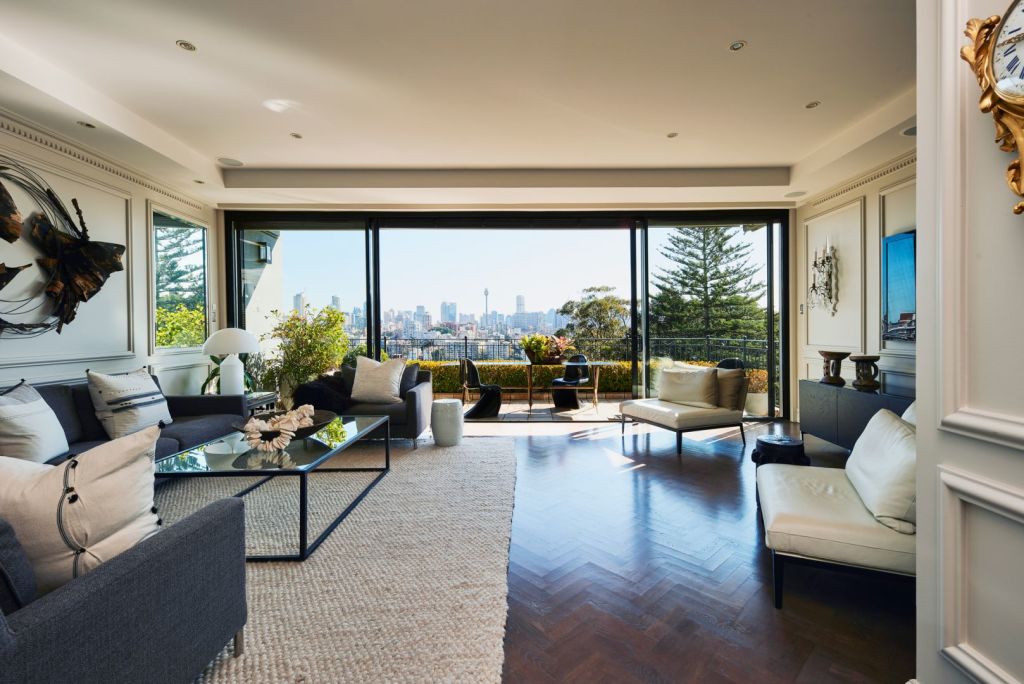 Luxury car dealer Robert Damelian and his wife Karen have sold their Darling Point superspread for $12 million to private equity dealmaker Andrew Gray and his wife Emma.
The Damelians purchased the two-storey apartment in two parts – the first in 1999 for $2.75 million from cattle exporter Patrick Pursell, and the second in 2002 for $2.98 million from Lynette Harvey, former wife of billionaire Gerry Harvey.
Consolidated into one spread, it was sold on the quiet by Bill Malouf, of LJ Hooker Double Bay, following the couple's purchase of a $3.6 million beachfront home in Broadbeach on the Gold Coast.
Malouf, meanwhile, had privately been taking the odd buyer through the Gray's grand Victorian Italianate mansion Rothesay in Bellevue Hill, sparking widespread rumours (and a short-lived story in the local paper) it had sold for $25 million. However, Gray told Title Deeds Rothesay had attracted plenty of unsolicited interest over the years, and denied it had sold.
Seven's home upgrade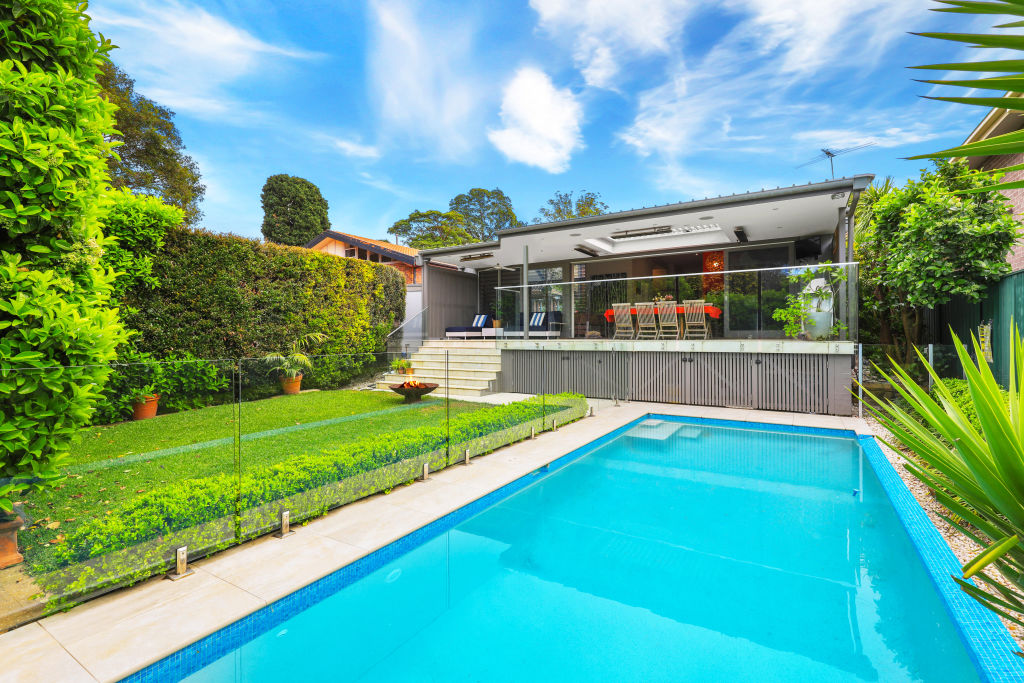 Seven's chief financial officer, Jeff Howard, looks to have settled into his new job a year after he was appointed by Kerry Stokes, making now a good time for him and his partner, Sarah McLachlan, to trade up from their Chatswood home.
Howard purchased the bungalow in 2004 for $940,000 back when he was a banking executive at ABN AMRO. He took up the job as top bean-counter at Seven early last year, replacing McMahons Point local Warwick Lynch.
The Ray White sale price remains undisclosed but it was listed with a $3.3 million to $3.5 million guide.
There's no sign of where Howard is headed to next, but wouldn't Mosman be just the ideal upgrade? Close to his boss, Seven chief James Warburton, and the waterfront reserve home in Beauty Point he bought for almost $5 million in 2007.
Neighbourhood Watch in Potts Point
Bruce Sutton, of the Sutton Motors family, has bought the apartment next door to his spread in the Pomeroy building for $5 million from lawyer Tony Johnson.
Sutton has been a Pomeroy local since late 2005 when he and his wife Valerie bought the level-six apartment for $8,085,000. But with a hobby making giant paper planes taking up his garage space, the additional three-bedder with extra parking will come in handy.
Meanwhile, Future Fund founding board member Susan Doyle and her veteran equities husband Richard Douglas have sold their sub-penthouse upstairs through Richardson & Wrench's Jason Boon for $5.15 million.
The couple were downsizing from Mosman when they purchased it for $4.25 million in 2017 from Universal Music executive Janine Ashton. Given Doyle and Douglas's plans to move to the country, it has now sold to a couple downsizing from Mosman.
From Bronte to Bondi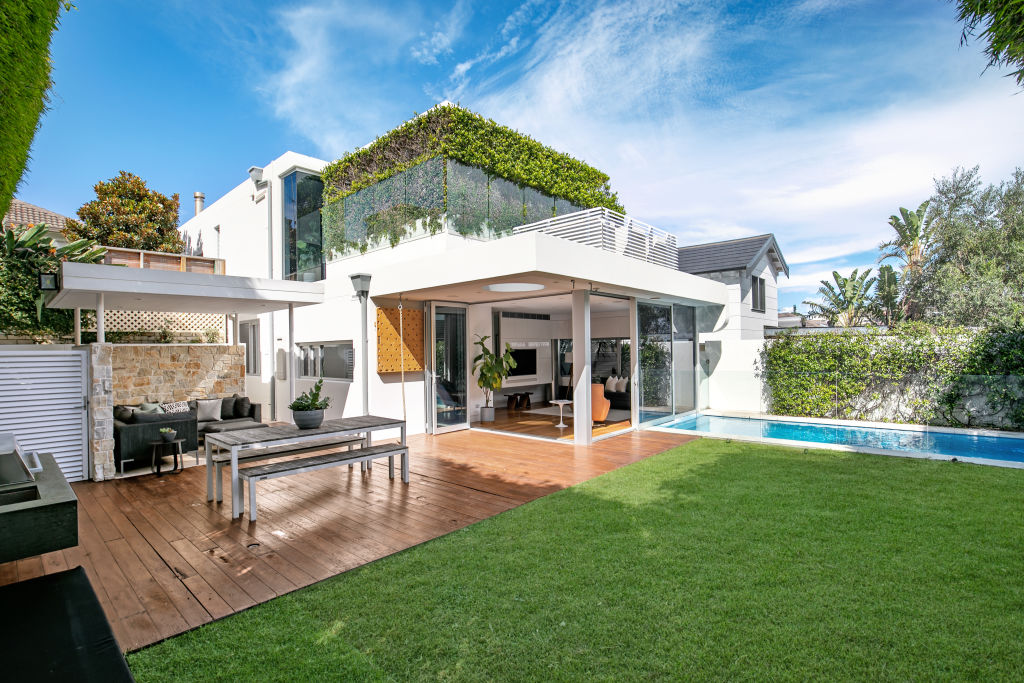 The Bronte home of Joshua Chan, founder of one of the largest online gambling websites, has finally appeared on property websites following his $20.1 million penthouse purchase in Bondi Beach last month.
Chan was one of seven buyers who pushed the sale price of yachtie James Mayo's penthouse $3 million more than the reserve, making it the most expensive apartment ever sold under the hammer in Australia.
Mayo more than doubled his $9.8 million purchase price of five years ago from former Glencore coal executive-turn-property mogul Vaughan Blank.
It was listed with The Agency's Ben Collier given Mayo's up-grade to a $36 million beachfront house he bought in Point Piper late last year from businessman Michael Zammitt.
Chan, the son legendary restaurateur Augustine Chan, whose East Ocean restaurant in China Town was an institution in the 1980s, has owned his Bronte home since 2012, paying $4.55 million for the designer digs at the time.
The three-level residence designed by BMA Architects goes to auction May 8 with a $10 million guide through Ric Serrao, of Raine & Horne Double Bay, and Alexander Phillips, of PPD Real Estate.
Ex-Qantas chief downsize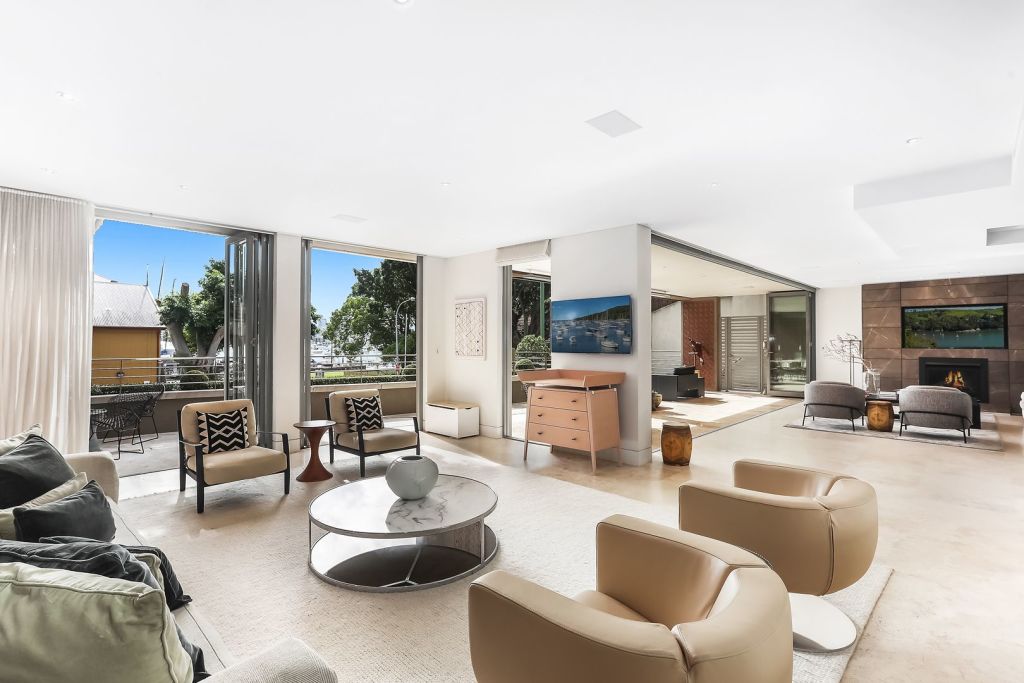 The $10 million apartment in Darling Point of former Qantas chief Geoff Dixon and his wife Dawn hit the market this week given another downsize plan by the couple.
This is the parkside spread the couple bought five years ago for $8.65 million following their sale of a waterfront apartment in Woolloomooloo's Wharf Terraces complex for $4.3 million.
The Dixon's Darling Point's apartment is one of three in the Elandra triplex, and was previously owned by Sandra and Victor Topper, of the AI Topper hides trader family, who then moved to the Garry Rothwell development The Crescent in Woollahra for $7.5 million.