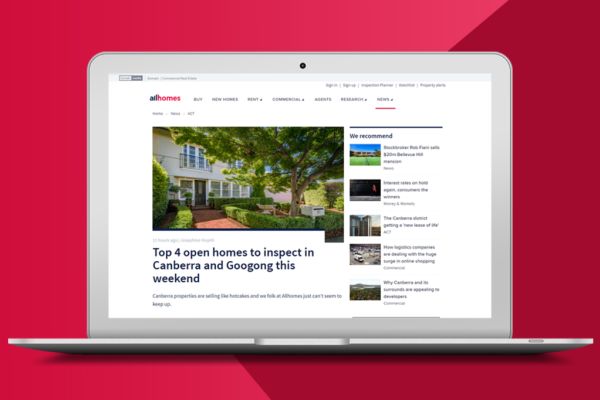 Want to stay up to date with the latest ACT property news?
As you may be aware Facebook has blocked Australian users from sharing or viewing 'news' content on the platform and has prevented 'news' publishers from posting organic content. This is very much an evolving situation which we are watching very closely. 
In response to the changing media landscape, here are a number of ways you can access our articles on local property news, new listings, new developments, seller stories, property advice and lifestyle, auction recaps and everything in between outside of Facebook:
Sign up to the newsletter 
Allhomes sends out a weekly newsletter every Friday with all the latest ACT property news and market movements. Head to our website and click the 'Sign Up' button on the top right corner.
Download the app
There is no better way to keep your finger on the property pulse on the go. Download the Allhomes App and click 'News' via the 'More' icon.  Visit your App Store or Google Play to download and install. 
Get your hands on the magazine
Our weekly Allhomes magazine is a great source for property news and a beacon of inspiration no matter where you are on your property journey. Keep up to date with some of the best and beautiful new listings to hit the market in Canberra and the surrounding regions and use it as a guide to upcoming open homes and auctions that weekend. You can pick up a copy in The Canberra Times every Saturday or from one of the newsstands around the city. You can also catch up on previous issues online.
Twitter
Follow our Twitter account at @Allhomescomau where we'll share articles every day of the week.
Instagram
Head to the top of our Instagram page where you can access the latest articles via the LinkinBio link that's updated daily. We also regularly share content on our Instagram story with a swipe-up to read more.
LinkedIn
Search for Allhomes on LinkedIn and click 'Follow' to ensure you see all of our latest posts. 
Bookmark
Don't forget to bookmark the Allhomes 'News' page to access ACT property news easier.
The Canberra Times homepage
You can also scroll down on The Canberra Times homepage to find the Allhomes property strap with our top five stories across local and national news and three of the hottest Canberra properties for sale.