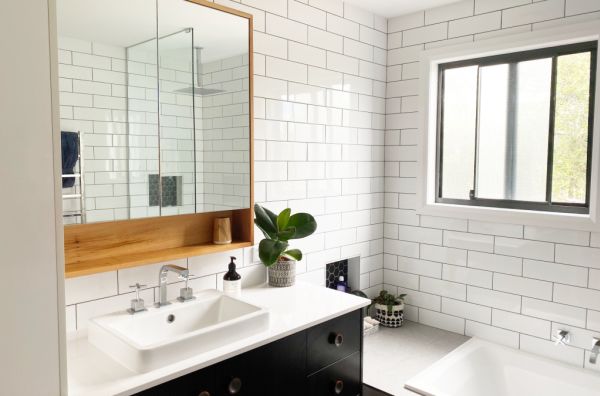 How we renovated two bathrooms for under $20,000 (without getting our hands dirty)
For some unknown reason, only the cheapest bathroom en suite accessories known to mankind had been installed in our family home. Despite this, we fell in love with the property, and made an offer that was accepted.
The bathrooms were awful. There was a tiny, low bath not fit for an adult, a vanity unit from a local hardware store bought for a few hundred bucks and beige linoleum. It didn't spark joy, to say the least.
The shower in our en suite was a small glass box in the corner, leaving an awkward gap next to the wall that was impossible to clean. And the tiles weren't even halfway up the walls, causing rising panic when the kids splashed in the bath.
But the bathrooms didn't faze us too much when we bought the place, as we knew that one day as cash flow allowed, we'd replace them.
Despite our best intentions, we lived with those ugly bathrooms for longer than we intended, raising kids, working and making the house a home. Then one day, the bathrooms made it to the top of the to-do list.
View The Block properties for sale
It was by no means our first rodeo. We had installed the new en suite downstairs, and had gutted and replaced the bathroom in our first home. We knew that bathrooms can get expensive because tradies – quite rightly – build in a fee to project manage the renovation.
Sure, it's handy not to have to coordinate the trades and keep the project on track, but the luxury of outsourcing this element of a project can add at least 20 per cent to the job. It could be even higher if costs have been buried in a quote that hasn't been adequately itemised.
"Realistically, you could save at minimum 20 per cent if you're able to organise everything yourself," says Mick Owar, owner of Melbourne maintenance, renovation and waterproofing company Universal Tradesman.
A friend was recently quoted $26,000 to replace just one bathroom. When I pointed out that the cost was so high because they were paying extra for the tradie to project manage the job, she felt duped.
Of course, if you don't know what you're doing, hiring a builder who will project manage a renovation is money well spent. Otherwise you could end up throwing money down the drain.
But given our experience, it made sense to project manage it all ourselves. Including trades, our bathroom and en suite renovation set us back a total of $19,040, saving us at least $3808, but probably more. Here's how we did it.
Shopping around avoided unseen mark-ups
Browsing a glossy catalogue over a coffee with a builder is a luxury that can ultimately cost you.
We did the legwork, recording the bathroom measurements to a spreadsheet before heading to the shops to order everything we needed, right down to the silicone.
Everything was new, and above mid-range. Sure, it's great to pick up a bargain bath, but it's really not worth the saving if you don't completely love it.
We settled on large grey floor tiles and white subway tiles for the walls, which were more affordable.
Floor and wall tiles – $2000
Full-sized bath – $600
Two shower screens and glass for the window – $2400
Downlights and fans – $600
Two toilets – $600 each
Two custom-made vanity units – $1800 each
Taps and sinks – $1000
Matching reclaimed timber mirror cabinets featuring reclaimed timber – $1200 each
Total cost for fixtures and fittings –  $13,800
We stored everything in our garage, labelling boxes so everything was easy to find. We carefully double-checked each item a few weeks before the project commenced, hired a skip bin to keep the worksite tidy and even sold a few intact items via Gumtree, pocketing around $300.
Hiring our own builder cut costs
We hired a talented builder, who worked full-time on the project for two weeks.
He'd done other renovation projects for us, and we trusted him. We paid him $2400 a week, which is above his normal hourly rate. He had the old bathroom ripped out in the first few hours and handled all the tiling.
I work from home and have become accustomed to the upheaval of juggling tradies and deadlines during our renovation projects over the years, so I was prepared when the job began.
It's essential to keep up the communication between all parties, with regular calls to my husband to double-check decisions we had made along the way and answer questions from the builder if needed.
Project managing the renovation saved thousands
Once we find a licensed tradie we can trust, we stick with them, building up a rapport over years. Loyalty doesn't entitle us to a discount by any means, but we do get priority treatment if there's an emergency.
We booked our plumber and electrician in, promising to update them a day or two before we needed them.
It's also handy to offer to duck out to the hardware store to pick up nails or screws to keep your tradesmen busy. And we always made a beautiful lunch each day for tradies, and supplied them with plenty of coffee.
We could have saved more if we had kept the shower, sink and toilet in the same position in each room, but the layout wasn't great, so we moved everything. But project managing meant we still saved a lot.
Now that it's finished and we are enjoying the transformation, our only regret is not renovating the bathrooms long ago.
For more renovation advice, read Domain's Ultimate Guide To Renovating Your Home.