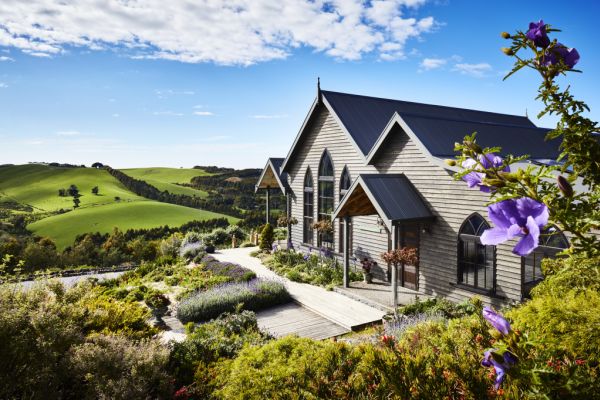 A country retreat built from the remains of an 1876 church
Built high on one of South Gippsland's lush green hills, The Church House is a unique home and guest house created around the bones of an 1876 church.
 Owner-builders Mary and Peter Riedel designed the property after chancing upon the church remnants, which had been dismantled for years, through a newspaper advertisement for a farm auction. "At the bottom of everything it said 'historic church', which is what caught my eye," Mary says. 
At that stage, the couple already owned land in Fish Creek, about 170 kilometres south-east of Melbourne, a blank canvas that Mary describes as "20 acres and one tree". They'd made some inroads, creating an orchard and small vineyard, but acquiring the disassembled church was the inspiration they needed for their build. 
"It just sort of captured our imagination," Mary says. "It gave us an open-plan living area with volume, which is what we like."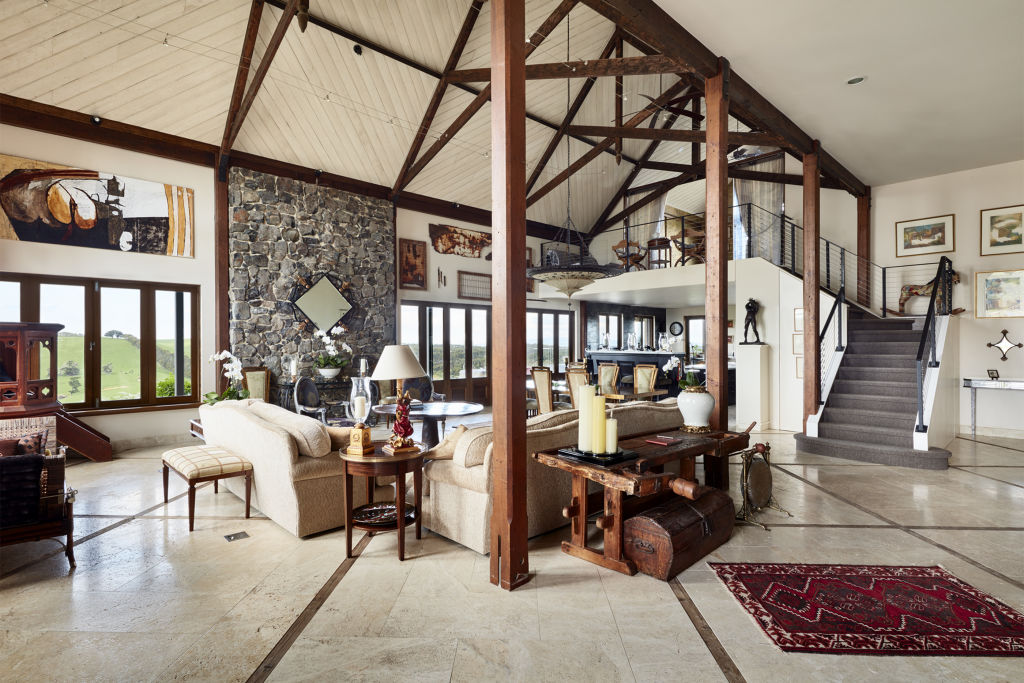 The design the Riedels came up with echoes a traditional church layout, with a vast central room and a "wing" on either side.  "A church usually has three peaks – a central hall, and halls on either side – so that's really what we've done," Mary says. 
The central room encompasses living, dining and kitchen areas, with exposed beams and vaulted trusses from the original church. 
The cedar ceiling is also original and needed to be reshaped before installation after becoming distorted over the years. The Riedels had it painted in several different shades of cream, "the idea being that it keeps shading, but it's always shaded so that we never have to paint it again." 
One could argue that's a good idea for a room that has an apex of eight metres. This vast space allowed for a mezzanine level, which holds a bedroom suite with private balcony – it's one of three suites available for guest bookings. 
Two further ground floor suites with their own private outdoor areas round out the accommodation options. Sumptuous hand-picked furnishings feature in the suites, a flair Mary developed while at the helm of an interiors business in Melbourne.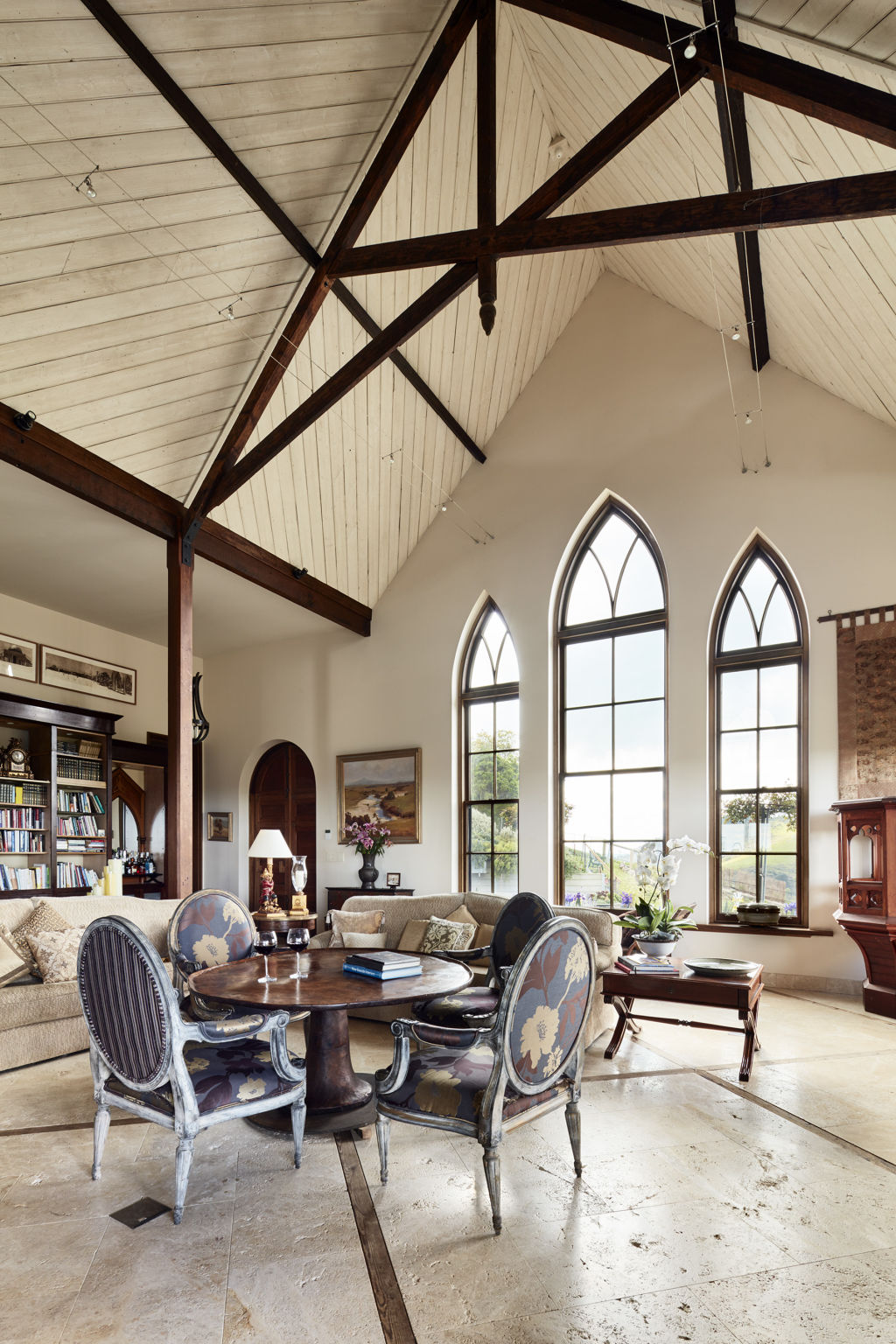 As a coastal engineer, Peter's background also helped bring the vision to fruition, working out how to combine the old with the new. 
The couple has been able to trace some of the church's history. Built in 1876 in Melbourne's Royal Park, it was moved to Bentleigh in 1925 where it was in use for decades until its congregation outgrew it, and the church faced demolition. 
A farmer from Neerim South (90 minutes north of Fish Creek) relocated it to his property in 1994, envisioning a rural wedding chapel. But it remained in pieces until the Riedels gave the historic structure its long-term home.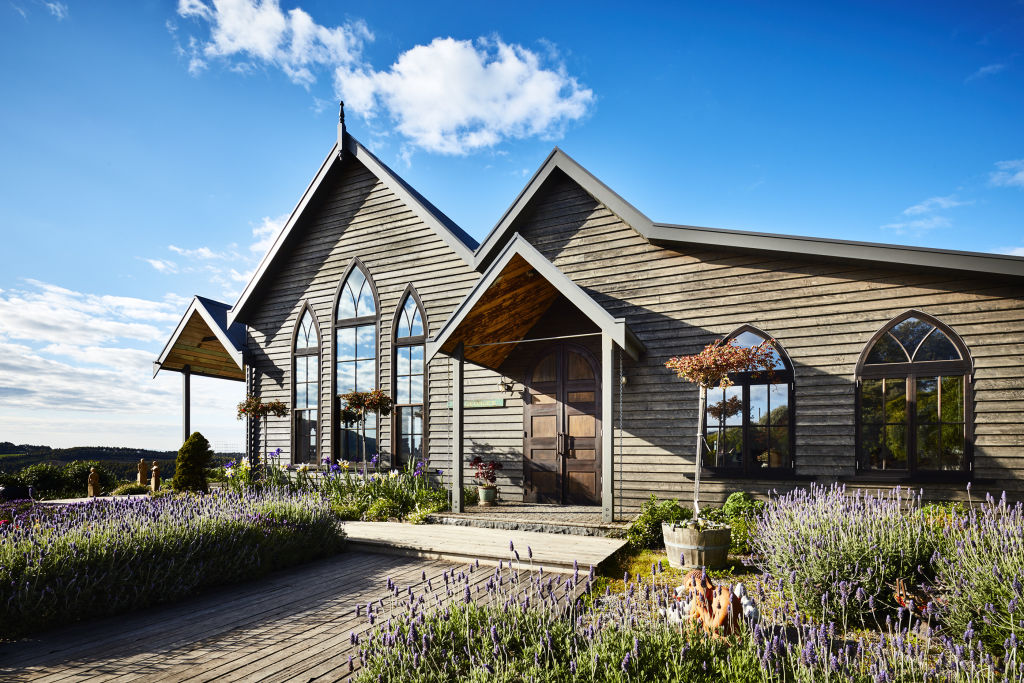 Additional period pieces needed to be sourced during the build, including the imposing, three-metre-high entrance doors. 
"The original doors were too far gone," Mary says. "But we were very fortunate. We picked up a pair of church doors from a Lithuanian chapel at an auction in Daylesford." 
Generous windows, including three tall gothic-style frames, afford views of undulating hills from all the rooms, as does a bluestone verandah where guests can dine.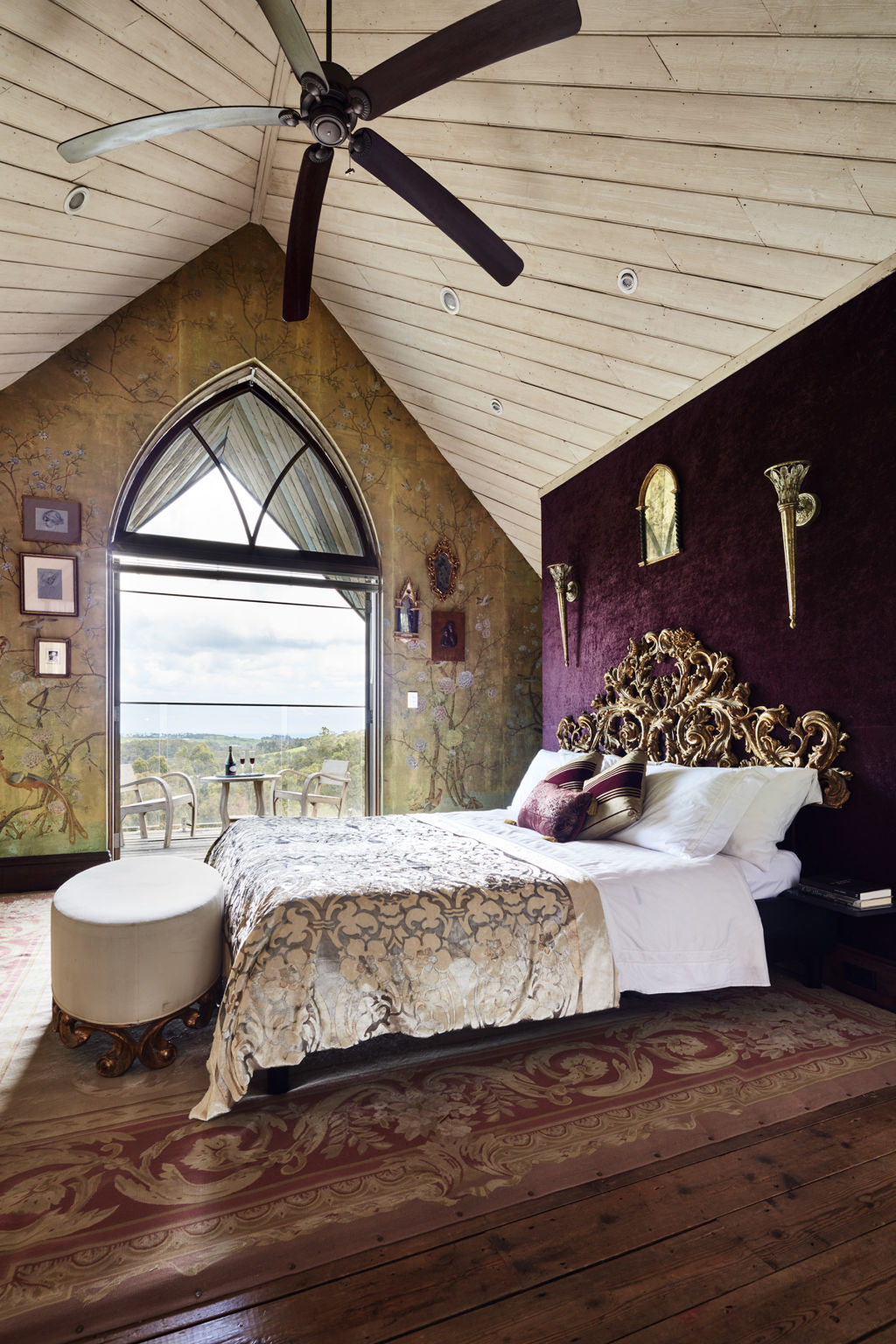 The Riedels love to cook, and the produce they grow themselves in their kitchen garden, and orchard forms the basis of breakfasts and dinners at The Church House. 
In fact, it was partly the healthy yield from the property that prompted the couple to open their home to guests in the first place. Their original plan was to have a home large enough for their six adult children and sixteen grandchildren to visit, "but they've all skipped town," Mary laughs.
But it's worked out well. "We enjoy company, plus with all the produce we have, this allows us to use everything we've produced." 
Mary and Peter have lived at The Church House for 10 years now, and have never regretted their move from Melbourne to Fish Creek.
"You know what, we feel like locals," Mary says. "We're treated like locals, and it's a fantastic community. We're loving it."