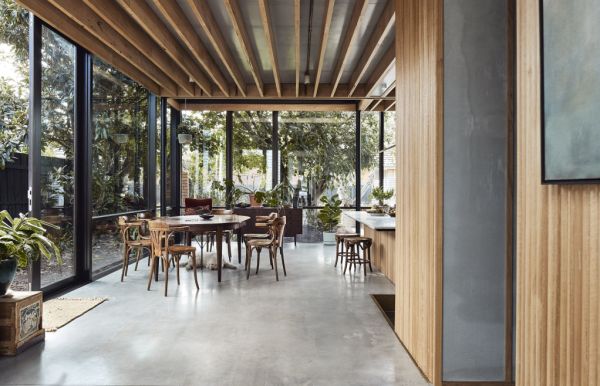 An invigorating house extension with two unusual 'rooms' made out of netting
This Japanese-inspired extension is an example of great architecture you can live with: invigorating, full of functional ingenuity and just lovely to look at.
The Harry House addition, built behind a double-fronted Victorian weatherboard home for a family of five – three of them young boys – demonstrates what designer Chris Gilbert says his creatively provocative Melbourne and Hobart-based Archier studio colleagues are always working for:
"We're always hunting for a primal sense so that buildings become beautiful and full of life."
Why a room feels good is not always easy to articulate. But the body-in-space knows it. The mind does too because there's an invocation of ease delivered with the sense that things look right, are scaled right and in the right materials and placements.
Nothing stands out as "try-hard" because that's not the point of genuinely sensational architecture that you can live with and comfortably move around in.
In this case, the four-bedroom house in Melbourne's northern suburb of Coburg has an upstairs parents' retreat and features a lot of timber, specifically Victorian ash in various iterations, and was styled to acknowledge the Japanese heritage of the busy medico mother.
The client couple didn't want a big house. Instead, says Gilbert, they prioritised an addition that wouldn't displace much of a hybrid Mediterranean/native backyard and would look out to it by day, and light it like a lantern at night.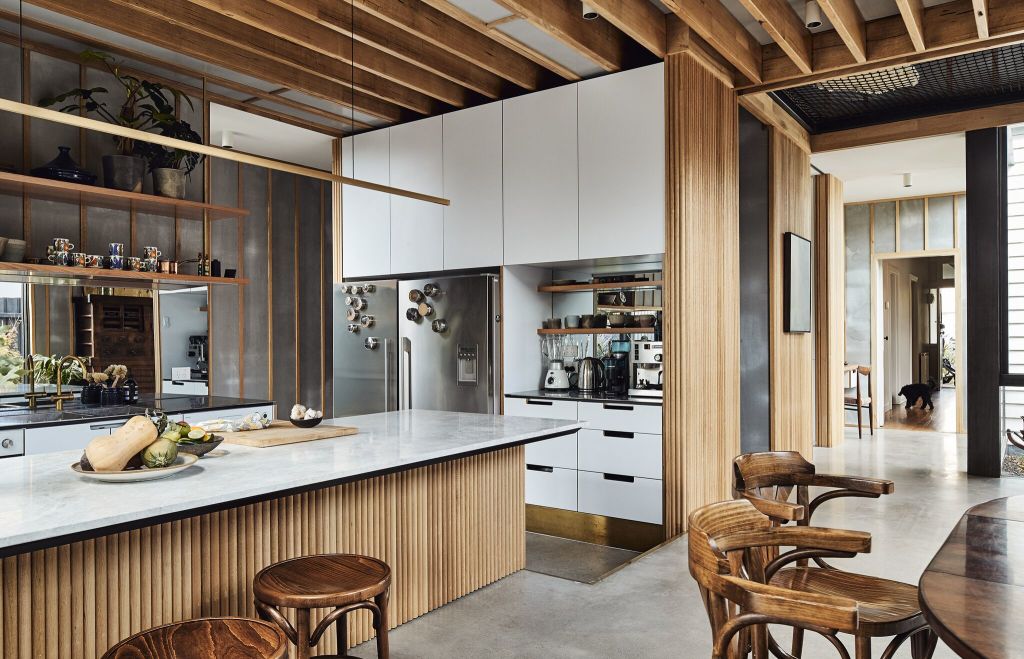 They further wanted a super-rational floor plan "that condensed the transactional costs of living".
"They didn't want to spend time moving through a massive house," he said. Thus, "in the super-condensed plan of the boys' (downstairs) bathroom, the boys first go through the laundry where they can drop their clothes".
In the generously-glazed kitchen-dining-living area, space is implicitly expanded by inviting visual progression into the greenery; by exposing the rafters to borrow every extra possible above-head millimetre, and by doing something canny with the island bench.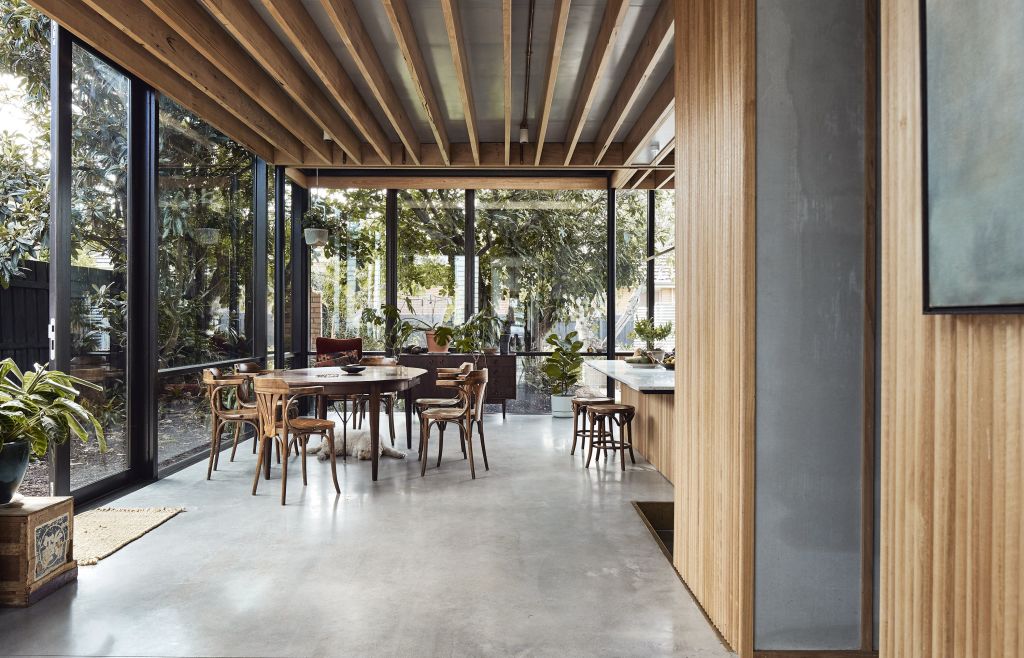 Gilbert sees islands "as very heavy bodies in space. By dropping the kitchen floor a step we lined it up with the dining table and it becomes like a piece of furniture in the room".
A mirror splash back also amplifies the idea of roominess.
So do two features that advertise what can often occur when you consult Archier. Something unexpected but fun is bound to happen. And it did.
In two places in the living area, are double-level voids bisected by suspended black netting. Huh?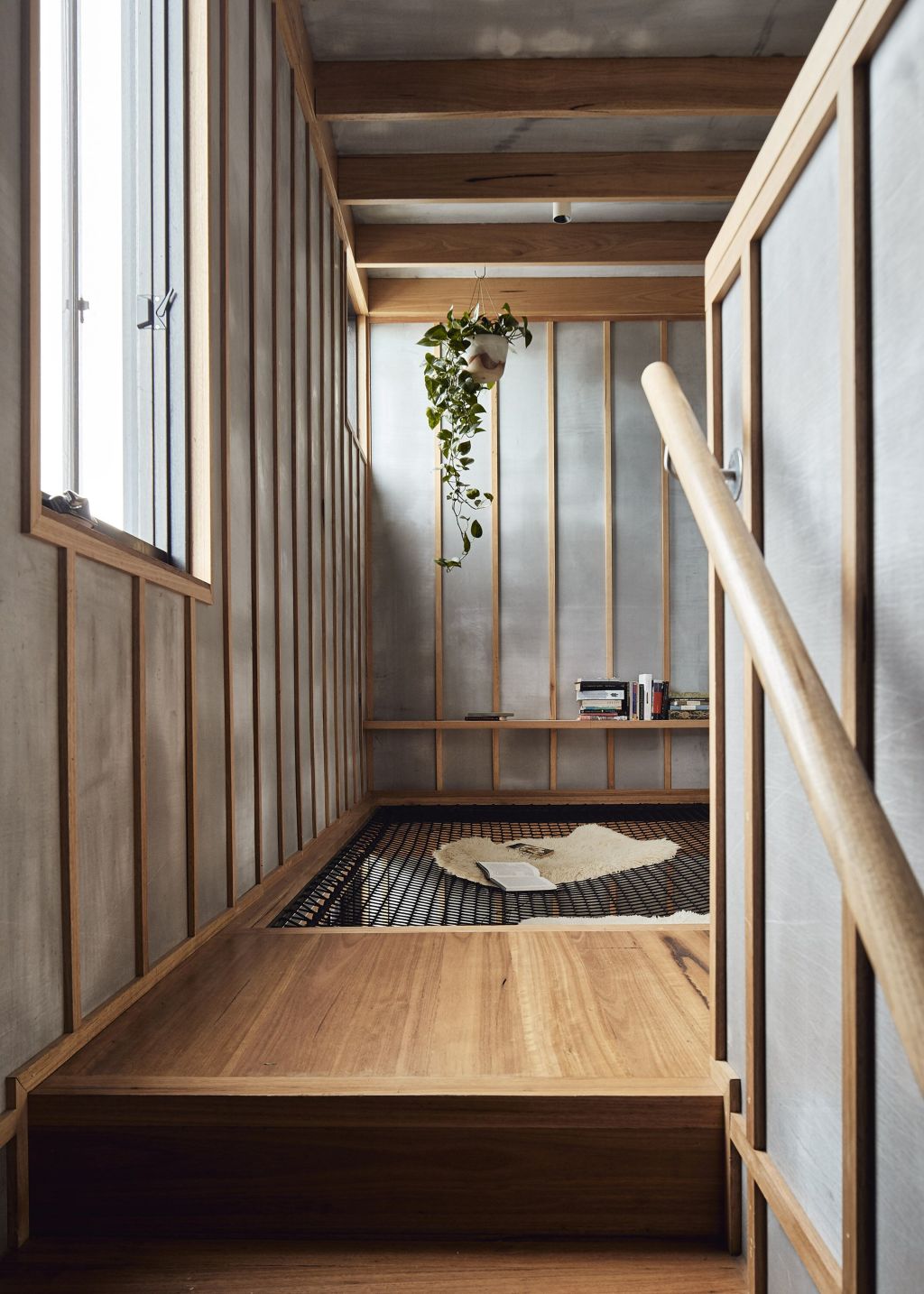 "They wanted another space for the kids where they could read books. And what the net gives them is a separate sort of rumpus room that doesn't need furniture," he explains.
"The kids hang out there a lot."
The parents get their net hammock "room" in a rectangular one-by-3.5-metre space beside their bedroom. Like a conservatory, it has glass either side and is a favourite place for grown-ups as it's "almost like a tree house in the fig tree".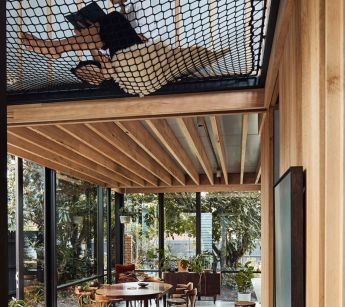 The materials in the house are all exposed for what they are, with Gilbert particularly pleased to play up Victorian ash, a timber he believes is unsung "but beautiful. Plus, we're in Victoria".
The ash is the whole substance of the stair but to make the journey upward implies increasing quietude and relaxation, on the walls the architect widely spaced thin timber straps over a cladding material that looks like concrete sheeting but is a by-product of coal burning.
The INEX wallboard by UBIQ "is both sustainable and fireproof. As a surface it is much more dynamic than cement sheet or plywood. I love it!"
This novel backdrop material is one more aspect of a home of attractive vitality.