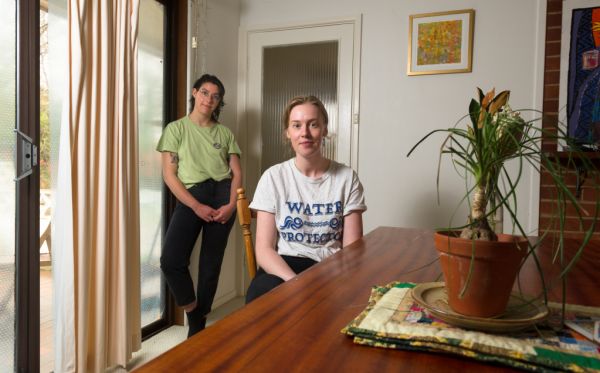 ACT government announces plans for minimum energy performance requirements for rentals
Canberra landlords will be obliged to ensure their properties meet minimum energy performance requirements before renting them out under proposed legislation. 
The ACT government released its Climate Change Strategy for 2019-25 on Monday and while plans for "car-free" days grabbed the headlines, the strategy also committed to introducing minimum energy requirements for rental properties. 
Legislation is expected to be introduced in 2021 and will come into effect by 2022-23.
By 2022, the ACT will also introduce mandatory disclosure of energy performance for rental properties, according to the strategy, as is the case for all properties listed for sale. The ACT is currently the only state or territory where it is mandatory to disclose the energy efficiency rating of a property listed for sale.
Canberra renter, Bella Himmelreich said the policy could help her and her housemates endure the summer heat in her Downer home, and not resort to measures such as putting bedsheets in the freezer.
"It was boiling in our rental home last summer, the house was like a hotbox. We would do everything we could to try to get cool, from cold washers to even putting our bedsheets in the freezer," she said.
"This change would make a big difference for us and other people on low-incomes. With the weather getting more extreme, it's great to see this initiative to protect the most vulnerable in our community."
While the proposed legislation is yet to be outlined, it will most likely require landlords to apply retrofitting measures to their investment properties to get their property up to a minimum energy efficiency rating. But prior to the planned changes, there will be an ACT government election which is set for October next year. 
In 2012, Light House Architecture and Science director Jenny Edwards completed a study which retrofitted 11 low-income households.
Ms Edwards said there were a lot of practical retrofitting measures that could increase the energy efficiency of a home, with air leaks in homes a major hindrance in achieving a higher energy rating. Draught sealing was a main component in the retrofitting.
Through implementing the measures, there was an average 22 per cent reduction in energy use compared with the same quarter in the previous year. Energy efficiency ratings for all the properties also increased, with one property jumping from a 2.9 to a 4.7.
The cost of the retrofits ranged between $1743 to $7775, but Ms Edwards estimated the cost has probably risen by 150 per cent since the study was taken.
Ms Edwards said she would like to see a minimum rating of three, and that the changes would be a win for both landlords and tenants.
"It's a win for landlords – happier tenants as it's so much more comfortable [and] it increases the resilience of a building meaning it is likely to last longer," she said. 
The proposed changes were welcomed by advocacy group Better Renting with executive director Joel Dignam saying it was a significant development.
"Minimum requirements for rental properties are an essential policy tool for a climate strategy," he said.
"By reducing pollution, improving the comfort of homes and lowering energy consumption, they assist with climate mitigation, and adaption, and enabling a fair transition to a zero-carbon future.
"Better rental homes will mean that people don't have to suffer through winter or swelter through summer. Especially with climate change increasing the risks from extreme heat, this policy will help renters to adapt through better housing quality."
Previous research from Better Renting found from almost 20,000 listings, two in five rental properties in Canberra advertised in the 12 months to June 2019 had an energy efficiency rating of zero, compared to less than one in 20 listed for sale.
Ms Edwards said the improved energy efficiency's positive effect on the environment should be highlighted, as thousands of students and workers took part in the School Strike 4 Climate in Canberra on Friday.
"The built environment is a huge contributor to greenhouse gas emissions," Ms Edwards said.
"The big message is that good design and good energy efficiency measures can have a broad impact."
The 2012 study found there was a total reduction of 18.44 tonnes of carbon dioxide equivalent across all case study homes in the winter quarter.