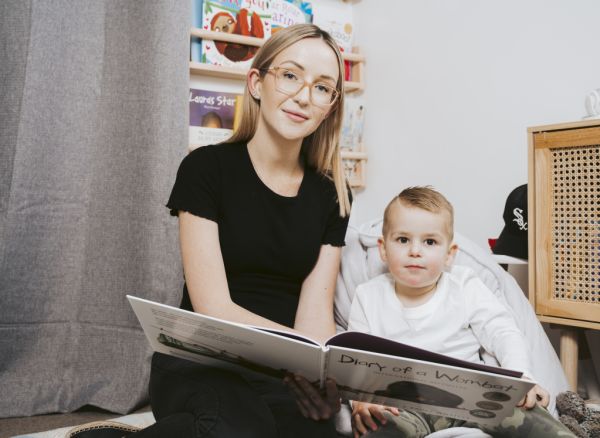 Canberra first-home buyers need six years to save a deposit for an entry-level home
The great Australian dream has been pushed further out of reach for Canberra first-home buyers after new research revealed the time it takes to save for a 20 per cent deposit for a house in the capital had increased in the past year.
It takes exactly six years to save a 20 per cent deposit for a house in the bush capital, up nine months from last year, according to Domain's First-Home Buyer Report, released on Monday.
It's the fastest rate of growth in the country. In comparison, in Sydney, the saving time rose six months from the previous year.
For units, the time it takes to save a deposit in Canberra was three years and five months.
Time to save for a 20% deposit on an entry-priced home

City

Houses
Units
Time to save
Annual change, months
5-year change, months
Time to save
Annual change, months
5-year change, months
Sydney
7y 1m
6
11
5y 5m
-4
-6
Melbourne
6y 1m
0
13
4y 3m
-2
1
Brisbane
4y 2m
-4
2
3y 4m
0
-5
Adelaide
4y 1m
3
4
2y 10m
0
0
Perth
3y 7m
2
-3
2y 6m
1
-3
Hobart
4y 11m
6
22
4y 3m
2
20
Darwin
3y 8m
6
-4
2y
2
-18
Canberra
6y
9
20
3y 5m
0
1
The research assumes a couple on an average income in their respective city, between 25 to 35 years old, can save 20 per cent of their pay in a standard online savings account. This doesn't take into account any transactional costs incurred in buying property.
The 20 per cent deposit is calculated from the entry-level price, or on the 25th percentile – in Canberra, that figure is $691,000.
"For first-home buyers, operating and transacting in a market where prices are rising rapidly is challenging because what it ultimately does is push that financial goal of that 20 per cent deposit further away and those conditions are exaggerated under low wage growth, weak savings rates and rising living costs," Domain senior research analyst Nicola Powell said.
"Meanwhile, units do offer a quicker access to market and we're more or less seeing conditions remain stable year-on-year so this is definitely a positive for first-home buyers."
While low interest rates improved the affordability of mortgage repayments, it's also been a key factor in rising property prices, Dr Powell added.
"While there have been several incentives offering financial help for first-time buyers, saving a deposit is a tall order in the current rapidly rising housing market," she said.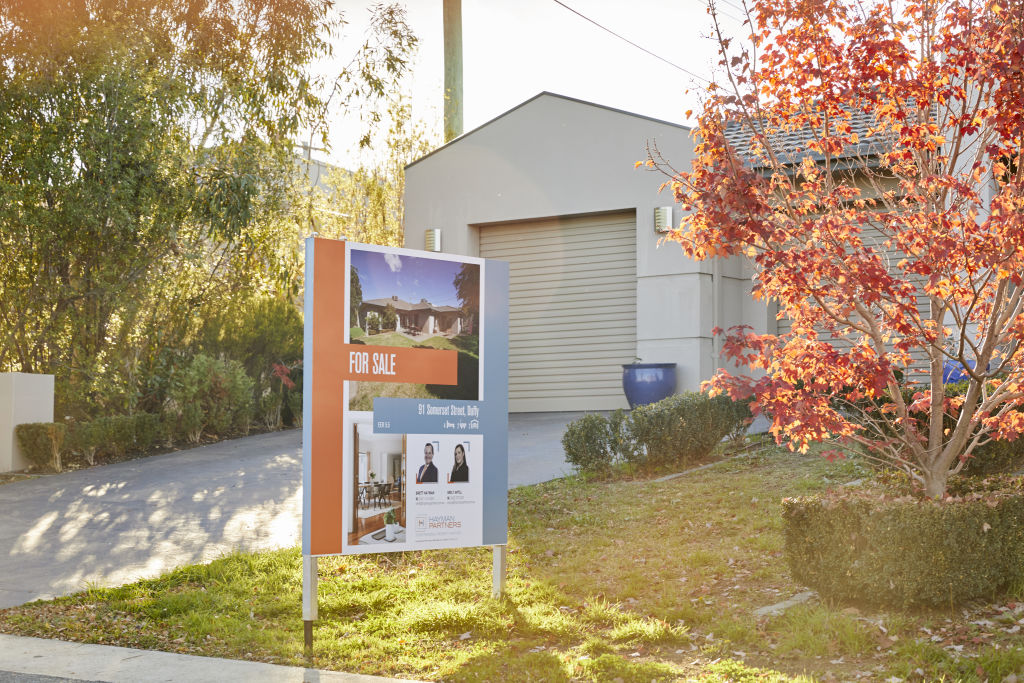 For first-home buyer Laura Wurth, her goal of owning a house came sooner rather than later thanks to the federal government's First Home Loan Deposit Scheme (FHLDS).
"I initially thought I had to save the full 20 per cent, which would've been a lot longer than I wanted, but thankfully I was able to find something with a five per cent deposit," Ms Wurth said.
The FHLDS allows a first-home buyer to secure a home loan with as little as a five per cent deposit, with the government guaranteeing the remaining amount needed to reach 20 per cent. Eligible applicants are exempt from paying lender's mortgage insurance.
"Being a single mum of one, it wasn't easy to save – especially in Canberra because of the rate house prices were rising," Ms Wurth said.
"I had a very strict budget for a good 12 months. I was determined to buy a home so as long as my son had everything he needed, I would go without to make sure we had enough to bank later.
"I didn't splurge on anything during that period. I didn't get my hair or nails done, didn't buy a new phone, I didn't even buy any new work clothes or shoes. I had to sacrifice on materialistic things so I could get something my son and I could call our own."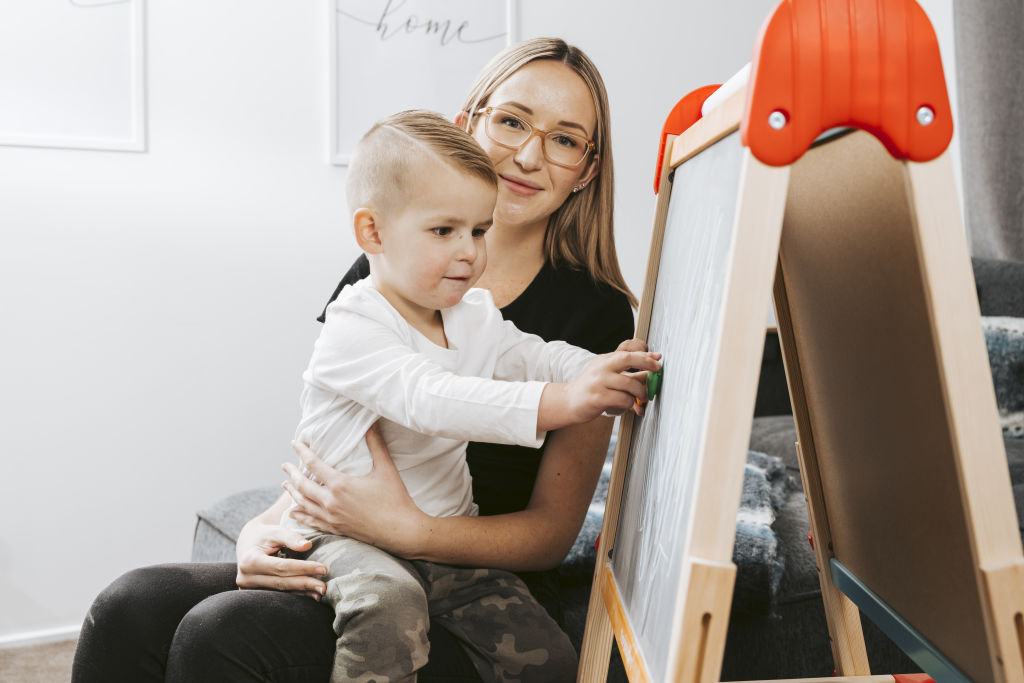 The scheme allows buyers to get their feet in the property door sooner, shaving years off of the time it takes to save for an entry-priced deposit. Domain's report showed the time it took to save for a house in Canberra with a five per cent deposit was one year and six months.
Dr Powell noted that, despite the FHLDS being a "lifeline" for first-home buyers, there were also pros and cons to the scheme.
"While it gives you access to the market sooner, if you're purchasing with a lower deposit, it will increase the cost of the home loan over its entire life span and, ultimately, you'd need to pay more interest," she said.
"At the same time, owning five per cent in equity could place the borrower into the risks of negative equity if property prices decline."
Matthew Hayes, a mortgage broker at Mortgage Choice Manuka, said only 13 per cent of the first-home buyers he'd dealt with in the last 12 months had saved enough for a 20 per cent deposit.
"But that comes down to a number of things. Either the funds were gifted, a guarantor was involved or they used the Bank of Mum and Dad," Mr Hayes said.
Time to save for a 20% deposit on an entry-priced home
Houses
Units
Region
20% Deposit
Time to save, months
Annual change, months
20% Deposit
Time to save, months
Annual change, months
Belconnen
$124,000
65
6
$72,276
38
2
Gungahlin
$127,400
67
5
$76,000
40
1
North Canberra
$182,000
95
11
$79,800
42
0
South Canberra
$232,400
122
9
$94,100
49
1
Tuggeranong
$121,400
64
5
$86,800
45
1
Weston Creek
$145,400
76
8
*
*
*
Woden Valley
$176,324
92
11
$66,000
34
-1
Queanbeyan
$112,000
59
6
$48,000
25
1
"Canberra has the highest asking rent for both houses and units in the country, and considering house prices have increased dramatically in the last year, it's impossible for first-home buyers to save a full 20 per cent without extra help.
"Most of the first-home buyers I've dealt with spent the last two to three years saving as much as they could but, in the last 12 months, what they believed was their entry-level purchase price has been absolutely shattered by the current market conditions."
The report showed that that buyers in the regions of Tuggeranong and Belconnen took the shortest time to save 20 per cent for a house, at 64 and 65 months respectively.
Ms Wurth purchased a three-bedroom townhouse in Banks, in the Tuggeranong region, in September last year.
"I'm glad I entered the market when I did because I don't think I would've been able to find something under my budget now," she said.