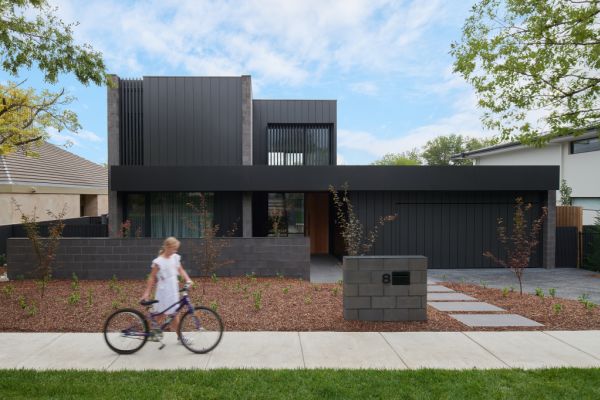 Understated, simple, and dark: Take a look inside Canberra's Black House
Who: Paul Tilse Architects with Status Living Builders and Created Bespoke Joinery
What: Black House, built in late 2019
Where: Yarralumla
How a place captivates as an architectural masterpiece is one thing, but how it stands up to the rough and tumble of daily life is where a home really earns its plaudits.
When couple Sally and Gus were looking to build a new home in Yarralumla for their family, including four kids, two cats and one dog, they had two main requests: a place that was hard-wearing and low-maintenance.
Having previously built a family home in Deakin which was white on white, this time around they were drawn to the dark side, with a dark colour palette and hardy materials like concrete and Besser blocks. For the design, they were set on Paul Tilse and Vanessa Hawes from Paul Tilse Architecture.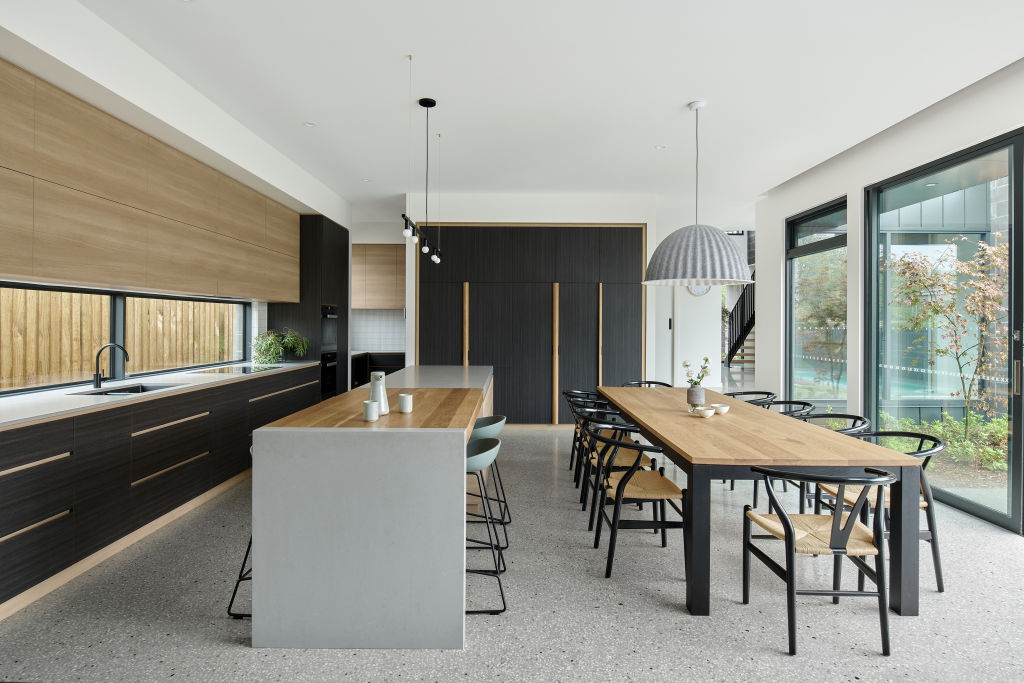 "We wanted something understated and simple but dark," Sally says. "Otherwise, we didn't really have a strong vision ourselves, except because we loved Paul's work, we just knew anything that he did would have that beautiful open and light feel, and that beautiful simplicity."
Paul and Sally workshopped the home's striking modern facade in their first meeting, settling on strong vertical and horizontal lines of brick, solid blade walls and black metal cladding, with just a touch of timber in the front door.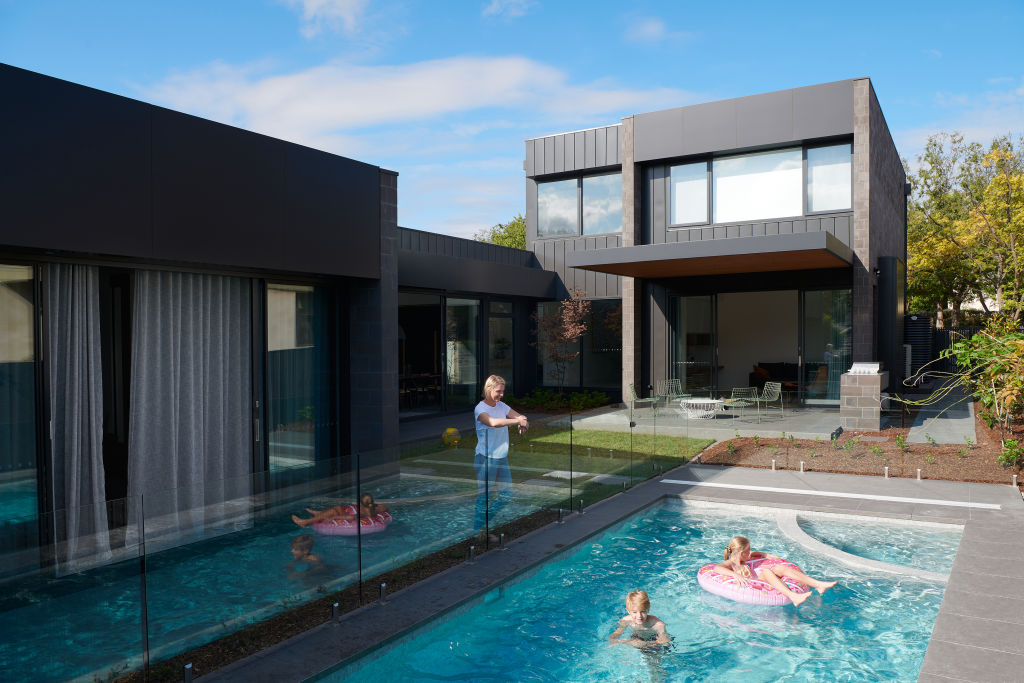 The dark, moody colour palette seamlessly blends the inside of the home, with concrete and polished terrazzo floors softened by timber touches. In the bathrooms, large stone-look porcelain tiles run floor to ceiling, while the same tiles cut to smaller pieces are arranged for a feature mosaic look on vanity walls.
The L-shaped five-bedroom home hugs a grassed courtyard and a pool with a spa. Three separate living areas wrap around the al fresco area, making for seamless indoor and outdoor living, while ample glass allows plenty of light in. Three bedrooms and a main bathroom sit at one end, another bedroom is at the front of the home, and the main suite is privately segregated upstairs.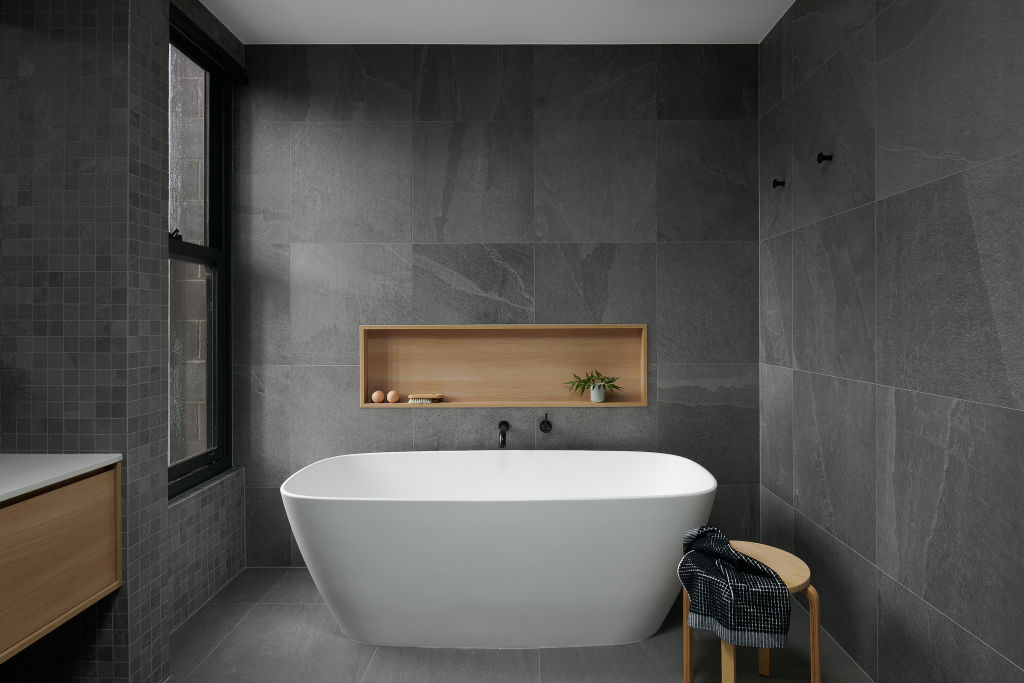 Custom joinery throughout is the real standout, from multiple built-in study areas – the result of incredible foresight in 2019 – to feature shelving, a built-in fireplace, and a window bench seat at the top of the stairs. The kitchen, which won a Kitchen Projects award in the 2020 Master Builder and Asset Construction Hire Excellence Awards, features bespoke, locally crafted timber handles, a glass window splashback, and an open pantry.
Altogether, it's a combination that not only elegantly withstands four teenage kids, but took the hosting of six people in lockdown in its stride.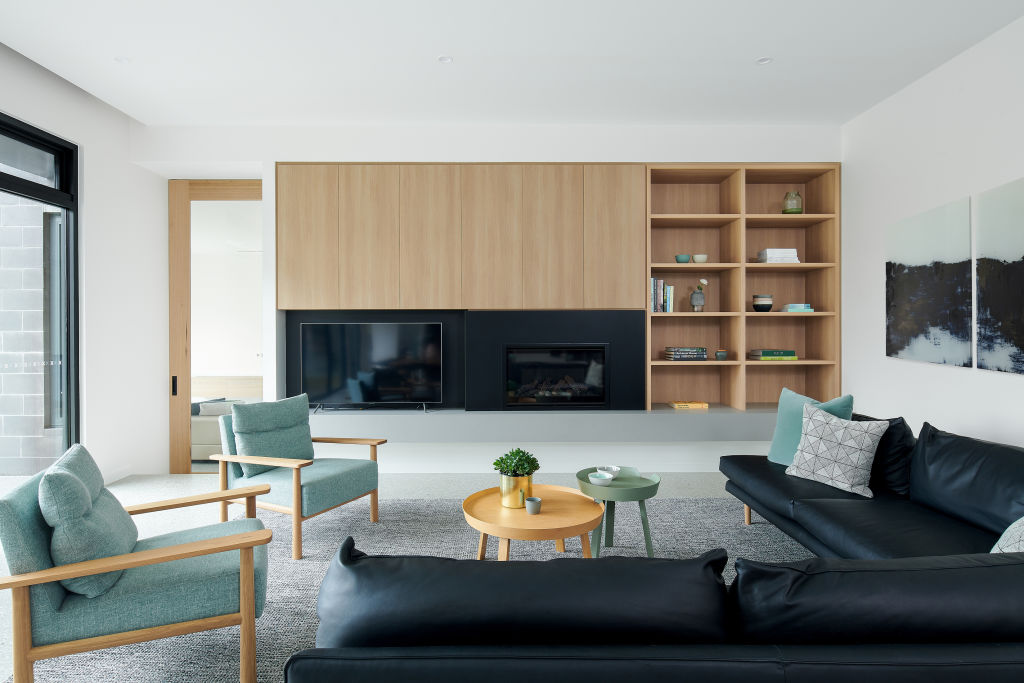 "During lockdown, we felt very blessed," Sally says. "Gus and I worked in the formal lounge, or he even worked upstairs, the kids had space in the rumpus room, with two in their bedroom. We all had enough space to do the work we needed to do.
"And what's beautiful is, because of Paul's design and just being that L-shape, with all the glass you can see outside and see the beautiful gardens taking off. But sometimes you can see through the glass into other spaces, so while you're separate, you still feel a bit connected as well."