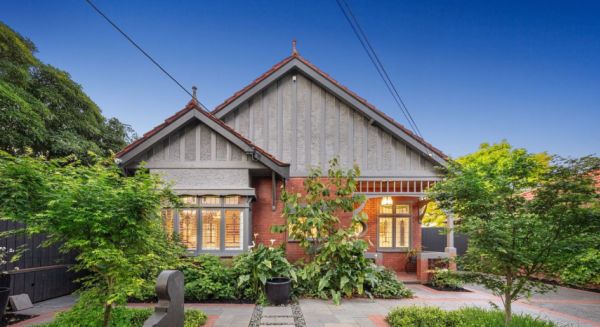 Malvern East home sells to mystery buyer who had not seen it
A mystery buyer who had not seen a five-bedroom home in Malvern East in the flesh still made a $5 million offer to snap it up at auction.
They employed a buyer's advocate bid on their behalf for the home at 75 Coppin Street in Melbourne's middle south-eastern suburbs. 
It sold for $800,000 above the high end of the asking price range of $3.9 million to $4.2 million.
Kay & Burton Armadale director Gowan Stubbings said eight bidders registered for the auction, most young families, with five of them actively competing for the keys.
"The buyers hadn't been through the house at all," Mr Stubbings said. "It's a great result in the current market showing the great depth and strength."
Although the auction normally would have attracted a large crowd, it was a more subdued number due to coronavirus-related restrictions still in place across Victoria.
The restrictions allow only 10 people to attend the auction, the neighbours having a sticky beak from a safe distance away in their front yards.
Families were looking to upgrade, especially since interest rates had fallen again, with lots of people inspecting homes, via private appointments, throughout the weekend, Mr Stubbings said.
"It just feels as if there is a bit of a buzz in the air," he said.
With more people out and about looking to buy, Melbourne's preliminary auction clearance rate bounced to 71.5 per cent after 494 auctions were scheduled and 362 results were reported. There were 48 properties withdrawn from auction, which were counted as not being sold.
Close to the home in Malvern East, two homes sold for more than $3 million at auctions where families were the main bidders. 
While it did not sell under the hammer, a four-bedroom home at 12 Vincent Street sold after a short negotiation following its passing in.
The auction passed in with a bid of $3.7 million, but sold shortly after for $3.84 million.
A young family, one of three families bidding at the sale, were the ultimate buyers.
Marshall White Stonnington's Fiona Ansell-Jones said the vendors had owned the family home for almost 30 years and were now looking to downsize to an oceanside home.
"It's time for the next family to stay put for 30 years," Ms Ansell-Jones said.
A five-bedroom home at 3 Vernon Street, Glen Iris, also sold at auction on Saturday, for $3.35 million.
Marshall White Stonnington selling agent Jesse Matthews said the home, which included a separate living space in a cabana, was popular with parents who had older children.
Four bidders fought it out for the keys at the auction. A family with three teenage boys were the winning bidders.
Mr Matthews said there was plenty of pent-up buyer demand seeing properties sell well, especially in areas with larger family homes.
"Glen Iris is a pretty large suburb so its closeness to the parklands – there's a large variety of them – and easy access to the city and obviously there's the schools as well all makes it attractive to families," he said.
Expatriate buyers snapped up a home in Canterbury, just six kilometres from Glen Iris in Melbourne's east.
The four-bedroom home at 25 Selwyn Street was also snapped up by a family – one of four bidders on the day for $3.37 million.
Marshall White Boroondara partner Desiree Wakim said the sale was highly competitive with families looking to upgrade their homes.
"The market feels amazing, it is so strong," Ms Wakim said. 
Also in the eastern suburbs, a four-bedroom home in Box Hill South sold under the hammer for $1,365,000.
Ray White Forest Hill director and auctioneer Hugh Francis said the home at 3 Jellicoe Street, had seven registered bidders, four of them active during the auction.
Among the bidders were investors as well as those wanting to live in the home, Mr Francis said.
"The final purchaser was a family and their grandfather so it will be a multigenerational home," he said.
The home was sold for the first time in 43 years, with the vendors now moving into a retirement village.
In Doncaster East, a young family who lived around the corner from 1 Lyons Place snapped up the home for $1,1 60,500 as their first home.
The four-bedroom home, a deceased estate, sold for $120,500 above the reserve.
Harcourts Manningham selling agent John Konidaris said eight buyers registered to bid on the home which had been in the same family for 38 years.
"The result was well above vendor expectations," Mr Konidaris said.