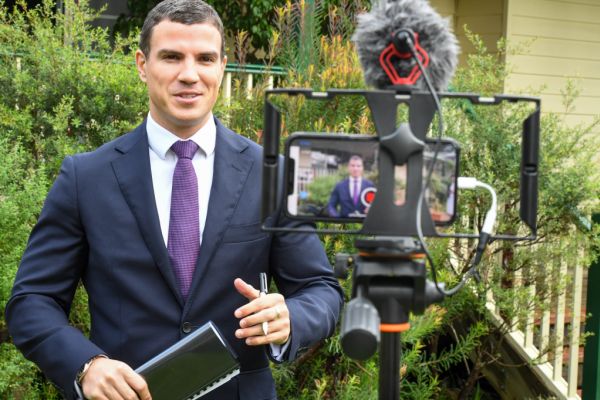 Melburnians grow accustomed to online auctions during second lockdown
Melburnians are growing more accustomed to virtual auctions during the second lockdown, as sellers and buyers become familiar with the online process. 
Despite lower clearance rates than is usual in the past three weeks, the proportion of vendors willing to go ahead with an online auction is higher than during the first round of restrictions in April.
There are 272 auctions scheduled this Saturday in Melbourne and while that is lower than last week Domain's senior research analyst Nicola Powell said vendors would become more prepared for the online auction world in coming weeks.
"What we have seen over the past three Saturdays is that the clearance rates have been heavily impacted by the level of withdrawals," Dr Powell said. "It's almost as high as half of the auctions being withdrawn."
Last week, Melbourne recorded a 47 per cent clearance rate and 44 per cent of auctions scheduled were withdrawn. Of the online auctions that proceeded, 68 per cent sold under the hammer.
The withdrawal figure was higher during the first lockdown when at one point more than three-quarters of properties scheduled to go to auction were switched to private treaty.
"We're seeing buyers and sellers become more comfortable with that environment of auctioning a home online," she said. "It's taken people a while to feel comfortable transacting that way."
Melbourne also recorded its highest number of properties to go under the virtual hammer two weeks ago and its highest online success rate.
Dr Powell said in August more vendors would have scheduled their properties to go under the hammer with the expectation of selling online.
Ray White Victoria and Tasmania chief executive Stephen Dullens said the number of properties going under the hammer on Saturday was a marked improvement on the first lockdown.
"The first time around I think there was just so much confusion. People were glued to their TVs," Mr Dullens said. "But this time around it's a bit more normal. We've seen this before. We know what to expect."
He said in the first week of restriction during the first lockdown about 70 per cent of the agency's properties scheduled to go under the hammer were either withdrawn, sold prior or sold via private treaty.
That figure was less than 20 per cent last week, according to Mr Dullens.
"We're going to call just shy of 80 auctions [this week] … I believe this is the most amount of auctions they're going to call in a week," he said, adding virtual auctions meant they were spread out over the week.
"There are more and more vendors willing to go all the way through to the [online] auction. It's becoming more of a norm."
He said the average number of active bidders was at 3.4 per auction: "That's higher than what we were seeing in February and March".
Barry Plant chief executive Mike McCarthy said confident vendors were taking their properties to virtual auctions on Saturday.
"We've scaled back like everyone else at the moment," Mr McCarthy said. "The auctions that are going ahead at the moment, there is a high level of confidence of getting a result.
"We've had a 100 per cent clearance rate in the first two week and 92 per cent last week but obviously on smaller numbers," he said. "I've not seen that in the 20 years I've been with Barry Plant."
A part of that success is due to vendors and buyers who are more familiar with the virtual auction process, according to Mr McCarthy.
"Vendors are coming to terms with going to auctions virtually … first time round it was new and strange."
But another reason clearance rates have improved during the second lockdown, according to Mr McCarthy, is agents have become more selective with the properties taken to virtual auction.
"If you've got a property that's red hot then you would still take it to auction. If the property is marginal then you would opt to take that to a private sale," he said.
With 15 auctions scheduled this weekend at the agency, Mr McCarthy believes the numbers are still quite strong given the circumstances and virtual auctions will be here to stay.
"There is a place for online streaming of auctions," he said. "It's a means to reach broader audiences.
"One of the very first one we sold [via virtual auction last year] in our Coburg office was sold to a nurse on duty and she literally bid on the property on her lunch break.
"It's a good example of where it was started before this all accelerated."