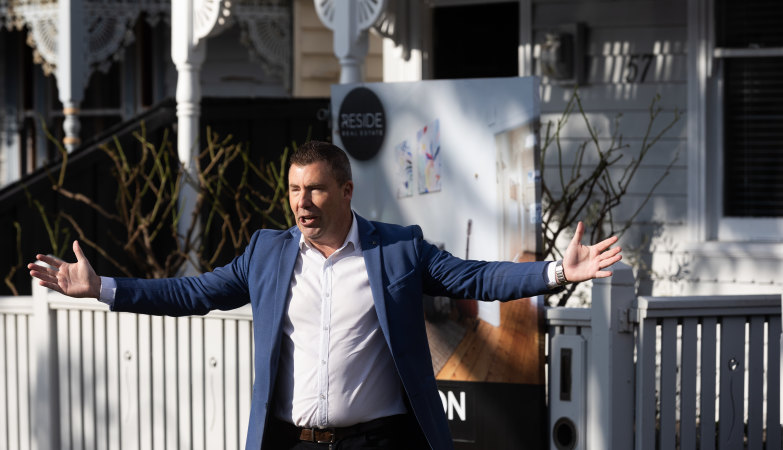 Newport home passes in as first-home-buyer nerves show at auction
A cute-as-a-button Newport home failed to get a single offer from the large crowd that gathered to watch the sale on Saturday, with the home passing in on a vendor bid of $950,000.
The two-bedroom renovated Edwardian house, at 57 Peel Street, which had a price guide of $950,000 to $1.02 million, had attracted good interest from first home buyers but failed to sell on the day.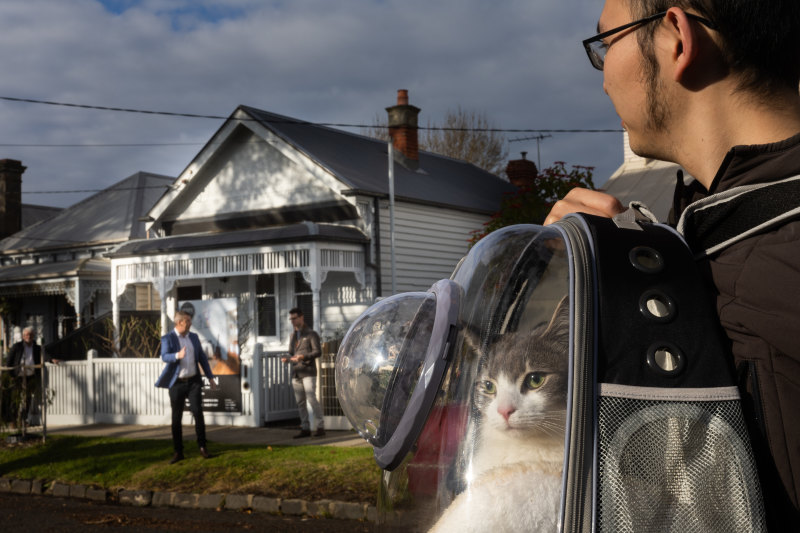 Silence met auctioneer Terry Fitzpatrick when he called for an opening offer. He made a vendor bid of $930,000, then increased it to $940,000 and then to $950,000, as the crowd – including a cat in a specialised backpack – watched on.
Reside Real Estate senior sales consultant Nathan Gleeson said several interested parties had been in the crowd. Most were first home buyers and were worried about falling house prices, rising interest rates and the rising cost of living.
"They are very nervous of what is happening in the market," Gleeson said. "It's frustrating as an agent because all the outside noise is affecting sales."
Gleeson said he was confident the home would sell within the next week, and noted that the property would be listed for private sale.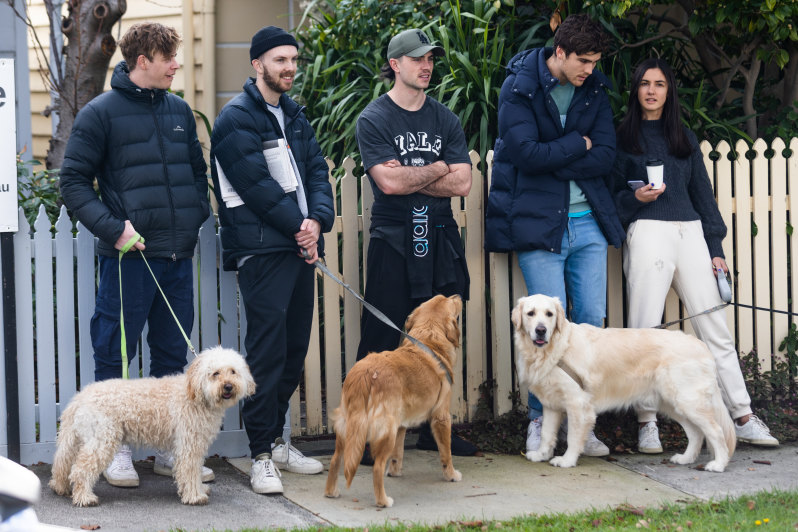 The Newport auction was one of 1124 scheduled at the weekend, with numbers bouncing back after the quieter long weekend last week. By evening, Domain Group recorded a preliminary clearance rate of 56 per cent from 832 reported results, while 114 auctions were withdrawn. Withdrawn auctions are counted as unsold properties when calculating the clearance rate.
In Carlton North, a four-bedroom luxury house at 680 Drummond Street sold for $4,915,000, easily topping its $4.1 million to $4.5 million price guide.
The home, with a recently upgraded kitchen, was bought by an upgrading inner-city family. The vendors were downsizing.
The auction began with a "cheeky" low opening bid of $3.7 million, which was topped by a vendor offer of $4.1 million, Jellis Craig Northcote director and auctioneer Sam Rigopoulos said.
Bidding flew from there until $4.75 million, before slowing, with the family outbidding two other buyers to secure the keys.
Rigopoulos said the sale showed the top end of the market was still doing well, especially houses that didn't need any renovations.
"The vendors are over the moon," Rigopoulos said. "Particularly after all the conjecture in the media about the market, it's fair for vendors to be worried."
On the same street, an investor bought a three-bedroom house at 964 Drummond Street for $2.37 million, well above the $2 million to $2.2 million price guide.
Nelson Alexander Carlton selling agent Charlie Barham wouldn't comment on the sale price but did say four bidders competed for the home.
"It was a really popular property in the sense that it was a wider than normal frontage," Barham said. "It was seven metres wide and had a 300-square-metre block, where other homes in the northern suburbs usually have around 150- to 160-square-metre blocks."
On the other side of the city, a five-bedroom "hoarder's home" at 14 Chadstone Road, Malvern East sold for $1,945,000, just under the top end of the expected price range of $1.8 million to $1.98 million.
Ray White Oakleigh selling agent and auctioneer Jonathon Eaves said three bidders faced off, with the winning bidder, a young family, planning to rebuild on the block.
"It had a lot of clutter, including newspapers from the 1950s," Eaves said. "So we targeted the marketing around a new home site or development site."
In Seaford, a three-bedroom home at 40 Hallifax Street sold for $1.082 million – $97,000 above its reserve.
A young family from Ringwood, bidding over the phone from their holiday in Europe, outbid six other buyers for the home.
Ray White Frankston principal agent Ashley Weston said properties that presented well were selling, while those that needed work weren't as popular.
"The market is changing, it is a bit fickle," Weston said. "A- and B-grade properties are flying out the door but C- and D-grade properties are struggling if owners aren't putting in the effort to sell."
While first home buyers were silent at the auction in Newport, in Clifton Hill and Abbotsford they bid and bought.
Nelson Alexander Fitzroy director and auctioneer Arch Staver said first-time buyers were not making the big offers they had made last year as interest rate rises had cut the amount they could borrow.
A two-bedroom home at 211 Spensley Street, Clifton Hill sold to a first home buyer for $1,117,000, while a three-bedroom townhouse at 18/1 Abbott Street, Abbotsford sold for $1.1 million.
"There's no crazy bidding among first home buyers like there was last year," Staver said. "They are bidding, but there is definitely a capped price in their mind, so they don't allow themselves to get carried away."