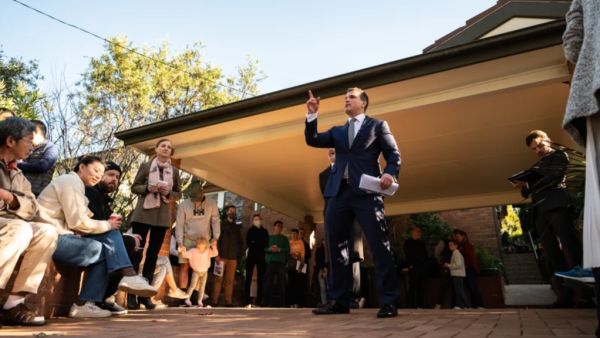 'Overpaid a tiny bit': Doctors spend $3.295 million on Lane Cove first home
A first home buyer couple has dropped $3,295,000 on a Lane Cove house, outbidding a dozen other buyers for the home, just days after the largest one-off interest rate rise in more than two decades.
Thirteen buyers, all owner-occupiers, registered to bid on the three-bedroom property at 11 Howell Avenue, which sold for $495,000 above the reserve price.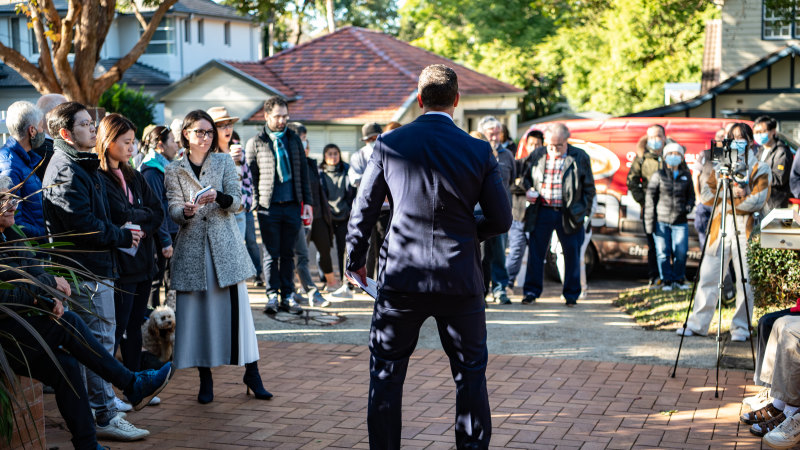 It was one of 403 homes scheduled to go under the hammer in Sydney on Saturday, despite the long weekend. By evening, Domain Group recorded a preliminary clearance rate of 53.3 per cent from 272 reported results, while 88 auctions were withdrawn. Withdrawn auctions are counted as unsold properties when calculating the clearance rate.
It was the second Saturday in a row with a preliminary clearance rate below 60 per cent, which is a level that broadly correlates with a balanced market. When the rate tracks below 60 per cent, prices are likely to be falling.
The auctioneer at Lane Cove was met with silence for a few moments before the bidding opened at $2.4 million, some $200,000 shy of the $2.6 million price guide.
The bidding rose in varying increments but not without a fair amount of cajoling from agents on the auction floor with the four active parties reluctant to increase the bidding throughout the auction.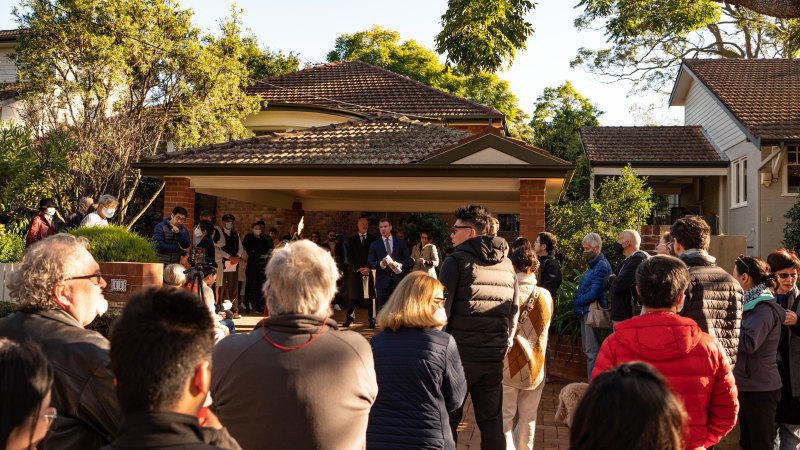 Bidding further slowed after the $3 million mark, and two agents fought tooth and nail for every increase from the two remaining bidders. The home eventually sold for $3,295,000 to the first home buyer couple who are renting in North Ryde.
The pair, both doctors in their 30s who declined to be named, said they felt they overpaid for the property a "tiny bit". The reserve was $2.8 million.
Selling agent Julia Sikora of McGrath Lane Cove said it was a stand-out result for a market where many homes are selling prior to auction due to the lack of competition. She noted the vendors' expectations had been in line with buyer feedback.
The Reserve Bank's decision to lift the official cash rate another 0.5 per cent on Tuesday, was "definitely a talking point and buyers are taking that into consideration", Sikora said.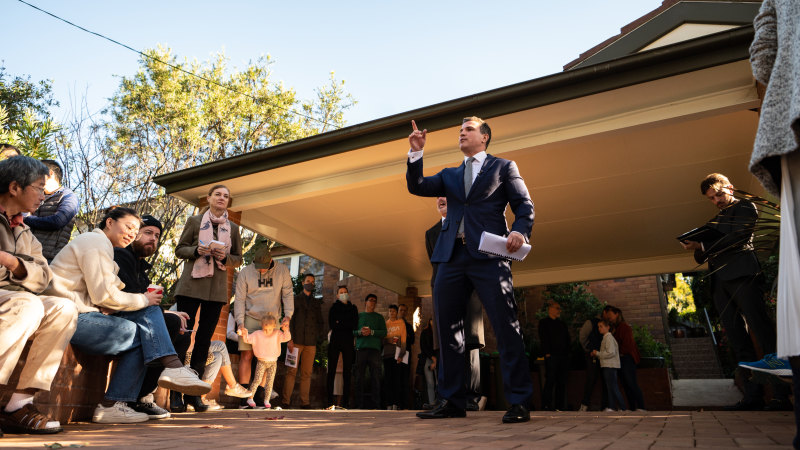 The home last traded for $1.05 million in 2004, records show, the price more than tripling in 18 years.
Lane Cove's median house price rose 15.9 per cent to $2.7 million in the year to March 2022, according to Domain data.
Rising rates were weighing on buyer sentiment elsewhere in Sydney, with a newly renovated three-bedroom terrace at 2 Sutherland Street, St Peters passed in at $1.68 million.
Four parties registered to bid on the home, and two made offers, but it was not enough. While the terrace failed to sell on the auction floor, it was purchased by first home buyers 10 minutes after the auction for $1,685,000, after the vendor, a developer, reduced their reserve of $1.7 million.
Adrian William's Adrian Tsavalas said the buyer and vendor both had to compromise to get the deal done.
"At the moment if you're a seller, and you're focusing on what your property may have achieved six to nine months ago, you're likely to get little engagement for the market," Tsavalas said.
"[Rising rates] is a talking point and every buyer brings it up in negotiations at the moment."
The home last traded for $1.5 million in February 2020, records show.
St Peters' median house price rose 22.2 per cent to $1,644,000 in the year to March 2022.
In Dural, another newly renovated home was also passed in. Six parties, including one online buyer, registered to bid on the five-bedroom house at 25 Jaffa Road, which had a price guide of $2.8 million.
However, only one party bid, making an opening offer of $2.5 million, at which the home was passed in.
It sold just 10 minutes later for a whopping $3.2 million to the sole active party, a Concord family upgrading from a duplex. But even then, the vendor had to cut their reserve from $3.25 million.
Auctioneer Michael Garofolo said rising rates were undoubtedly weighing on the market.
"No doubt about it, interest rates have got people uncertain or unsure of what they want to do. There is uncertainty at the moment and that's why there is a reluctance to bid first," Garofolo said.
In Lakemba, a run-down deceased estate at 84 Yangoora Road also passed in on a vendor's bid of $800,000.
Four buyers – all aspiring homeowners – registered to bid on the three-bedroom house and kicked off the auction at $750,000.
Bidding rose to $780,000 but failed to reach the vendor's reserve of $800,000.
Ray White AusBan's Navid Nawaz said the vendor was willing to reduce his reserve to meet the market, which was impacted by changing rates.
"That's the main reason [buyers are impacted], in fact. People are worried about the interest rates. If it increases too much, can they hold [the property]?"
In Allambie Heights, a local young family bought a four-bedroom house at 15 Fishbourne Road for $2.4 million – bang on the reserve.
Cunninghams Real Estate's Matt Nicastri said prices were already falling because of rate rises.
The suburb's median house price rose 46.5 per cent to $2.71 million in the year to March 2022.