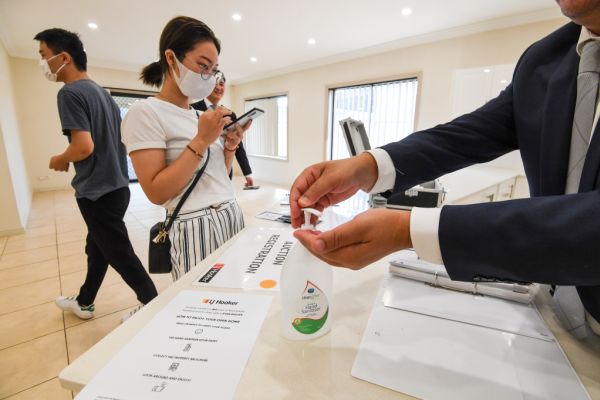 What other crises has the Canberra property market survived?
Australia's economic outlook has changed rapidly in recent weeks amid the coronavirus pandemic. 
With trillions wiped from shares and a recession likely, it is understandable consumer sentiment has plummeted lower than that reached during the global financial crisis. Confidence is not quite as dismal compared to Australia's last recession in 1990-91 but isn't far off and weak consumer sentiment is likely to deter or delay housing purchases.
The coronavirus pandemic could have an economic impact that is greater than the GFC. 2020 will see a recession but there is a recovery forecast for 2021 and fast containment of the virus will result in a quicker and stronger recovery. 
Government needs to act quickly and hard to support the economy through the months ahead. The current stimulus package is designed to help small to medium businesses stay afloat and keep people employed but declining business activity and rising unemployment is a risk to the housing sector.
From the great bond massacre, trade wars, dotcom bubbles and APRA's credit squeeze, there have been numerous global events and crises that became looming threats to the property sector. Considering the unfolding health crisis, social distancing rules and imminent shutdown, the outcome is harder to predict because the circumstances are so novel.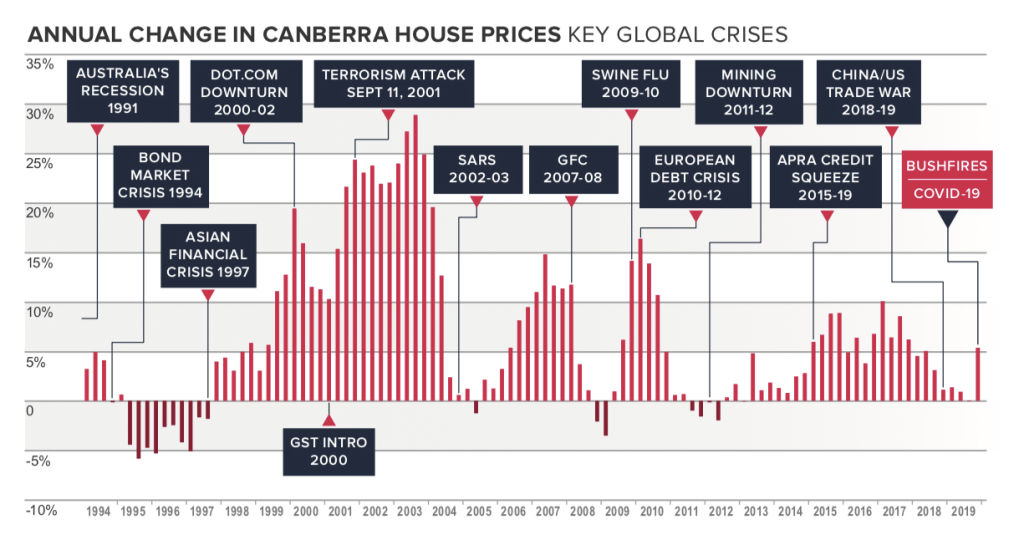 Public auctions and open homes are now banned, although the property industry is adapting, by offering potential buyers virtual inspections, private viewings and online auctions to navigate through these temporary changes.
Property sales are likely to slow in the coming months as we adjust to this new way of life for the interim. However, the impact on sales is likely to be less severe than if we were heading into the spring selling season. The outcome of home values is less certain.
One thing for sure is that the recent sharemarket dive is not necessarily an indicator of future property prices as they tend to perform differently.
The volatility of the sharemarket is not echoed in real estate, as shares are easier and quicker to transact.
During periods of economic uncertainty buyers and sellers become hesitant, making property a less likely asset to sell-off in a hurry. Canberra is less exposed to investor activity, accounting for roughly one quarter of the transactional value.
Housing also meets our basic necessities for shelter, unlike shares. It is often a go-to safe haven when equities are volatile.
The global financial crisis saw a slowdown in the finance sector, impacting employment, wages and borrowing capacity. Canberra house prices broke half-a-million dollars in early 2008 but weakened shortly afterwards, falling 5.4 per cent by the end of 2008.
At the time that interest rates were rising in a bid to control inflation, house prices fell as home loan affordability became stretched. As the GFC hit, interest rates were slashed, which aided a swift recovery. Canberra house prices had surpassed the previous peak by mid 2009.
Canberra came out of the 2015-19 APRA credit squeeze relatively unscathed. Prices had a short period of softening rather than the correction that unravelled in Sydney and Melbourne which produced the steepest downturn in more than two decades. This illustrates the resilience of the Canberra property market, which has a tendency to avoid the large price swings evident in our most populous capitals.
A new virus outbreak is a little different since it is a rare event. There is a negative impact of the national economy, and in this case global economy, during the spread of a contagious disease.
The outbreak of SARS allows insight into what we can expect. SARS appeared in Hong Kong early in 2003, escalating to an epidemic before being contained around mid-2003. Property prices and transactions slid as a result, however a strong rebound occurred quickly by the second half of 2003. The SARS outbreak produced a short, sharp hit to the real estate sector, however the recovery surpassed levels seen prior to the outbreak.
It is important to remember that there is no single Australian property market. Any potential impact will differ within the many micro-markets, including Canberra.