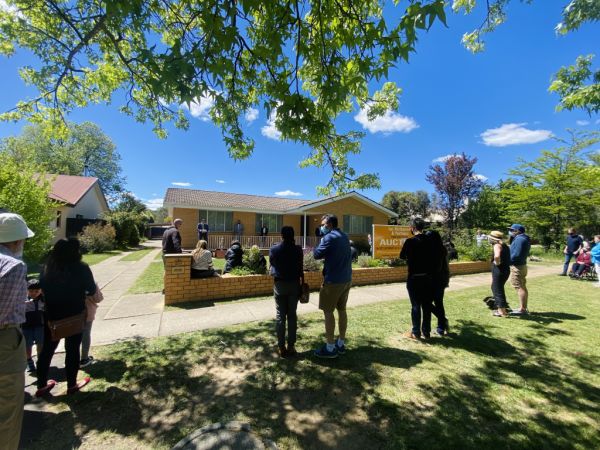 Canberra auctions: Ainslie home sells for $2.17 million after more than 70 years
An Ainslie home owned by the same family for more than 70 years sold for $2.17 million under the hammer on Saturday morning as onlookers and bidders flocked to watch one of Canberra's favourite spectator sports as restrictions eased across the capital.
The four-bedroom home at 26 Angas Street attracted more than 30 people including 11 registered bidders.
Bidding kicked off at $1.5 million and was quickly countered by a $1.55 million bid. The price increased in $50,000 increments before shortening to $20,000 and $10,000 strides, thanks to five active bidders.
When the price reached $2.13 million, it came down to two parties who upped each offer with a $5000 increase until $2.17 million. With no counter offers, auctioneer Darren Bennett of Ian McNamee & Partners Queanbeyan/Jerrabomberra/Canberra dropped the hammer.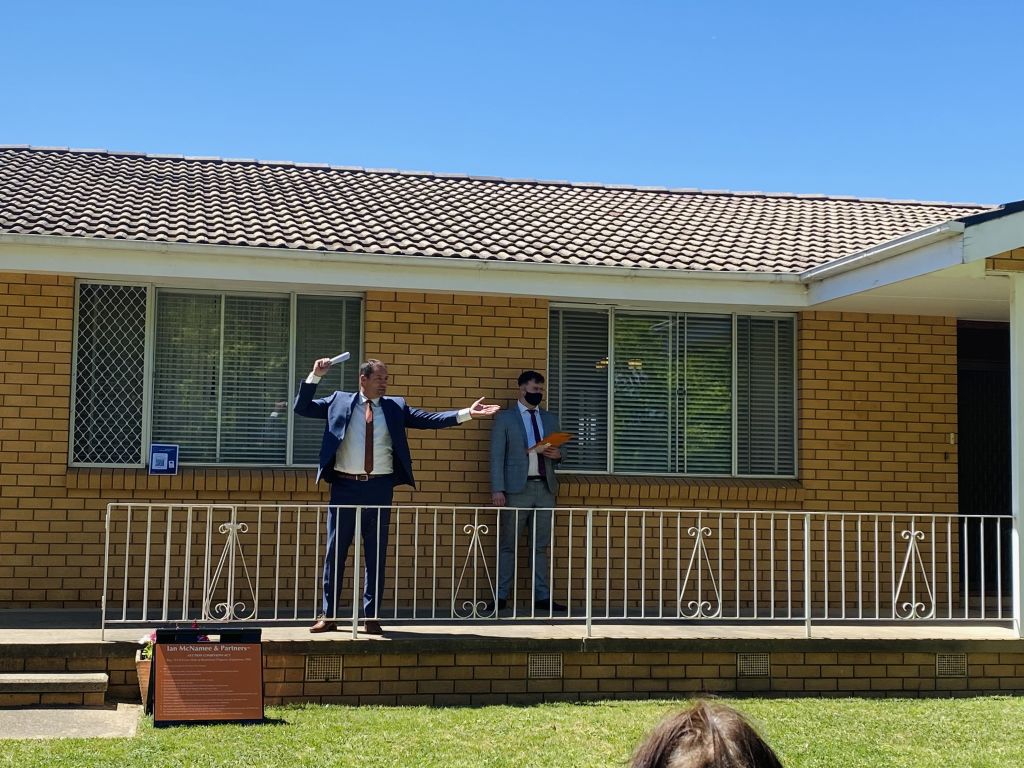 Rounds of applause echoed throughout the street from neighbours, including some who said they might consider selling their own home.
But for seller Ray Grubb, the decision to part with the home was not easy considering 26 Angas Street was the house he had called home since 1947.
"We've never really contemplated life without it; it's always been there and has been our constant for many years. It will be strange to not have it anymore," he said.
"We've moved to Sutton now on a farm but this was our home. We always knew Angas Street as our home."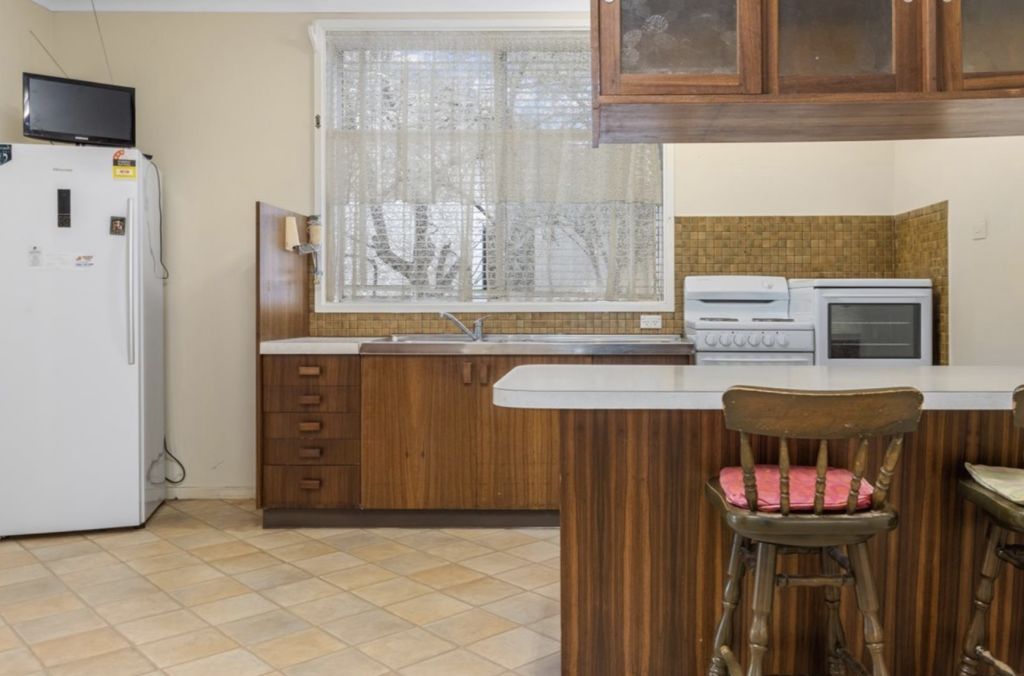 Mr Grubb remembers when the roads were nothing but gravel in Ainslie, when there weren't many houses on its tree-lined streets and when Alan Ray Oval, opposite the house, had no fence.
"At the time, Ainslie was outside of the city limits … we didn't have many neighbours and we used to set rabbit traps across the road and then take the rabbit skins to Queanbeyan and get 10 cents a skin. I thought I was a millionaire," he laughed.
"For many years, the oval didn't have a fence, so that was our playground.
"We've had a long association with the area and have watched it grow over the years."
Today, the suburb forms part of the Inner North where the median house price hit $1.31 million, according to the Domain House Price Report for the September quarter. This was a quarterly increase of 9.2 per cent and a yearly increase of 32.7 per cent.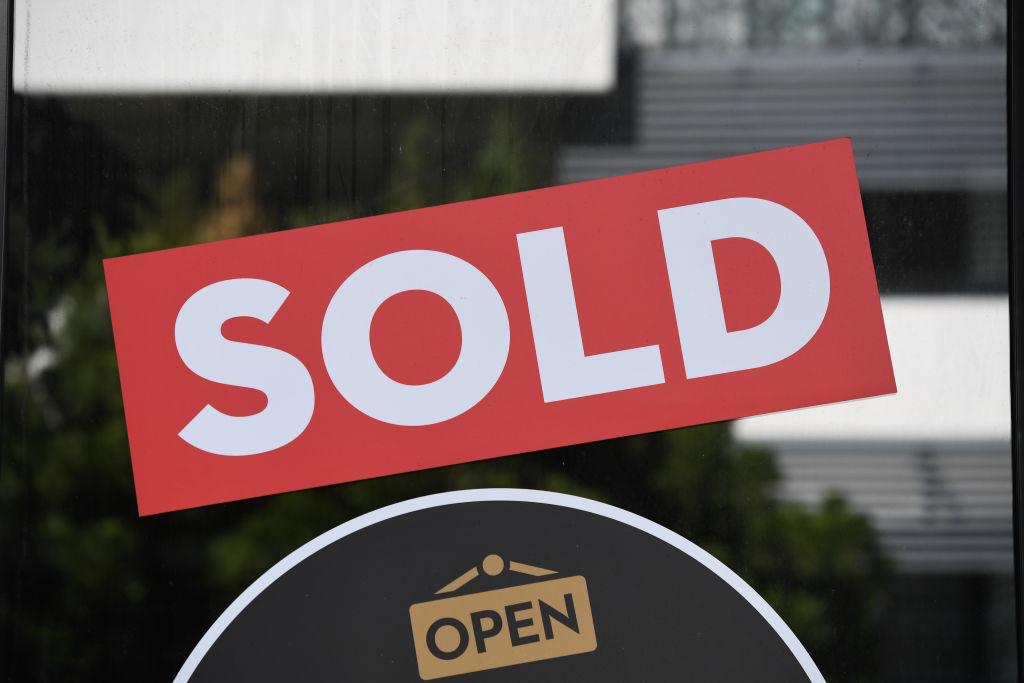 Selling agent Lucy MacGregor, also of Ian McNamee & Partners Queanbeyan/Jerrabomberra/Canberra, said the property brought in a lot of interested parties including a mix of "families wanting to move into the suburb and families already in the suburb who want another house in the area".
"We marketed the property over the course of 30 days and during that period, we had 80 groups through," she said.
"Pre-COVID, we'd have about 250 groups through but what lockdown did was separate those genuine and serious buyers from those just spectating.
"In a market that is fuelled by a shortage of stock and low interest rates, we're continually being surprised at the sales results being achieved by that heightened buyer demand."