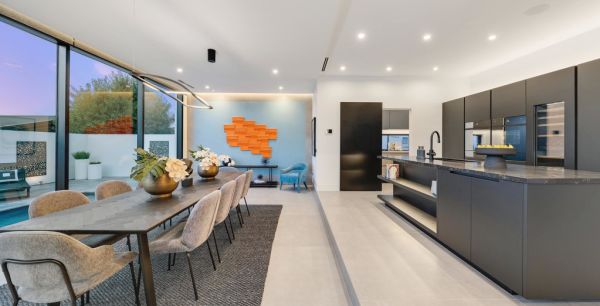 'Like no other': Wright home with car turntable hits the market
Nowadays, it seems everyone is taking some time off either sick with the flu or the spicy cough and let's just say, if I had to isolate at this Wright property, it'd feel like taking a luxurious holiday.
The four-bedroom house at 40 Serventy Street was built with the finest materials and offers an element of modernity and sophistication with just a sprinkling of ostentatious flair.
Selling agent Mario Sanfrancesco of Blackshaw Manuka said the bespoke home was cleverly designed to maximise the property's position in the suburb.
"The street presence is out of this world and anyone can pick it out as soon as they drive into Wright, so it's conveniently located," he said.
The oversized cedar entry door opens to a wide hallway with a view of the state-of-the-art car turntable in the double car garage via floor-to-ceiling windows.
"Some people have a wine display they like to look at when enjoying their home, others like to have a library or bookshelves on display … and then there are those who look at their designer cars and this home gives those buyers an option," Mr Sanfrancesco said.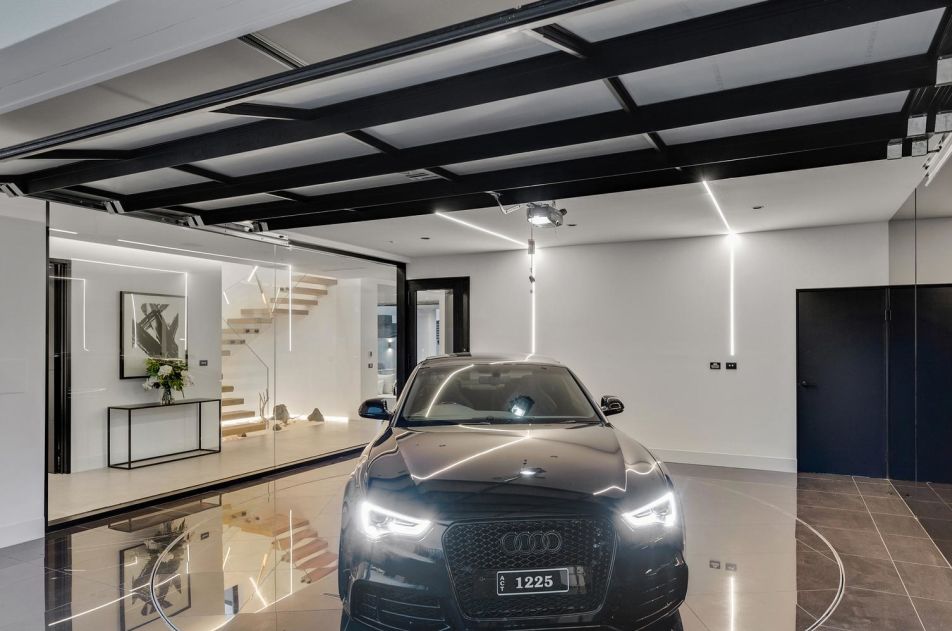 The beauty of the home shines throughout every corner of the property and there's no better spot to take it all in than in the open-plan living, kitchen and dining space.
Monochrome colours act as the backdrop to the home. The kitchen boasts its own butler's pantry, a Zip water system, an integrated fridge and freezer and a wine cabinet. 
The dining room has a Rilievi Cadmio tile feature wall with space to fit a dining table for 10, perfect for the guests who are sure to flock to this home.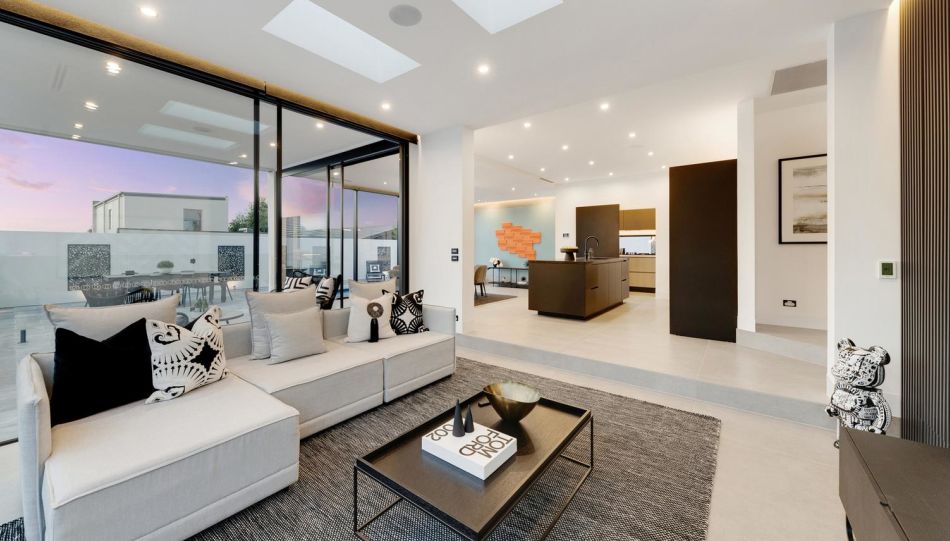 From here, there are spectacular views of the picture-perfect backyard with a north-facing terrace that incorporates an outdoor kitchen, heated swimming pool and LED lighting.
The main bedroom is located on the ground floor, while the remaining three – each with custom built-in wardrobes – are on the top floor.
Other features of the stunning property include under-tile heating throughout the ground floor, electric blinds, an in-ceiling speaker system, a CCTV security system and a video intercom.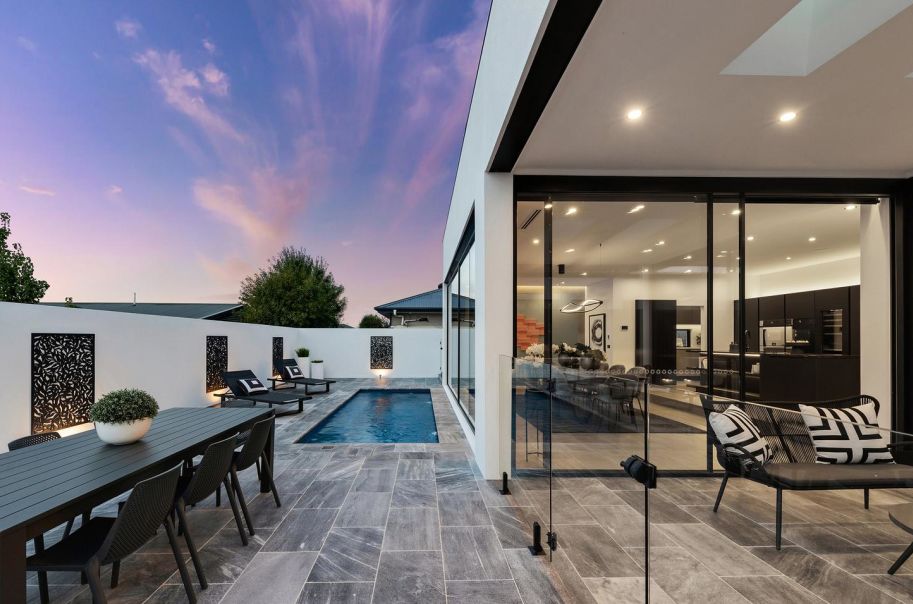 "The builder only builds a home once or twice a year so this home is not something you can find anywhere else in Canberra," Mr Sanfrancesco said.
"It was built to be sold so it hasn't been lived in before and now it's ready to welcome some new owners."
Mr Sanfrancesco's name is synonymous with record-breaking sales in Canberra's prestigious Inner South, and he likened this home to those found in the area.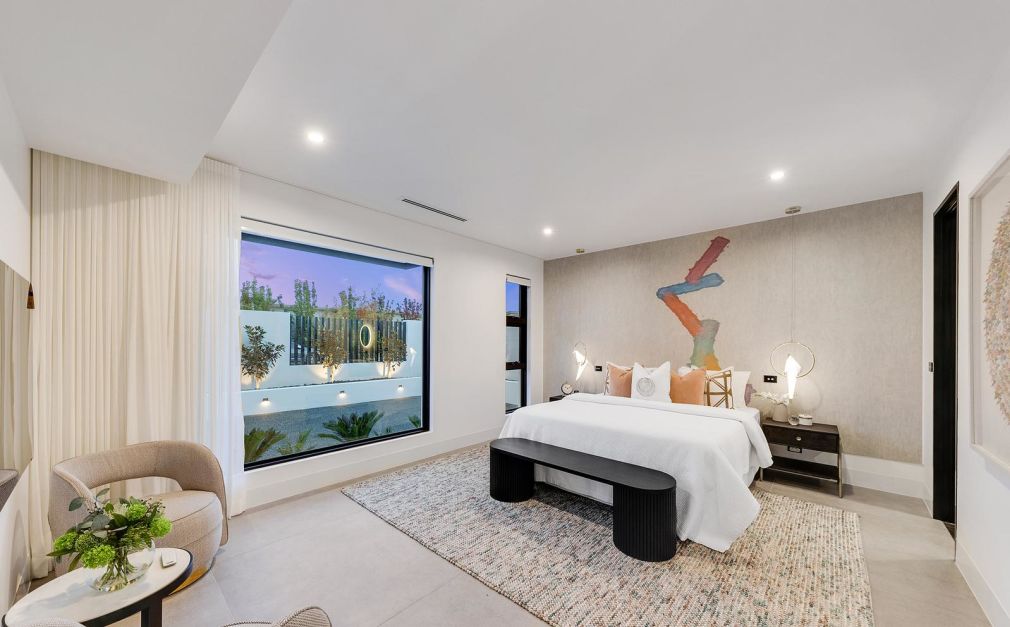 "I'm quite lucky to sell some pretty spectacular Canberra homes and I think this home is up there as one of the most stunning, with quality finishes from the front gates to the wet areas in the backyard," he said.
"We've had buyer interest from a lot of parties who started looking for something in the Inner South and Woden and are now looking here because there are homes very similar here in Wright.
"It's really just something else, like no other, and I don't think there'd been [many properties] of this standard in the Canberra market recently."