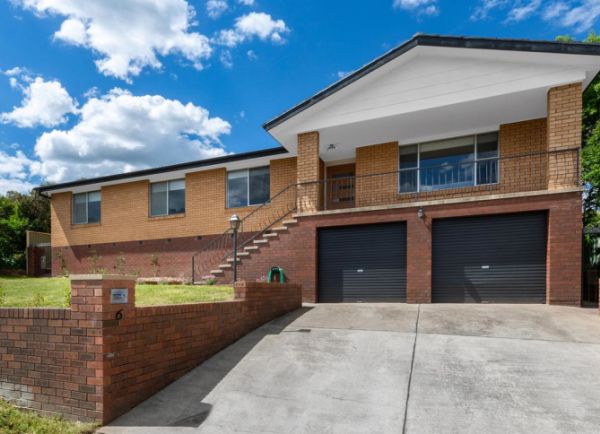 Suburb records set in Charnwood, Fraser and Googong township
Many buyers were out and about snapping up properties at the end of 2021, breaking suburb records in Charnwood, Fraser and Googong township along the way.
The residential sales benchmarks now sit at $1.106 million in Charnwood, $1.6 million in Fraser, and $1.63 million in Googong township.
The four-bedroom house of 6 Edols Place, Charnwood, sold in December, surpassing the previous record by $229,000, and was the first million-dollar sale in the area.
"I viewed the house six months before it hit the market, and the home you see now was not the home we saw back then," selling agent Jonny Warren of Jonny Warren Properties said.
"The vendors had completely renovated it, and that's what attracted many buyers through the home."
A pre-auction offer of $1.01 million was made a day before the auction, but "we knew a lot of people were willing to bid on it", Mr Warren said.
The auction brought in six registered bidders, with more than 100 bids placed on the home, Mr Warren added. The eventual buyer was a first-home buyer.
"I didn't expect it to be as heated as it was … it had a lot of interest in the lead up to the auction and was one of the most popular homes I sold all year, so I was pretty confident we'd get a price above the $1 million mark," he said.
Elsewhere, the four-bedroom house at 6 Deasland Place, Fraser, was sold by Samantha Granter of Belle Property Canberra in a midweek auction in December that attracted six registered parties.
Ms Granter described the home as a "unique property", noting that the floor plan and configuration of the house was like nothing she'd seen before.
"This was a hard property for us to price, to be frank. So, we thought it best to take it to auction and see what the sentiment would be among the buyers," Ms Granter said.
"The house sits on one of the largest blocks in Fraser, but the property itself didn't suit every buyer. It didn't tick everyone's boxes, but for those registered bidders, it did, and they appreciated its architecture and distinctive appearance."
The residence beat Fraser's previous record by $200,000, government records show.
And finally, the five-bedroom house at 13 Ayliffe Street, Googong, surpassed the township's previous record by just $5000.
Selling agent Dario Beltrami of Blackshaw Queanbeyan & Jerrabomberra said while interest had not been high for the property throughout the auction campaign, it still brought in a handful of bidders on auction day.
"The new home owner was actually from Sydney [and] purchased the house for their daughter who'll rent it in the meantime," he said.
And while it may be a new year, bringing fresh opportunities for buyers vying for properties, agents expect competition to continue to be tight, and suburb records continue to be set for the next six months, at the very least.
"Buyers are missing out on so many properties at the moment. Meanwhile, sellers are at a big advantage because this is a seller's market," Mr Beltrami said.
"But the catch 22 is that while they'll sell in a high market, they'd also have to buy in a high market, so some sellers are hesitant to list. It will create stiff competition among buyers and the existing stock. With the way things are going, there's still room for house price growth … I'll give it six months."
Ms Granter added that the nation was in "unchartered territory with this Omicron wave of the pandemic, but I think buyer inquiry will still be high".
"And if the presentation of the property is spot on, there's still potential for properties to set new benchmarks, at least for the first half of this year," she said.