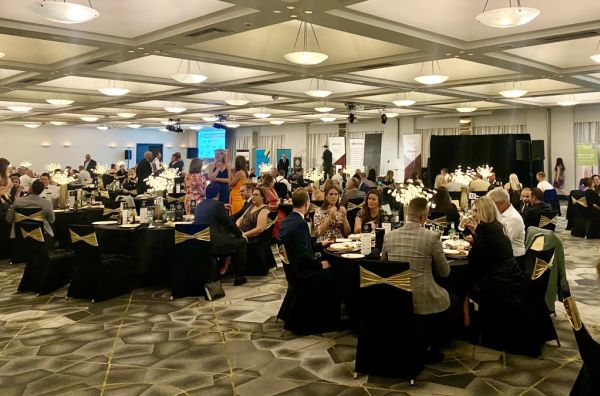 Celebrating a year unlike any other at the REIACT Awards for Excellence
The ACT's real estate sector came together on Saturday night at the 2020 REIACT Awards for Excellence to celebrate the industry's achievements and recognise outstanding performers in a year that changed the way real estate has had to be done.
"This year, our Awards for Excellence have showcased the adaption, innovation and education the real estate sector has had to undertake to meet the challenges that COVID-19 created for our members," REIACT president Michael Kumm said.
"As late as June this year, the institute was still unsure as to whether the awards would even go ahead, but tonight we were able to present 21 awards in front of 170 guests, at an event limited to only nominees for the first time in 26 years of our awards history."
Belle Property Kingston won Large Residential Agency of the Year, Maria Selleck of Maria Selleck Properties was crowned Residential Salesperson of the Year, Guy Randell of Burgess Rawson took home Commercial Salesperson of the Year, while Residential Sales Team of the Year went to Our Team (Mark, Aaron and Tania) of Independent Inner North and City – just to name few!
A highlight of the evening was the induction into the REIACT Hall of Fame for Colliers International ACT for Commercial Agency of the Year 2017, '18 and '19.
"To all of you, congratulations on an incredible 2020. From bushfires and hail storms to, of course, the pandemic – despite all of the challenges thrown at us and the market this year, we have really seen Canberra bucking trends and kicking goals," Allhomes general manager Danielle Harmer said in her sponsor address on the night.
"We all had a lot to do with keeping the confidence high and continuing to inspire our property market this year. We've adapted long-standing processes and procedures and we have come out the other side incredibly unscathed.
"I would like to congratulate all of the winners and also commend all the finalists. Your contribution to helping inspire the property market, resilience and persistence through tough times hasn't gone unnoticed."
On the night, REIACT deputy president Stan Platis paid tribute to Mr Kumm, who had resigned his long tenure as REIACT president, stepping down at the conclusion of the awards ceremony.
"Michael has dedicated almost 25 years' service to the REIACT Board and almost 40 years to the industry. He was instrumental in many major changes to our industry including the delivery of the 1997 Residential Tenancy Act and the Mr Fluffy Buy Back Scheme implementation," Mr Platis said.
Mr Platis went on to announce that the REIACT Board had unanimously elected Hannah Gill as the new REIACT president.
"We are very excited to have Hannah at the helm of the institute and look forward to her leadership and representation of industry," he said.
Full list of award winners: