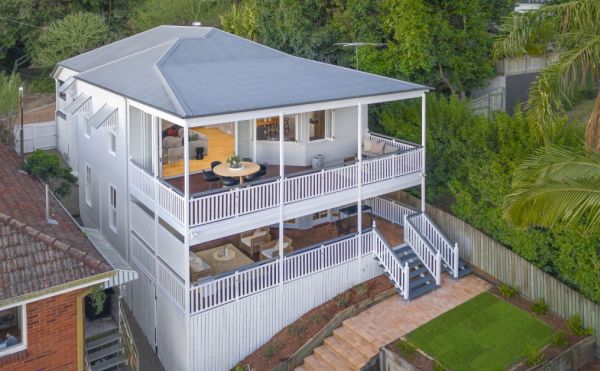 Hamilton home sells for $1.56 million in big auction weekend in SE Queensland
In a big weekend of auctions in Brisbane, a Melbourne buyer returned for the second weekend in a row, to try to snap up a property.
But, he was unsuccessful in his bid to buy 128 Kennedy Terrace, Paddington, in Brisbane's inner west, which sold to a couple living in the nearby suburb of Taringa for $1,262,000.
Ray White Paddington's Judi O'Dea said the auction of the three-bedroom home was held online and also had phone bidders, such was the interest in it.
A crowd of more than 80 people watched the sale of the property owned by a couple who run a home pre-sale makeover company called Niche Reform.
"The sale price was [$72,000] above the property's $1.19 million reserve," Ms O'Dea said. 
The weekend's market was buoyant but stock was still quite low although vendors with good quality properties were looking to sell, she said.
"I haven't seen the market quite as active as this," Ms O'Dea said. "It's to do with the quality of the stock and the fact interest rates are low and are likely to stay that way."
The unlucky bidder from Melbourne, who also tried his luck at an auction at 168 Boundary Road, Bardon, last weekend, was still looking for a Queensland home, Ms O'Dea said.
The auction was one of 44 scheduled for the weekend. By late Saturday, Brisbane's preliminary auction clearance rate was 38 per cent after 32 results were reported. Only four scheduled auctions were withdrawn from sale.
The biggest reported sale of the weekend, and one of the biggest in Yeronga, was that of former Olympic swimmer Susie O'Neill. 
The eight-time Olympic medallist sold her family home at 401 Brisbane Corso for $3,055,000 to a family looking to move to the area.
Another of the biggest sales was a five-bedroom home at 27 Atkinson Street, Hamilton. It sold under the hammer for $1.56 million to a family with a newborn baby.
Ray White Ascot's Oliver Jonker said four registered bidders competed for the sale, with lots of interest from buyers prior to the auction.
"It was really great. We had about 60 people attend, and prior to the auction, we had 33 inspections," Mr Jonker said.  
"A lot of work went into getting this house ready for sale. The sellers put in new electrics, new lighting, painted and landscaped. 
"It's a beautiful Queenslander on the side of the hill and you just don't get an opportunity like this very often," he said.
Another beautiful Queenslander in Hawthorne, in Brisbane's inner east, also sold for above $1 million.
Seven bidders registered for the auction of the three-bedroom home at 60 Leura Avenue with a buyer from the street next door snapping up the home for $1.14 million.
Place Estate Agents Bulimba's Sarah Hackett said the buyer, who paid $40,000 above the reserve, would be renting out the home. 
Ms Hackett said only local buyers were bidding on the property.
"We are getting an unprecedented number of inquiries, particularly from down south [Victoria]," Ms Hackett said.
Seven bidders also registered for the sale of a home at 55 Mearns Street, Fairfield, on Saturday afternoon.
Four buyers were ready to put in an offer if the house passed in, Harcourt Property Centre's Paul Brinckman said.
Of the bidders, about a third of them were investors looking for their next rental property, Mr Brinckman said.
The two-storey home, however, was snapped up under the hammer by a professional couple, for $840,000.
The husband had grown up in the house next door to the property, he said.
"His mum still lives there," Mr Brinckman said. "He is happy to be so close to his family home."