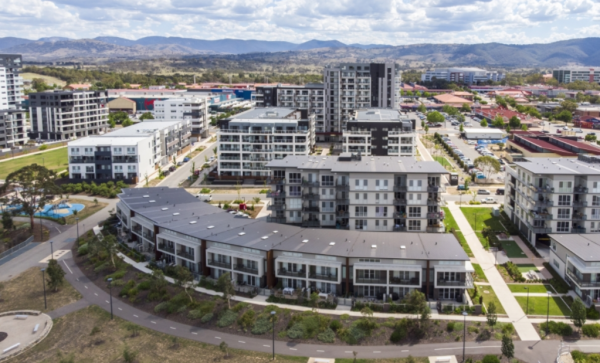 The Canberra region that's bucking the trend of falling unit prices: Domain data
Canberra's unit market has experienced the sharpest decline in two decades and this has been felt across most regions, but one south side district has greatly defied the trend, according to Domain data.
Units in Tuggeranong experienced a year-on-year growth of 7.7 per cent with the median increasing by $30,000 to $420,000.
"Tuggeranong has seen a change with lots of developments and it's probably an indication of the type of unit dwellings we are seeing," said Domain senior research analyst Nicola Powell.
"I think the growth is perhaps the preference of buyers to purchase new within the area, particularly when you put into the equation that many of the new units have a lakefront location. This would mean a different price point to many of the older units and that's what is driving the change."
Out of the ACT regions, apartments in Woden Valley had the greatest fall, with unit prices dropping by $20,000 over 2018 to a median of $435,000.
The Belconnen and Inner South unit markets also have significant drops at 3.7 per cent and 3.6 per cent, respectively.
The latest Domain House Price Report for the December 2018 quarter, released on Thursday, showed unit prices across Canberra dropped 6.1 per cent over 2018 with a median of $412,718.
In the housing market, the report found there had been no annual growth in Canberra's median price of $738,933, but on a regional level, every district in the nation's capital experienced annual growth with only one market dipping over the quarter.
The Inner North experience a quarterly drop of 1.8 per cent.
Dr Powell said this could be explained by a stronger performance in the entry and mid-price point markets.
"At the capital city level, it's a stratified median so we are likely to be seeing a differential in the price-point performance," she said.
"This has helped to aggregate the top-line city figure to neutral ground. Even though there is still year-on-year growth in most regions, that growth is lower than this time a year ago, and we are starting to see weaknesses in the Inner North and Inner South."
Weston Creek was the best performing region year-on-year with a growth of 7.5 per cent in its median house price, followed by Belconnen at 4.5 per cent and the Inner South at 4.2 per cent.
The Inner South's performance comes after an annual fall in the September 2018 quarter.
Housing Industry Association acting principal economist Geordan Murray said housing supply was not keeping in line with population growth, which is why Canberra house prices have not fallen into negative territory.
"Some of the factors as to why we are seeing such continued strong growth in the ACT is there is such a strong demand for housing," he said.
"The population growth rate of the ACT is exceptionally strong and has been over the last 12 months, and that's the consequence of such a strong labour market in the ACT which is luring migrants and with that comes a demand for housing.
"On the detached house side, we haven't really seen as many new lots created as there is demand for."
Mr Murray said the unit market has been more responsive to meeting the demand created by newcomers to the nation's capital.
"If you look at the metropolitan strategic plan for the ACT in housing, the planning strategy is to have far more of the housing supply in and around the areas served by existing infrastructure and that naturally means we are seeing more high-density dwellings in existing urban areas," he said.
In December, the ACT government announced a new planning strategy with 70 per cent of housing in the next two decades to be urban infill with a push for more high-density housing.
"In and around Belconnen there are some major developments, around Woden we are seeing a high level of apartment construction, similarly in Gungahlin and Tuggeranong," said Mr Murray.

"In those areas, there is far more multi-unit development going on then there ever has been in the past and that's simply the market responding to the strategic plan the government is implementing."