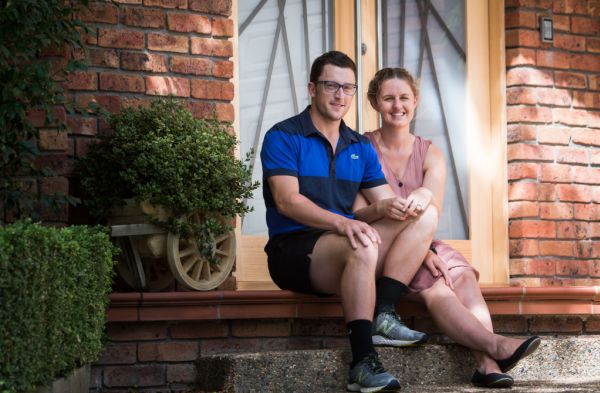 Will 2019 be the year for first-home buyers in Canberra?
Slowing house price growth, sharp unit declines and the upcoming abolition of stamp duty on all properties for first-home buyers in the ACT – for those wanting to enter the market, this year is definitely presenting itself as an opportunity to do so.
Cass McGilvray and Sam Moorby are looking to make their first step into the market this year. They are searching for an established home on a block size of more than 600 square metres.
"I think land is going to become really valuable in the region and, if you are going into the property market, it's better to spend money on the land itself," said Ms McGilvray.
"The most important thing is the block size, it doesn't matter about the house because we can do renovations on it."
"We want a big backyard so we can have puppies running around," added Mr Moorby.
While the couple started their search in Queanbeyan they have also branched out to suburbs in Canberra's south, but said if they choose to buy in the nation's capital they will wait until stamp duty is abolished for first-home buyers.  
From July 1 this year, stamp duty will be abolished on all properties in the ACT for first-home buyers with an annual household income of under $160,000.
Currently, in the ACT, most government incentives for first-home buyers are only available for new builds, with stamp duty concessions and the first home owner grant of $7000.
"We expect to see some increase in first-home buyer activity in established suburbs after the change because, at the moment, people buying an established property are not eligible for as much government assistance," said an ACT government spokesperson.
While there is a consensus that the abolition will result in a surge of first-home buyers in established areas such as Belconnen and Tuggeranong, the impact in the new build market is unclear because with the introduction of the new scheme, the first home owner grant will be scrapped.
"Given first-home buyers tend to be younger, we would expect there will continue to be strong demand for off-the-plan properties in the CBD and town centres because of their proximity to amenities," said the ACT government spokesperson.
Domain senior research analyst Nicola Powell said there will be a more even spread of first-home buyers across the market.
"There will obviously still be a demand for off-the-plan because some buyers have a preference for new and the location, [but] what the abolition will do is create an opportunity for first-home buyers to get more bang for their buck," she said.
"We tend to see houses have better capital growth in the long run because it's the land value that increases in a dwelling."
For Ms McGilvray and Mr Moorby, buying a new home is "out of the question".
"Even with the incentives, it works out much better to buy an older established home with the abolished stamp duty than if we were to get a new home with the grant," said Mr Moorby.
But the ACT government said abolishing the first-home owner grant could help balance out house prices.
"In tight housing markets such as the ACT, the grants can contribute to making housing less affordable by channelling demand into particular segments of the market where supply is relatively constrained, and artificially inflate the borrowing power of buyers," the spokesperson said.
"As well as benefitting from a reduction in upward pressure on house prices, first-home buyers will also have greater choice and diversity in their housing options."
Indeed, downward pressure on house prices will be welcome news for first-home buyers.  
Signs already point to a slowing Canberra market with the latest Domain House Price Report showing over the past year house prices remained flat.
While growth has stagnated in Canberra, it remains the third most expensive capital city to buy a house, behind Sydney and Melbourne with a median of $738,933.
Canberra's median unit price is significantly cheaper at $412,718, and Colliers International sales executive of project marketing, Tom Maloney believes this will keep first-home buyers in the apartment market.
"For first-home buyers, we do see the concessions and grants help but it's more the price point that encourages them towards the unit market. It's a far cheaper product and it gives them that first foothold into the market," he said.
In spite of this, first-home buyers in Canberra are also contending with the nation's highest rents, making it even harder to save for a deposit.
According to the latest Domain Rental Report, the median asking rent for houses sits at $560 per week, and for units, it's $465.
"It's tough for first-home buyers to be paying those kinds of rents while saving for their deposit," said Property Council ACT executive director Adina Cirson.
"Certainly, things like abolishing stamp duty are going to assist greatly in getting those first-home buyers into the market, you don't have to come up with thousands of dollars upfront to purchase a property and that's great news for any buyer."
Even with stamp duty, high prices and high rents, the first-home buyer market in Canberra is relatively strong.
The latest ABS figures show of 1457 owner-occupier loans in the ACT last November, 294 were given to first-home buyers – representing 20.1 per cent of owner-occupiers over the month.
"I think we have to keep in mind Canberra is a pretty good place to live. We've got stable employment growth here," said Ms Cirson.
"We also have the highest median wages in the country so there is certainly capacity to pay but there's no doubt housing affordability continues to be an issue for our city."
If the example of NSW is anything to go by, once the ACT introduces stamp duty abolition for first-home buyers the number will increase even further.  
"The share of first-home buyers to total buyers in NSW has more than doubled since early 2017," said NSW member for Monaro John Barilaro.
"The NSW government's housing affordability package has saved around 48,000 first-home buyers up to $34,360 off the cost of their new home since its introduction in July 2017."
A number of first-home buyers also benefitted from the changes in Queanbeyan.
"Revenue NSW data shows that about 550 people from the Queanbeyan area have taken advantage of the stamp duty concessions over the 18-month period," Mr Barilaro said.
With all these factors at play and many more, for Ms McGilvray and Mr Moorby, the process of buying their first home is proving to be overwhelming.
"It's a rollercoaster – nobody tells you what it is going to be like," said Ms McGilvray.
"Even if we fall in love with a property, and it's the right price and in the right suburb, we won't be able to buy it if it comes up before July in the ACT. Even after stamp duty is abolished, if we put in an offer there's no guarantee it's going to be accepted.
"There's lots of ups and downs and uncertainty."