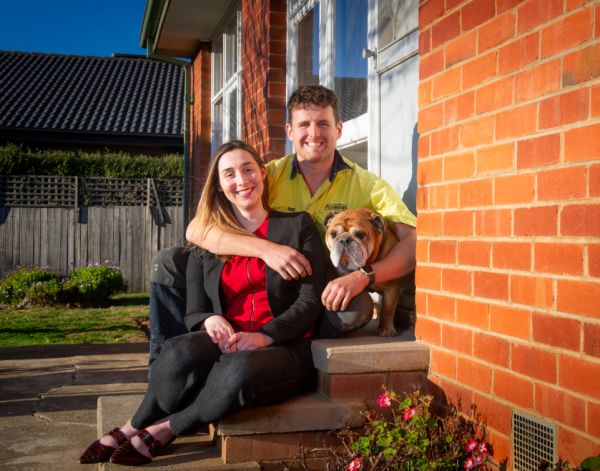 Canberra house prices buck downward trend with record high median price: Domain House Price Report
The coronavirus pandemic has had little impact on the Canberra property market after new data revealed the capital bucked the downward trend seen in other capital cities, with the strongest quarterly growth and a record median house price of more than $800,000. 
According to the Domain House Price Report for the June quarter, Canberra's house prices rose by 4.1 per cent – the strongest growth compared to other capital cities – to a median of $819,090, up 9.3 per cent year-on-year.
While most capital cities saw house prices fall in the June quarter, Canberra, Hobart and Adelaide were whistling a different tune.
"What I think is really evident in the Canberra house market is it does seem to be in a bit of a bubble because when you have a look at all of our capital cities, most of them are declining over the June quarter and Canberra really did buck that trend," said Domain senior research analyst Dr Nicola Powell.
"The strong quarterly growth pushed median house values to a record high, breaking the $800,000 mark. This is also the first time Canberra house prices have pushed above the median value of the combined capitals since 2013."
Dr Powell attributed the strong growth to a "resurgence of first-home buyers".
"The low-interest rates and government incentive schemes have helped many on to the property ladder and supported housing activity," she said.
"Stamp duty waivers on land and off-the-plan purchases, together with the HomeBuilder grant, could continue to lure buyers."
Andrew Chamberlain of Blackshaw Manuka said the strong growth in the last quarter was evident with the number of buyers he'd seen in the market over the past three months.
Mr Chamberlain described Canberra's position as "unique", noting that the capital had a "relatively stable workforce and employment environment, compared to other cities".
"We started the year with a very positive market, largely driven by the low interest rates," Mr Chamberlain said.
"What we saw with COVID-19 was the immediate reduction in the number of properties that were offered for sale … however, the number of people looking only increased."
REIACT deputy president Stan Platis echoed Mr Chamberlain's comments, saying "normally, there'd be a lot more houses on the market but given the pandemic, it is understandable that vendors' decisions to sell have been impacted".
"While stock levels are low, there is strong buyer demand which has possibly helped drive Canberra's median house prices up," Mr Platis said.
In recent weeks, Canberra buyers have been out in full force at auctions. Auction clearance rates have been hovering around 80 per cent but the number of homes scheduled under the hammer in June was 36 per cent lower compared with June 2019.
For the month of June, Canberra achieved an overall clearance rate of 72 per cent, a 10 percentage point rise from May.
One Canberra resident who sold their property in May was Jack Cartwright.
Mr Cartwright sold his first home in the Woden Valley suburb of Chifley via an online auction, which brought in eight registered bidders and sold under the virtual hammer for $755,000, $5000 over the reserve.
At the time, the ban on on-site auctions and open home inspections was lifted to allow for a maximum of 10 people, excluding staff. Mr Cartwright said while the option to host an on-site auction was there, he played it safe and opted for the online platform.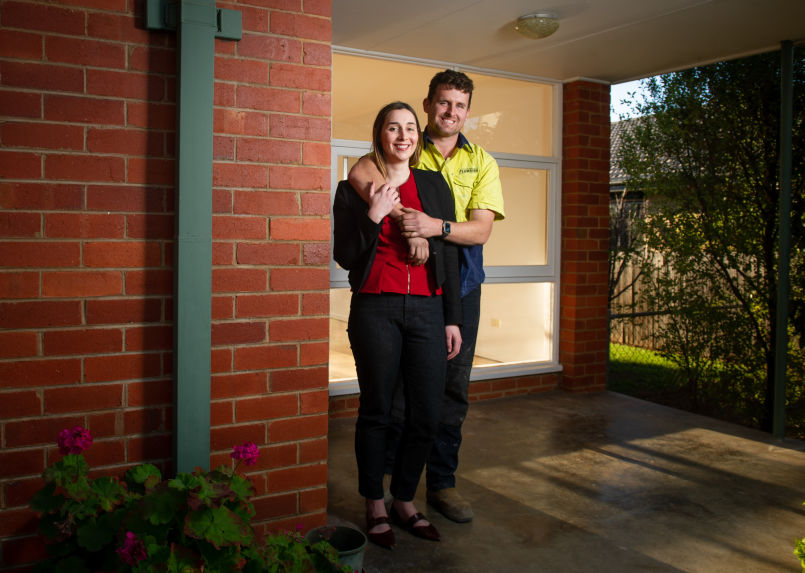 "It was always my plan to sell the Chifley home this year, but when COVID-19 hit sometime in March, it put my plans out of order," Mr Cartwright said.
"There was noticeably less stock on the market and there were still a lot of buyers out there so after speaking with Ryan [Thomas of Blackshaw Woden, Weston Creek and Molonglo], we came to the conclusion that it was a good time to sell. 
"I don't regret selling at the time that I did. In fact, the house sold for more than I expected."
After selling his property, Mr Cartwright and his partner Jane Brouwers were on the hunt for a new house in the Inner North and Inner South regions. 
When looking at house prices across Canberra regions, all regions recorded growth over the last quarter and year, the report showed.
Houses in the Inner North had the strongest growth with an increase of 3.6 per cent over the quarter to $953,000, a 6 per cent increase year-on-year. 
This was followed by Tuggeranong with an increase of 3.1 per cent over the quarter to $635,000, up 7.6 per cent year-on-year.
"To have the shoe on the other foot really quickly after selling our home and then looking for a new home was quite a different experience," Mr Cartwright said.
Mr Cartwright and Ms Brouwers said the market was quite competitive when they were house hunting, eventually purchasing a three-bedroom home in the Inner North suburb of Ainslie for $1.01 million.
"When we purchased the house, the agent Mike Liddiard [of Liddiard Real Estate Services] said he received a number of offers for the property so we were quite lucky we were able to secure it," Mr Cartwright said.
When looking at the unit market, Canberra's median unit prices slipped 1.3 per cent over June to $453,750, a 2 per cent drop year-on-year. Despite the fall, Canberra's unit market was still the most resilient compared to other capital cities.
"It's a marginal fall compared to the steep decline of the previous quarter," Dr Powell said.
Unlike the growth houses saw in the last quarter, units across Canberra regions saw a drop in prices with the exception of Greater Queanbeyan which saw a slight increase of 0.8 per cent over the quarter to $277,000, up 8.6 per cent year-on-year.
"I think that is due to the significantly lower-priced units in Greater Queanbeyan compared to other areas," Dr Powell added.
"We've seen more significant falls in Woden Valley and Weston Creek, down 7.4 per cent and 5.2 per cent, respectively … because it's a much smaller unit market."
Dr Powell added that despite the economic fallout from the COVID-19 crisis, the ACT was better placed compared to other capital cities.
"The ACT has not felt the economic impact of the COVID-19 crisis to the same extent as other cities. Though the jobless rate has risen, it remains the lowest compared to other jurisdictions, supported by the high public sector employment base, where job losses have been minimal, and industries supporting the public sector," Dr Powell added.