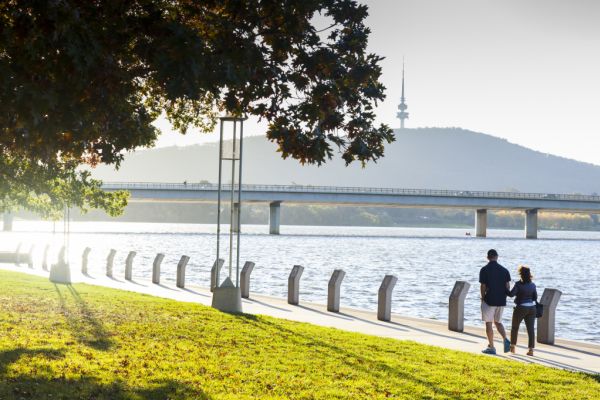 The new million-dollar suburbs in Canberra: Domain House Price Report
Four Canberra suburbs have joined the million-dollar club after their median house prices cracked seven figures, new data shows.
It's no surprise that Canberra's property has been a hot commodity. In the 12 months to September, the median house price in Downer, Nicholls, Farrer and Hughes crept above $1 million, according to the latest Domain House Price Report.
Downer had a median house price of $1,022,500, up 20.3 per cent year-on-year; Nicholls recorded a median house price of $1,082,500, up 24.1 per cent year-on-year; Farrer at $1.2 million, up 38.7 per cent year-on-year; and Hughes had a median of $1.225 million, up 28.9 per cent over the same period.
"These new million-dollar suburbs come as no surprise to me," said Brett Hayman of Hayman Partners.
"There's been growth across the capital in the past 12 months but these suburbs, in particular, have been very popular amongst buyers."
Canberra's newest million-dollar suburbs
Suburb
Region
Type
Sep-20
Sep-21
Annual change
Downer
Inner North
House
$849,959
$1,022,500
20.3%
Nicholls
Gungahlin
House
$872,281
$1,082,500
24.1%
Farrer
Woden Valley
House
$865,177
$1,200,000
38.7%
Hughes
Woden Valley
House
$950,349
$1,225,000
28.9%
Pent-up demand among families wanting more space to work-from-home, coupled with low-interest rates have driven the demand for large houses, Mr Hayman added.
"People want to take advantage of low interest rates while they're here and they are willing to pay a premium to get into their desired suburb," he said.
Mario Sanfrancesco of Blackshaw Manuka said interstate buyers relocating to the capital were "naturally inclined to look at suburbs in the Inner North like Downer or Lyneham, or the all of the Inner South … but what they're realising is that houses in Woden Valley are just as valuable".
"Suburbs like Farrer and Hughes are the next best thing from the Inner South suburbs," he said.
Mr Sanfrancesco set the overall Farrer record when he sold a five-bedroom home in March for $2.21 million, the first $2 million sale in the suburb.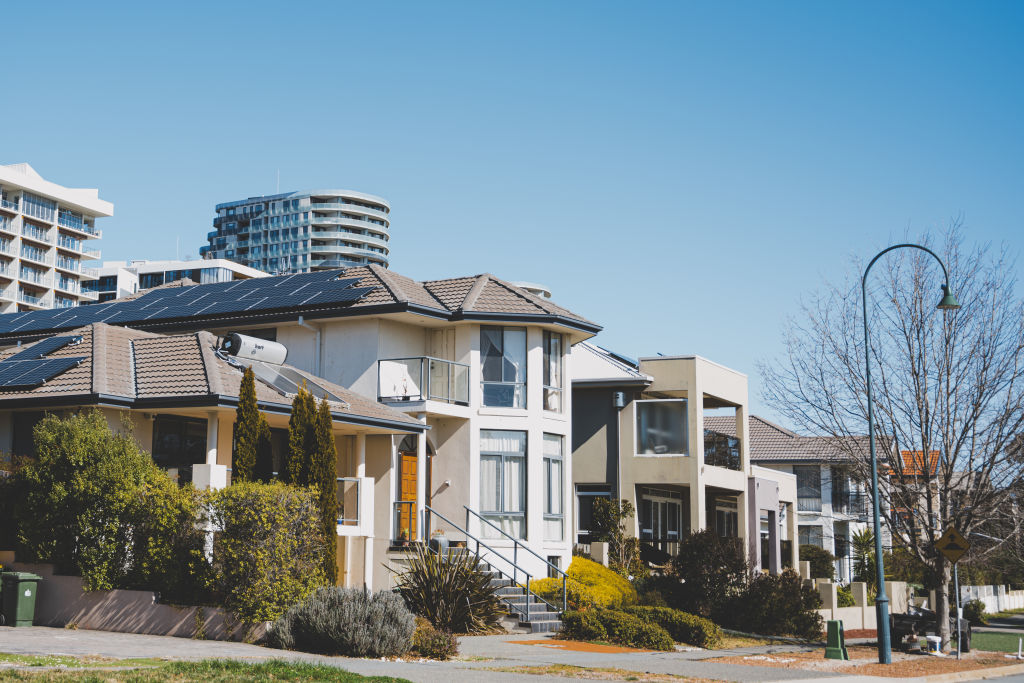 "It's unprecedented times right now. We've had buyers offer double the price that someone else paid for a home just 18 months prior" he added.
Luke McAuliffe of Luton Properties Gungahlin, who holds both the Nicholls and overall Gungahlin region record for the same property, said the suburb of Nicholls was inking itself as one of Canberra's "premium suburbs in the north".
"Nowadays, it's very rare to get into the suburb of Nicholls for less than $1 million," he said.
"If you look at what's on offer in the suburb, the quality of homes available and the type of lifestyle there is… you can easily see why properties are worth more than seven figures."
The data comes after the report showed Canberra hit a record-high new median house price of $1,074,187, up 32.4 per cent year-on-year. This new high made Canberra the second most expensive city in which to purchase a house, after Sydney.
Canberra suburbs that could have a million-dollar median house price in a year
Suburb
Region
Type
Sep-21
Sep-22 Prediction
Annual change
Palmerston
Gungahlin
House
$823,500
$1,021,963.50
24.1%
Weston
Weston Creek
House
$875,000
$1,045,625
19.5%
Watson
Canberra Central
House
$899,000
$1,058,123
17.7%
Crace
Gungahlin
House
$904,000
$1,034,176
14.4%
Kaleen
Belconnen
House
$910,000
$1,089,270
19.7%
Forde
Gungahlin
House
$943,000
$1,123,113
19.1%
Wright
Weston Creek
House
$965,500
$1,087,153
12.6%
Mr Sanfrancesco expects more suburbs to join the million-dollar club, despite warnings that house price growth may lose its momentum.
The report showed if house price growth continues at the same rate over the next 12 months, more suburbs across the city will also get median house prices of seven figures.
"People are willing to pay for quality stock and as long as those keep coming to market, it'll drive house prices up," Mr Sanfrancesco said.
"The current overall Canberra residential sales benchmark sits at $8 million and I think we're on the cusp of seeing that crack. I've seen many houses worth above $8 million and have met buyers willing to pay that type of price for a home.
"Canberra's has remained buoyant given the circumstances and I think these premium-end suburbs will likely keep those prices steady."